This is your morning Open Thread. Pour your favorite beverage and review the past and comment on the future.
November 13 is the 317th day of the year (318th in leap years) in the Gregorian calendar. There are 48 days remaining until the end of the year.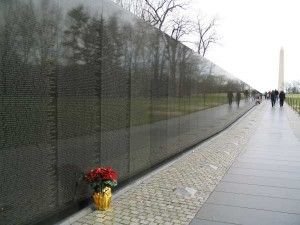 On this day in 1982, The Vietnam Veterans Memorial is dedicated in Washington, D.C. after a week long national salute to Americans who served in the Vietnam War.
The Memorial Wall, designed by Maya Lin, is made up of two gabbro walls 246 feet 9 inches (75 m) long. The walls are sunk into the ground, with the earth behind them. At the highest tip (the apex where they meet), they are 10.1 feet (3 m) high, and they taper to a height of eight inches (20 cm) at their extremities. Stone for the wall came from Bangalore, Karnataka, India, and was deliberately chosen because of its reflective quality. Stone cutting and fabrication was done in Barre, Vermont. Stones were then shipped to Memphis, Tennessee where the names were etched. The etching was completed using a photoemulsion and sandblasting process. The negatives used in the process are in storage at the Smithsonian Institution. When a visitor looks upon the wall, his or her reflection can be seen simultaneously with the engraved names, which is meant to symbolically bring the past and present together. One wall points toward the Washington Monument, the other in the direction of the Lincoln Memorial, meeting at an angle. Each wall has 72 panels, 70 listing names (numbered 1E through 70E and 70W through 1W) and 2 very small blank panels at the extremities. There is a pathway along the base of the Wall, where visitors may walk, read the names, make a pencil rubbing of a particular name, or pray.

Inscribed on the walls with the Optima typeface are the names of servicemen who were either confirmed to be KIA (Killed in Action) or remained classified as MIA (Missing in Action) when the walls were constructed in 1982. They are listed in chronological order, starting at the apex on panel 1E in 1959 (although it was later discovered that the first casualties were military advisers who were killed by artillery fire in 1957), moving day by day to the end of the eastern wall at panel 70E, which ends on May 25, 1968, starting again at panel 70W at the end of the western wall which completes the list for May 25, 1968, and returning to the apex at panel 1W in 1975. Symbolically, this is described as a "wound that is closed and healing." Information about rank, unit, and decorations are not given. The wall listed 58,159 names when it was completed in 1993; as of June 2010, there are 58,267 names, including 8 women. Approximately 1,200 of these are listed as missing (MIAs, POWs, and others), denoted with a cross; the confirmed dead are marked with a diamond. If the missing return alive, the cross is circumscribed by a circle (although this has never occurred as of March 2009); if their death is confirmed, a diamond is superimposed over the cross. According to the Vietnam Veterans Memorial Fund, "there is no definitive answer to exactly how many, but there could be as many as 38 names of personnel who survived, but through clerical errors, were added to the list of fatalities provided by the Department of Defense." Directories are located on nearby podiums so that visitors may locate specific names.
1002 – English king Ethelred II orders the killing of all Danes in England, known today as the St. Brice's Day massacre.
1160 – Louis VII of France marries Adele of Champagne.
1642 – First English Civil War: Battle of Turnham Green – the Royalist forces withdraw in the face of the Parliamentarian army and fail to take London.
1775 – American Revolutionary War: Patriot revolutionary forces under Col. Ethan Allen attack Montreal, Quebec, defended by British General Guy Carleton.
1841 – James Braid first sees a demonstration of animal magnetism, which leads to his study of the subject he eventually calls hypnotism.
1851 – The Denny Party lands at Alki Point, the first settlers in what would become Seattle, Washington.
1864 – The new Constitution of Greece is adopted.
1887 – Bloody Sunday clashes in central London.
1909 – Collier's magazine accuses United States Secretary of the Interior Richard Ballinger of questionable dealings in Alaskan coal fields.
1916 – Prime Minister of Australia Billy Hughes is expelled from the Labor Party over his support for conscription.
1918 – Allied troops occupy Constantinople, the capital of the Ottoman Empire.
1927 – The Holland Tunnel opens to traffic as the first Hudson River vehicle tunnel linking New Jersey to New York City.
1941 – World War II: The aircraft carrier HMS Ark Royal is torpedoed by U 81, sinking the following day.
1942 – World War II: Naval Battle of Guadalcanal – U.S. and Japanese ships engage in an intense, close-quarters surface naval engagement during the Battle of Guadalcanal.
1947 – Russia completes development of the AK-47, one of the first proper assault rifles
1950 – General Carlos Delgado Chalbaud, President of Venezuela, is assassinated in Caracas.
1954 – Great Britain defeats France to capture the first ever Rugby League World Cup in Paris in front of around 30,000 spectators.
1956 – The United States Supreme Court declares Alabama and Montgomery, Alabama laws requiring segregated buses illegal, thus ending the Montgomery Bus Boycott.
1965 – The SS Yarmouth Castle burns and sinks 60 miles off Nassau with the loss of 90 lives.
1969 – Vietnam War: Anti-war protesters in Washington, D.C. stage a symbolic March Against Death.
1970 – Bhola cyclone: A 150-mph tropical cyclone hits the densely populated Ganges Delta region of East Pakistan (now Bangladesh), killing an estimated 500,000 people in one night. This is regarded as the 20th century's worst natural disaster.
1971 – The American space probe, Mariner 9, becomes the first spacecraft to orbit another planet successfully, swinging into its planned trajectory around Mars.
1982 – Ray Mancini defeats Duk Koo Kim in a boxing match held in Las Vegas, Nevada. Kim's subsequent death (on November 17) leads to significant changes in the sport.
1982 – The Vietnam Veterans Memorial is dedicated in Washington, D.C. after a march to its site by thousands of Vietnam War veterans.
1985 – The volcano Nevado del Ruiz erupts and melts a glacier, causing a lahar (volcanic mudslide) that buries Armero, Colombia, killing approximately 23,000 people.
1988 – Mulugeta Seraw, an Ethiopian law student in Portland, Oregon is beaten to death by members of the Neo-Nazi group East Side White Pride.
1990 – In Aramoana, New Zealand, David Gray shoots dead 13 people, in what becomes known as the Aramoana Massacre.
1992 – The High Court of Australia rules in Dietrich v The Queen that although there is no absolute right to have publicly funded counsel, in most circumstances a judge should grant any request for an adjournment or stay when an accused is unrepresented.
1994 – In a referendum voters in Sweden decide to join the European Union.
1995 – A truck-bomb explodes outside of a US-operated Saudi Arabian National Guard training center in Riyadh, killing five Americans and two Indians. A group called the Islamic Movement for Change claims responsibility.
2000 – Philippine House Speaker Manuel B. Villar, Jr. passes the articles of impeachment against Philippine President Joseph Estrada.
2001 – War on Terrorism: In the first such act since World War II, US President George W. Bush signs an executive order allowing military tribunals against foreigners suspected of connections to terrorist acts or planned acts on the United States.
2002 – Iraq disarmament crisis: Iraq agrees to the terms of the UN Security Council Resolution 1441.
2002 – The oil tanker Prestige sinks off the Galician coast and causes a huge oil spill.
2005 – Andrew Stimpson, a 25-year old British man, is reported as the first person proven to have been "cured" of HIV
2007 – An explosion hits the south wing of the House of Representatives of the Philippines in Quezon City, killing four people, including Congressman Wahab Akbar, and wounding six.