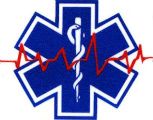 Welcome to the Stars Hollow Gazette's Health and Fitness News weekly diary. It will publish on Saturday afternoon and be open for discussion about health related issues including diet, exercise, health and health care issues, as well as, tips on what you can do when there is a medical emergency. Also an opportunity to share and exchange your favorite healthy recipes.
Questions are encouraged and I will answer to the best of my ability. If I can't, I will try to steer you in the right direction. Naturally, I cannot give individual medical advice for personal health issues. I can give you information about medical conditions and the current treatments available.
You can now find past Health and Fitness News diaries here.
Follow us on Twitter @StarsHollowGzt
What To Cook
Sunday is Mother's Day and with the current need for social distancing and face masks, it will make celebrating with Mom impossible for some. For those who are fortunate enough to be with their moms, here is my favorite main couse and a lovely dessert for her special day.
Chicken Francaise<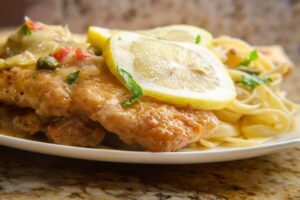 If you can make chicken cutlets, you can make this lemony, buttery recipe; the only difference is an easy pan sauce that brightens the whole plate. This version includes lemon slices browned in butter, which are pretty and tasty but entirely optional. [..]

Serve with something starchy to soak up every drop of the sauce; pasta is traditional although rice pilaf works, too
This dessert is from the New York Times: a crumbly yet tender layers of almond cake layered with mounds of fresh berries and a rich filling of mascarpone and crème fraîche. It's not difficult to make.
Almond Berry Layer Cake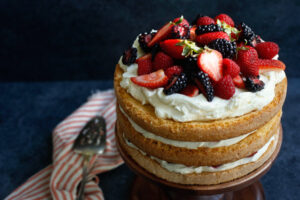 The recipe is after the jump.
Ingredients
For the cake:
Unsalted butter, for greasing pans

1

tablespoon all-purpose flour, plus more for pans

1 ¾

cups whole blanched almonds

1 ½

teaspoons baking powder

½

teaspoon salt

3

large eggs

2

large egg whites

1

cup sugar

½

teaspoon pure vanilla or almond extract
For the filling:
1

pound mascarpone cheese

8

ounces crème fraîche

Finely grated zest of 1 lemon
¾

cup confectioners' sugar, plus more to taste

1

tablespoon kirsch or amaretto, optional
For assembly:
2

pounds (about 6 cups) mixed berries

Confectioners' sugar, for dusting
Preparation
For the cake:
Preheat the oven to 350 degrees. Brush 3 (8-inch) round baking pans with butter and line the bottoms with parchment paper cut to fit. Brush with butter again and dust with flour, tapping out excess.
Place 1 tablespoon flour, the almonds, baking powder and salt in the bowl of a food processor and pulse until finely ground.
Fill a pot (large enough to set the bowl of an electric mixer in it without the bowl touching the bottom) with 1 inch water and bring to a simmer over low heat.
Place the eggs, egg whites and sugar in the bowl and gently whisk to incorporate. Place the bowl over the pot of steaming water and whisk constantly until the sugar has dissolved, about 3 minutes.
Return bowl to the mixer fitted with the whisk attachment. Beat on medium-high speed until pale yellow, thick and fluffy, about 7 minutes. Add vanilla and gently stir to combine.
Using a rubber spatula, gently fold almond mixture into batter. Divide batter evenly among pans and bake until golden, 20 to 25 minutes. The centers will rise and fall during baking. Transfer pans to a wire rack and let cool 5 minutes. Run a butter knife around the edges of the cakes and turn them out onto a flat plate or cardboard round. Peel off parchment and invert onto another plate or round. Cakes should be right-side up. Cool completely and wrap in plastic wrap if not using immediately.
For the filling:
In a chilled metal bowl, whip the mascarpone and creme fraiche, either by hand or with an electric mixer, until it holds its shape and is not at all runny. Add the lemon zest, confectioners' sugar and liqueur, if using, and beat to combine well. Add up to 2 tablespoons more sugar, to taste, if you choose.
To assemble:
Place one of the cakes on a serving plate. Top with 1/3 of the mascarpone filling and 1/3 of the berries. Repeat with the remaining 2 layers, leaving the prettiest berries for the top. If not serving right away, chill until ready to serve. Dust with confectioners' sugar and serve.
Health and Fitness News
Malaria drug shows no benefit in another coronavirus study
Hydroxychloroquine did not lower the risk of dying or needing a breathing tube in a comparison that involved nearly 1,400 patients treated at Columbia University in New York, researchers reported Thursday in the New England Journal of Medicine.
Nearly 1 in 5 US kids are obese, according to latest data
The news is disappointing, given that programs across the country have for years been trying to reduce childhood obesity, one expert said.
At least 85 kids across U.S. have developed rare, mysterious COVID-19-linked illness
While severe cases of the coronavirus have largely spared children, evidence is growing that kids may not be as immune to COVID-19 complications as previously thought.
Trending Clinical Topic: COVID Toes
Reports of new and unusual symptoms associated with COVID-19 resulted in this week's top trending clinical topic.
Mental Health an Emerging Crisis of COVID Pandemic
Americans are reporting high levels of emotional distress from the coronavirus pandemic – levels that some experts warn may lead to national mental health crisis.
Pangolins May Hold Clues to How COVID-19 Began
Learning more about this evolutionary advantage in pangolins may suggest possible treatments for coronavirus in humans, the team said.
Doctors update warning signs of severe COVID
Based on a review of more than 1,000 patients who've already sought care for respiratory illnesses since the coronavirus was declared a pandemic in March, researchers at Harvard Medical School are offering up a new list of symptoms to watch out for.
Middle Age More Stressful Now Than in 1990s: Study
Before the COVID-19 pandemic upended people's lives, Americans were already feeling more stressed than they did a generation ago. Now, new research finds that no group is feeling the impact of additional stress more than middle-aged people.
Food Plant Personnel Covid-19 Deaths Reported
Unions representing Food workers and food inspectors are reporting COVID-19 deaths among their members.
PTSD May Plague Many COVID-19 Survivors
The ordeal faced by critically ill COVID-19 patients likely won't end even if they pull through and survive their life-threatening infection, experts fear.
Virus Found in Semen of COVID-19 Survivors
Infectious viruses commonly are found in semen, with Zika being one recent notable example. The Chinese researchers noted that 27 different viruses have been detected in human semen.
Androgens May Explain Male Vulnerability to COVID-19
Striking differences in how men and women are affected by COVID-19 might be explained by deleterious effects of androgens in males, say Italian researchers.
Evidence Builds Linking Anticoagulation to COVID-19 Survival
Data from a large US cohort suggest systemic anticoagulation may confer a survival benefit in hospitalized patients without a spike in bleeding events.