Civilians flee main Gaza hospital on foot
What the footage from al-Fakhoura school shows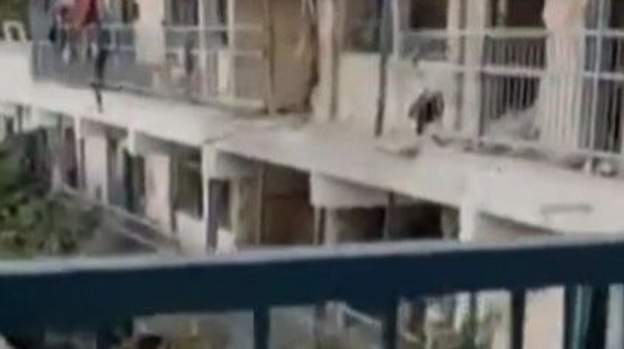 Footage has emerged online claiming to show the aftermath of a strike on the UNRWA-run al-Fakhoura School in Jabalia – which has been used a shelter for displaced people.
BBC Verify has geolocated the footage to the school.

The video, which is 1 minute 40 seconds long, begins at the western corner of the school building and tracks through various rooms and stairwells as the camera moves down towards the ground floor.

Many people – including women and children – are seen with severe injuries or lying motionless on the floor in different parts of the building. There are more than 20 such casualties visible in the footage, and around half of these are seen in one particular room on the ground floor, which also shows signs of considerable damage.

UN-run schools have been used as shelters for Gazans in the north. The weather conditions evident in the footage match the forecast from today and no previous versions of the video have been found online.

BBC Verify will continue review this and any other footage of the incident to establish further details.
Hundreds of people have been leaving al-Shifa hospital in Gaza City – the site that Israeli forces have been searching for days
Pictures show columns of Palestinians fleeing on foot, some waving white flags
A journalist among those leaving the hospital said there was gunfire and explosions overnight, and that bulldozers had dug huge holes in the hospital yard
The hospital director said the Israeli military had ordered an evacuation but the IDF denied this, saying it helped people leave after the director requested it
'Shocking' scale of UK government's secret files on critics revealed
Dossiers were compiled by 15 departments after scouring social media activity to vet people invited to speak at official events
Fifteen government departments have been monitoring the social media activity of potential critics and compiling "secret files" in order to block them from speaking at public events, the Observer can reveal.

Under the guidelines issued in each department, including the departments of health, culture, media and sport, and environment, food and rural affairs, officials are advised to check experts' Twitter, Facebook, Instagram and LinkedIn accounts. They are also told to conduct Google searches on those individuals, using specific terms such as "criticism of government or prime minister".
Thousands protest in Madrid over proposed amnesty for Catalan separatists
Tens of thousands of Spaniards took to the streets of Madrid on Saturday to denounce a proposed amnesty law for Catalan separatists and activists, which was key for the left-wing government to retain power.
Around 170,000 people, according to police, gathered in Plaza de Cibeles in the heart of the Spanish capital in response to a call by right-wing leaders opposed to the amnesty plan.

Cries of "Sanchez, traitor", "Sanchez in jail" and "Catalonia is Spain" were shouted by protesters of all ages who carried Spanish and other European flags distributed by the European People's Party.

"What Pedro Sanchez wants is to cut Spain into pieces, to have the Basque country on one side and Catalonia on the other, and to say nothing happened," said Maria Angeles Galan, a 65-year-old retiree from Madrid at the rally.
Kishida to press China on Fukushima ban after deal on expert talks
AFP-JIJI, STAFF REPORT
Prime Minister Fumio Kishida said Friday that China had agreed to expert-level talks aimed at addressing its ban on Japanese seafood following the release of Fukushima wastewater.
China banned all Japanese seafood imports in August after Japan began to release the treated wastewater from the nuclear plant damaged in the March 2011 earthquake and tsunami that hit the Tohoku region.

Kishida said he discussed the wastewater row with Chinese President Xi Jinping when they met Thursday on the sidelines of an Asia-Pacific summit in San Francisco.
An Italian ski resort shut down by climate change plans to reopen with artificial snow. Not everyone is happy
There are few things Italians do better than dreaming big against the odds. Take the multi-million-dollar plan that's been in the works since the 1990s to build the world's longest suspension bridge across the Straits of Messina in the heart of Mafia land. Or the very existence of the city of Venice, built on a lagoon system that's now better protected from extreme weather by mechanical flood gates that took more than 20 years to realize.
Now, plans to build a multi-million-dollar ski facility on a snowless northern Italian mountain may prove equally challenging.
The bald mountain is the Monte San Primo, a gorgeous 1,682 meter (5,518 foot) promontory that accounts for much of the landscape view from the north end of Lake Como. The quaint cobblestone city of Bellagio, at its base, is known as the "pearl" of the lake for beauty that has lured A-list celebs (and wealthy Russians), who own the majority of lavish villas nearby.
Elon Musk to file 'thermonuclear lawsuit' as advertisers desert X
Social media firm boss says he will sue media watchdog that said ads were being placed alongside antisemitic content
Elon Musk has said he will be filing a "thermonuclear lawsuit" against Media Matters and others, after major US companies paused their adverts on his social media site over concerns about antisemitism.

The media watchdog Media Matters said earlier this week that it found corporate advertisements by IBM, Apple, Oracle and Comcast's Xfinity were being placed alongside antisemitic content, including that praising Adolf Hitler and the Nazis.

It led to a number of big names in technology and media announcing they would be withdrawing their advertising. It also included Warner Brothers, Paramount and Disney.