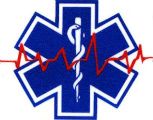 Welcome to the Stars Hollow Health and Fitness News weekly diary. It will publish on Saturday afternoon and be open for discussion about health related issues including diet, exercise, health and health care issues, as well as, tips on what you can do when there is a medical emergency. Also an opportunity to share and exchange your favorite healthy recipes.
Questions are encouraged and I will answer to the best of my ability. If I can't, I will try to steer you in the right direction. Naturally, I cannot give individual medical advice for personal health issues. I can give you information about medical conditions and the current treatments available.
You can now find past Health and Fitness News diaries here and on the right hand side of the Front Page.
Follow us on Twitter @StarsHollowGzt
Couscous Dinners, Ready When You Are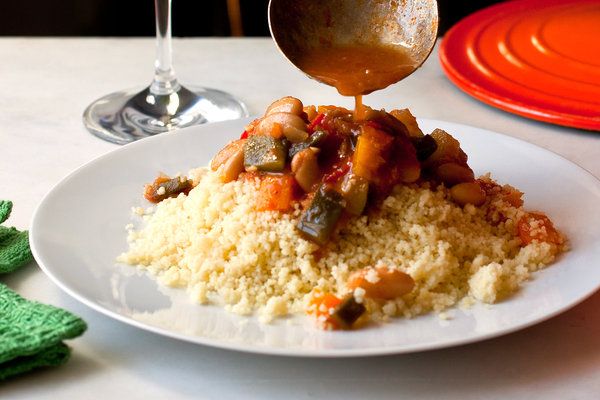 All of this week's recipes are hearty vegetarian bean and vegetable stews to serve with couscous. They are make-ahead dishes using the vegetables of late summer and early fall that will keep for up to 3 days in the refrigerator. If you're looking for vegetarian dishes to break the fast, or just dishes for getting ahead on the week's meals, they're perfect.

~Martha Rose Shulman~
Couscous With Tomatoes, White Beans, Summer Squash and Sweet and Hot Peppers
This late summer/early fall couscous can also be made in winter using canned tomatoes. The hot and the sweet peppers contribute great contrasting flavors.
Spinach and chickpeas are a popular combination throughout the Mediterranean, but chard and other greens work as well.
Don't let okra's slimy reputation put you off: Whole small pods add great texture, flavor and nutrition to this dish, without the slime.
Cruciferous vegetables make few appearances in North African tagines, but this dish is an appealing vehicle for nutritious cauliflower.
In this one-pot meal, the couscous pearls cook in the stew just before mealtime.
General Medicine/Family Medical
Cancer Now Top Cause of Death for U.S. Hispanics

by Kathleen Doheny
Sept. 17, 2012 — Cancer has passed heart disease as the top killer of U.S. Hispanics, according to the American Cancer Society.

"More Hispanics are suffering and dying from cancer than from heart disease," says researcher Rebecca Siegel, MPH, an epidemiologist with the society.

That is true, she says, even though death from cancer and new cancer cases have been declining in U.S. Hispanics over the past decade.

Siegel is a researcher on the new report, "Cancer Statistics for Hispanics/Latinos, 2012." It is published online in CA: A Cancer Journal for Clinicians.
By 2030, Obesity Rates Could Top 60% in 13 States

by Kathleen Doheny
Sept. 18, 2012 — America's weight report card is in. The grades aren't good, and they're on a path to get much worse.

Right now, 12 states have adult obesity rates above 30%, according to the report, "F as in Fat: How Obesity Threatens America's Future 2012," issued jointly by Trust for America's Health and the Robert Wood Johnson Foundation.
Suicide, Not Car Crashes, #1 Cause of Injury Death

by Jennifer Warner
Sept. 20, 2012 — Suicide has overtaken car crashes as the leading cause of injury-related deaths in the U.S.

While public health efforts have curbed the number of car fatalities by 25% over the last decade, a new study shows suicide deaths rose by 15% during the same period.

In addition, deaths from unintentional poisoning and falls have also increased dramatically in recent years.
'Where Is My Excedrin?'

by Kathleen Doheny
Headache Sufferers Hang On, With Some Paying Sky-High Prices Online and Others Concocting Their Own Remedies

Sept. 17, 2012 — The Excedrin recall in January was a big headache, and not just for its manufacturer. Since then, customers loyal to the brand have been searching high and low for the product — and anxiously awaiting its return.

Now, there's light at the end of the tunnel. Excedrin Migraine is due back on store shelves by early October, says Milicent Brooks of Novartis, its producer. Other products involved in the recall will roll out after that.
Warnings/Alerts/Guidelines
Expandable Water Toys Pose Risk to Children

by Cari Nierenberg
First Reported Case Reveals the Dangers of Children Swallowing Expandable Water Toy

Sept. 17, 2012 — Toy balls that expand in water can be fun and fascinating for kids to watch, but if swallowed they can be downright dangerous. A new report published online in the journal Pediatrics warns parents of the health risks of these toys.
FDA to Parents: Don't Give SimplyThick to Infants

by Denise Mann
FDA Extends SimplyThick Warning to Include All Infants, not Just Preemies

Sept. 18, 2012 — SimplyThick, a beverage thickener for people who have trouble swallowing liquids, should not be mixed with breast milk or infant formula and given to babies, the FDA warns.

In babies, SimplyThick may raise the risk of a life-threatening condition marked by inflammation and death of intestinal tissue, the FDA warns.

The new warning extends a previous one stating that SimplyThick should not be given to premature infants born before 37 weeks due to risk of necrotizing enterocolitis (NEC).
Arsenic Found in Rice at High Levels

by Brenda Goodman, MA
Sept. 19, 2012 — Arsenic is found in a wide variety of rice and rice products, sometimes at levels that are higher than safe limits set for drinking water, new tests confirm.

Separate test results were released on Wednesday by Consumer Reports, the FDA, and by Lisa Madigan, the attorney general for the state of Illinois. Madigan has been testing rice products as part of a state investigation into arsenic in food.
Too Much Tuna Means Too Much Mercury for Kids

by Daniel J. DeNoon
Sept. 19, 2012 — A coalition of consumer groups says kids should eat much less canned tuna to avoid mercury poisoning.

In a new report issued today, the Mercury Policy Project says children should never eat albacore tuna. It advises parents to limit light tuna to one serving per month for kids under 55 pounds, and to two monthly servings for bigger children.
Women's Health
Vitamin D in Pregnancy May Be Key for Baby's Brain

by Matt McMillen
Sept. 20, 2012 — Babies score higher on development tests if their moms get enough vitamin D during pregnancy, according to a Spanish study.

But this is also not a cause for healthy women to start worrying.

Nearly 2,000 mothers and their babies participated in the study, which found that inadequate vitamin D is linked to poorer mental and movement skills in infants.
Pediatric Health
Kids Exposed to Mercury, Lead at Risk for ADHD

by Brenda Goodman, MA
Sept. 21, 2012 — Young children exposed to certain heavy metals are at higher risk for problems with attention and behavior later in life, a new study shows.

The study followed nearly 300 Inuit children who were born in northern Quebec, Canada. One of the main sources of protein in the Inuit diet is beluga whale meat, which can be high in mercury. Inuit children are exposed to lead when they eat shot pellets that are used to kill geese and ducks.
Which Birth Control Methods Are Best for Teens?

by Daniel J. DeNoon
Sept. 21, 2012 — Sexually active teen girls' best bet for birth control is either an IUD or a birth-control implant, say new guidelines from a leading doctors' group.

More than 40% of teens are sexually active. Nearly all of them use some kind of birth control. But fewer than 1 in 20 uses the most effective contraceptives.

The result: 82% of teen pregnancies are unplanned.

"Intrauterine devices and the [birth-control] implant are the best reversible methods for preventing unintended pregnancy, rapid repeat pregnancy, and abortion in young women," state the new guidelines from the American College of Obstetricians and Gynecologists (ACOG).
Teen Sexting Linked to More Sexual Activity

by Kathleen Doheny
Teens Not Using Sexting to Delay Having Sex, as Some Have Suggested

Sept. 17, 2012 — "Sexting," the sending or receiving of sexually explicit messages or photos by cell phone, isn't an alternative to teens' sexual activity, but is actually linked to it, according to a new study.

"Sexting is part of the new landscape of the sex lives of teens," says researcher Eric Rice, PhD, assistant professor of social work at the University of Southern California, Los Angeles.
Mental Health
Simple Tip May Ease Athletes' Performance Anxiety

by Denise Mann
Researchers have revealed a simple trick that may help athletes keep their cool during a game's high-pressure moments. Their advice to avoid choking under pressure: Clench the fist of your non-dominant hand.

The findings appear in the Journal of Experimental Psychology: General.
Nutrition/Diet/Fitness
Oil Blend, Yogurt Help Blood Pressure

by Denise Mann
Sept. 19, 2012 — A blend of sesame and rice bran oil, or making low-fat yogurt a small part of your diet, may help your blood pressure and boost heart health, according to two new studies.

The first study showed a sesame and rice bran oil blend reduced blood pressure almost as well as a commonly used medication. And the second study found that people who routinely eat yogurt are less likely to develop high blood pressure.

The findings were presented at the American Heart Association's (AHA) High Blood Pressure Research 2012 meeting in Washington, D.C.
Sugary Drinks and Weight Gain Linked

by Kathleen Doheny
Sept. 21, 2012 — If you're at risk of obesity because of your genes, you may also be more at risk for weight gain from sugary drinks.

That's according to new research published in the New England Journal of Medicine.

In people with a high genetic risk for obesity, getting a lot of sugar from sugar-sweetened drinks may amplify the genetic effects on obesity, says researcher Lu Qi, MD, PhD, an assistant professor of nutrition at the Harvard School of Public Health.
BPA in Foods, Drinks Linked to Childhood Obesity

by Denise Mann
Sept. 18, 2012 — Add the risk of childhood obesity to the list of health ills that may be linked to the controversial chemical bisphenol A (BPA), a new study shows.

BPA is used to manufacture many metal food and beverage cans. It may act as an endocrine disruptor in the body, meaning that it can affect hormone activity.
Salt in Kids' Diets Linked to High Blood Pressure

by Salynn Boyles
Sept. 17, 2012 — Eating a diet that's high in sodium has been linked in numerous studies to higher blood pressure in adults. Now, new research from the CDC suggests the same link in children and teens.

The investigation found that the more sodium children and teenagers ate, the higher their risk for developing high blood pressure, especially if they were overweight or obese.

Average sodium intake among the children and teens was as high as that of adults. Most sodium is found in processed or packaged foods and restaurant food, not from salt.