This is your morning Open Thread. Pour your favorite beverage and review the past and comment on the future.
Find the past "On This Day in History" here.
February 14 is the 45th day of the year in the Gregorian calendar. There are 320 days remaining until the end of the year (321 in leap years).
On this day in 1884, future President Theodore Roosevelt's wife and mother die, only hours apart.

Roosevelt was at work in the New York state legislature attempting to get a government reform bill passed when he was summoned home by his family. He returned home to find his mother, Mittie, had succumbed to typhoid fever. On the same day, his wife of four years, Alice Lee, died of Bright's disease, a severe kidney ailment. Only two days before her death, Alice Lee had given birth to the couple's daughter, Alice.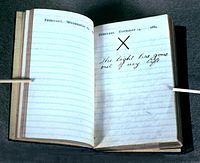 Roosevelt left his daughter in the care of his sister, Anna "Bamie/Bye" in New York City. In his diary he wrote a large X on the page and wrote "the light has gone out of my life."

A short time later, Roosevelt wrote a tribute to his wife published privately indicating that:

She was beautiful in face and form, and lovelier still in spirit; As a flower she grew, and as a fair young flower she died. Her life had been always in the sunshine; there had never come to her a single sorrow; and none ever knew her who did not love and revere her for the bright, sunny temper and her saintly unselfishness. Fair, pure, and joyous as a maiden; loving , tender, and happy. As a young wife; when she had just become a mother, when her life seemed to be just begun, and when the years seemed so bright before her-then, by a strange and terrible fate, death came to her. And when my heart's dearest died, the light went from my life forever

To the immense disappointment of his wife's namesake and daughter, Alice, he would not speak of his wife publicly or privately for the rest of his life and made no mention of her in his autobiography.
842
– Charles the Bald and Louis the German swear the Oaths of Strasbourg in the French and German languages.
1014 – Pope Benedict VIII recognizes Henry of Bavaria as King of Germany.
1076 – Pope Gregory VII excommunicates Henry IV, Holy Roman Emperor.
1349 – Approximately 2,000 Jews are burned to death by mobs or forcibly removed from the city of Strasbourg.
1556 – Thomas Cranmer is declared a heretic.
1743 – Henry Pelham becomes British Prime Minister.
1778 – The United States Flag is formally recognized by a foreign naval vessel for the first time, when French Admiral Toussaint-Guillaume Picquet de la Motte rendered a nine gun salute to USS Ranger, commanded by John Paul Jones.
1779 – James Cook is killed by Native Hawaiians near Kealakekua on the Island of Hawaii.
1797 – French Revolutionary Wars: Battle of Cape St. Vincent – John Jervis, 1st Earl of St Vincent and Horatio Nelson (later 1st Viscount Nelson) lead the British Royal Navy to victory over a Spanish fleet in action near Gibraltar.
1804 – Karadjordje leads the First Serbian Uprising against the Ottoman Empire.
1831 – Ras Marye of Yejju marches into Tigray and defeats and kills Dejazmach Sabagadis in the Battle of Debre Abbay.
1835 – The original Quorum of the Twelve Apostles, of The Church of Jesus Christ of Latter-day Saints, is formed in Kirtland, Ohio.
1849 – In New York City, James Knox Polk becomes the first serving President of the United States to have his photograph taken.
1855 – Texas is linked by telegraph to the rest of the United States, with the completion of a connection between New Orleans and Marshall, Texas.
1859 – Oregon is admitted as the 33rd U.S. state.
1876 – Alexander Graham Bell applies for a patent for the telephone, as does Elisha Gray.

* 1879 – The War of the Pacific breaks out when Chilean armed forces occupy the Bolivian port city of Antofagasta.
1899 – Voting machines are approved by the U.S. Congress for use in federal elections.
1900 – Second Boer War: In South Africa, 20,000 British troops invade the Orange Free State.
1903 – The United States Department of Commerce and Labor is established (later split into Department of Commerce and Department of Labor).
1912 – Arizona is admitted as the 48th U.S. state.
1912 – In Groton, Connecticut, the first diesel-powered submarine is commissioned.
1918 – The Soviet Union adopts the Gregorian calendar (on 1 February according to the Julian calendar).
1919 – The Polish-Soviet War begins.
1920 – The League of Women Voters is founded in Chicago, Illinois.
1924 – The International Business Machines Corporation (IBM) is founded.
1929 – Saint Valentine's Day massacre: Seven people, six of them gangster rivals of Al Capone's gang, are murdered in Chicago, Illinois.
1942 – Battle of Pasir Panjang contributes to the fall of Singapore.
1943 – World War II: Rostov-on-Don, Russia is liberated.
1943 – World War II: Tunisia Campaign – General Hans-Jurgen von Arnim's Fifth Panzer Army launches a concerted attack against Allied positions in Tunisia.
1944 – World War II: Anti-Japanese revolt on Java.
1945 – World War II: On the first day of the bombing of Dresden, the British Royal Air Force and the United States Army Air Forces begin fire-bombing Dresden, the capital of the German state of Saxony.
1945 – World War II: Prague is bombed probably due to a mistake in the orientation of the pilots bombing Dresden.
1945 – President Franklin D. Roosevelt meets with King Ibn Saud of Saudi Arabia aboard the USS Quincy, officially starting the U.S.-Saudi diplomatic relationship.
1945 – World War II: Mostar is liberated by Yugoslav partisans.
1946 – The Bank of England is nationalized.
1946 – ENIAC, the first general-purpose electronic computer, is unveiled.
1949 – The Knesset (Israeli parliament) convenes for the first time.
1949 – The Asbestos Strike begins in Canada. The strike marks the beginning of the Quiet Revolution in Quebec.
1950 – Chinese Civil War: The National Revolutionary Army instigates the unsuccessful Battle of Tianquan against the People's Liberation Army.
1956 – The XX Congress of the Communist Party of the Soviet Union begins in Moscow. On the last night of the meeting, Premier Nikita Khrushchev condemns Joseph Stalin's crimes in a secret speech.
1961 – Discovery of the chemical elements: Element 103, Lawrencium, is first synthesized at the University of California.
1962 – First Lady Jacqueline Kennedy takes television viewers on a tour of the White House.
1966 – Australian currency is decimalised.
1979 – In Kabul, Muslims kidnap the American ambassador to Afghanistan, Adolph Dubs who is later killed during a gunfight between his kidnappers and police.
1981 – Stardust Disaster: A fire in a Dublin nightclub kills 48 people
1983 – United American Bank of Knoxville, Tennessee collapses. Its president, Jake Butcher is later convicted of fraud.
1989 – Union Carbide agrees to pay $470 million to the Indian government for damages it caused in the 1984 Bhopal Disaster.
1989 – Iranian leader Ruhollah Khomeini issues a fatwa encouraging Muslims to kill the author of The Satanic Verses, Salman Rushdie.
1989 – The first of 24 satellites of the Global Positioning System are placed into orbit.
1990 – 92 people are killed aboard Indian Airlines Flight 605 at Bangalore, India.
1996 – China launches a Long March 3 rocket, carrying the Intelsat 708 satellite. The rocket flies off course 3 seconds after liftoff and crashes into a rural village.
1998 – An oil tanker train collides with a freight train in Yaoundé, Cameroon, spilling fuel oil. One person scavenging the oil drops a lit cigarette, creating a massive explosion which kills 120.
2000 – The spacecraft NEAR Shoemaker enters orbit around asteroid 433 Eros, the first spacecraft to orbit an asteroid.
2002 – Tullaghmurray Lass sinks off the coast of Kilkeel, County Down, Northern Ireland killing three members of the same family on board.
2004 – In a suburb of Moscow, Russia, the roof of the Transvaal water park collapses, killing more than 25 people, and wounding more than 100 others.
2005 – Lebanese self-made billionaire and business tycoon Rafik Hariri killed, along with 21 others, when explosives equivalent of around 1,000 kg of TNT were detonated as his motorcade drove near the St. George Hotel in Beirut.
2005 – Seven people are killed and 151 wounded in a series of bombings by suspected Al-Qaeda-linked militants that hit the Philippines' Makati financial district in Metro Manila, Davao City, and General Santos City.
2008 – Northern Illinois University shooting: a gunman opened fire in a lecture hall of the DeKalb County, Illinois university resulting in 6 fatalities (including gunman) and 18 injuries.
* Christian Feast Day:
o Cyril and Methodius, patron saints of Europe (Roman Catholic Church)
o February 14 (Eastern Orthodox liturgics)
* Communist Martyrs Day (Iraqi Communist Party)
* Statehood Day (Arizona)
* Statehood Day (Oregon)
* The second day of Lupercalia (Ancient Rome)
* Valentine's Day(International)