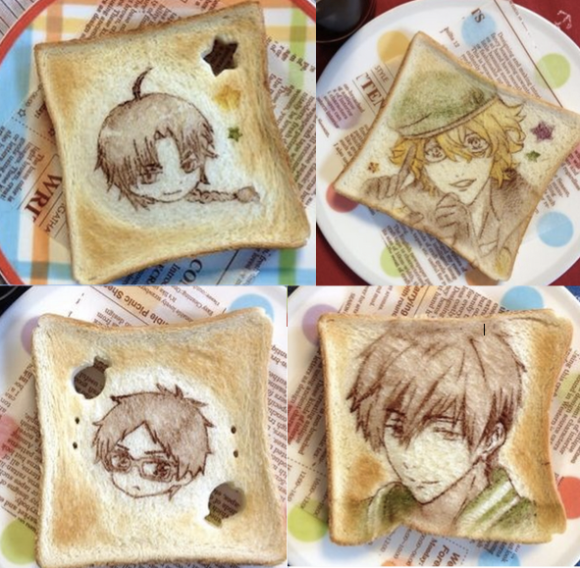 Move over latte art, it's all about toast art now!

The newest food decorating trend to come out of Japan since latte art is, surprisingly, toast art. But this isn't just any plain old toast with butter and maybe a swirl of jam that vaguely resembles a smiley face (but I still appreciate all those years of happy toast, mom!). No, the toast decorations created by Twitter user ginkei_18 are embellished with popular anime characters from Free!, Uta no Prince-sama, Gin Tama and Attack on Titan. Even if you don't recognize any of the characters, ginkei_18′s ability to skillfully draw directly onto a piece of bread is amazing.

First up, characters from Free!, an anime television series that follows the members of a high school swimming club:

stats

¥100

Price of a can of volcanic ash being sold in Tarumizu City in Kagoshima, the site of the Sakurajima volcano

150

Number of shops targeting "fashion-conscious young women and elderly shoppers" to be opened over the next two years by retailing giant Istean Mitsukoshi

1 million

Preorders for Sony's PlayStation 4 console, which will be released on November 29
FOREIGN AFFAIRS



A Renoir oil painting that had been stolen from a home in Setagaya in 2000 was sold at an auction in London for £1.05 million. Officials at Sotheby's say they had no idea the painting was hot and vowed to look into the matter.

A 42-year-old Detroit native has become the first foreign firefighter in the history of Ibaraki.

Prime Minister Shinzo Abe hosted dignitaries from about 40 Muslim nations for an iftar dinner-the traditional meal that breaks the sunrise-to-sunset fast during Ramadan.

South Korean officials expressed displeasure with the results of a Cabinet Office survey that found 60.7 percent of Japanese view the Takeshima islets as Japan's territory.

Just Mind The Radiation
No, Not That One
Ghost House?
Miyazaki says career creating anime films finally over

September 06, 2013

THE ASAHI SHIMBUN

Internationally acclaimed anime director Hayao Miyazaki formally announced his retirement at a jam-packed Sept. 6 news conference in Tokyo–and this time he said he was serious.

"My time for creating feature-length animation movies has come to an end," said the 72-year-old Miyazaki at a news conference attended by about 600 reporters representing domestic and foreign media organizations, some coming from as far away as Italy and France.