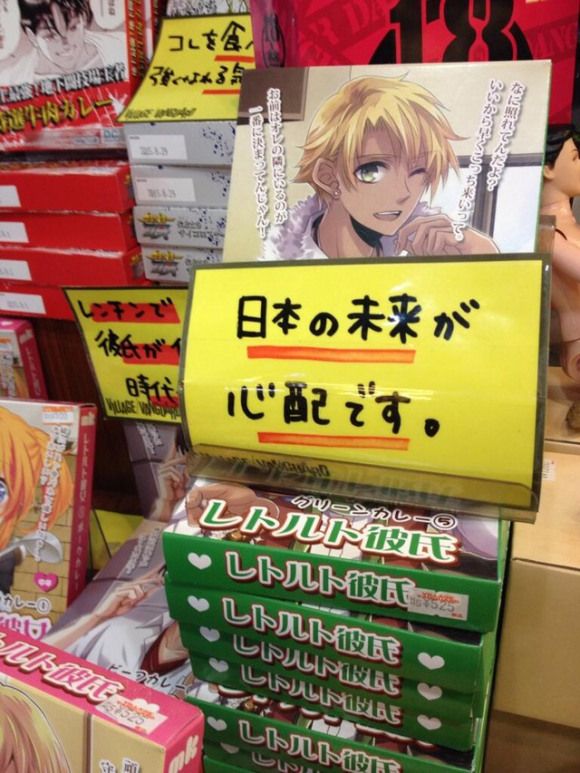 Instant boyfriend and girlfriend curry pouches now on sale, shopkeepers "worried"

Master Blaster

Strolling up and down the aisles of any supermarket in Japan, you are bound to come across several items in sealed vinyl retort pouches. Retort pasta sauce, retort rice porridge, and retort cat food can all be found freshly sealed and ready for quick heating if needed.

Now, all the hassle of landing a boyfriend or girlfriend has been removed, thanks to Retort Boyfriend (Retoruto Kareshi) and Retort Girlfriend (Retoruto Kanojo). Sounds great, but the new product has caused some, like the manager of the Village Vanguard shop pictured above, to become "worried about the future of Japan."

STATS

42

Percentage of Japanese who "do not feel friendly toward China," according to a Cabinet Office survey

45,000

Number of books donated to Everyone's Library, which has set up 13 reading centers in disaster-hit Iwate, Miyagi and Fukushima prefectures

¥1.8 billion

Amount of money stolen from online bank accounts between January and November last year, according to the NPA

VERY CLEVER

Matsuya department store in Ginza has unveiled a rooftop skating rink that features artificial snowfall every night at 8pm.

Engineers at the Japan Agency for Marine Earth Science and Technology have developed an unmanned research probe to look for natural resources on the ocean floor.

A Japanese research firm has hooked up with Twitter on a new TV ratings system that will be based on "the number of people who tweet about a show and the number of retweets related to [the] shows."

Education officials in Tokyo announced a plan requiring high school English teachers to spend a year abroad honing their language skills.
Flying In A Rush
On Hair?
The Train
China box office revenue hits $3.6 bil in 2013; 3 Hollywood films in top 10



BEIJING

China's box office takings leaped to $3.6 billion last year, up 27.5% on 2012, as nearly 14 screens were added every day to the world's second-largest film market, state media reported Wednesday.

Chinese cinemas raked in 21.77 billion yuan in 2013, the China Daily said, citing the State Administration of Press, Publication, Radio, Film and Television.

The year's highest-grossing film was "Journey to the West: Conquering the Demons," an action fantasy adaptation of a Chinese classic novel believed to date from the 16th century.

Only three Hollywood movies made it into the top 10, with "Iron Man 3" ranking second with 753.6 million yuan in takings, followed by "Pacific Rim" in fourth place and "Gravity" in 10th, the report added.

Unlike in 2012, domestic productions had more of the market than imported movies, with 12.77 billion yuan in ticket sales for a 58.7% share, the China Daily said.