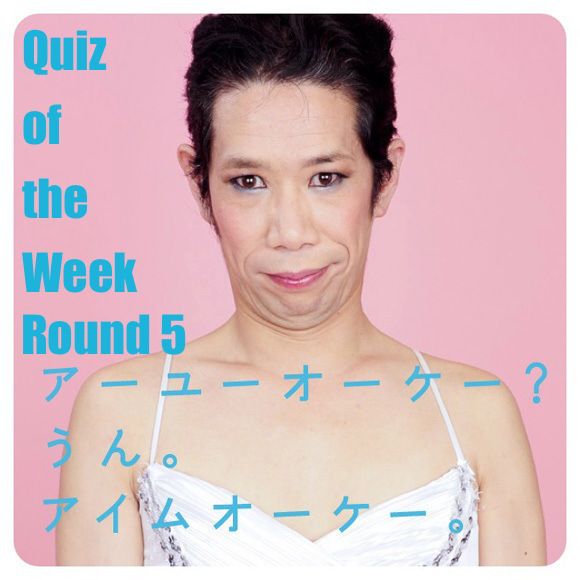 Quiz of the Week: Round 5 (Now with extra insults)

Philip Kendall

Welcome to another edition of Quiz of the Week: where the best news stories from the last seven days come to die. By now you should know the drill: we throw 10 multiple-choice questions at you to see whether you're keeping your wits about you and to introduce you to some of the best stories in town, whispering unsavoury things about your mother for every question you get wrong.

So stop drooling all over yourself and let's test those grey cells of yours!

As ever, highlight the space between the square brackets [ mmmn, bacon] after the word "Answer:" or click the "Read more" link to check your answers.

Ready? Then let's get started!

Question 1.

What unusual act has recently become something of an online craze in South Korea?

A: Taking "reverse selfies", where people take photos of things besides their own stupid faces

B: Sending confession emails to numerous companies' "support" email addresses

C: Sharing pictures of themselves in new underwear as a method of "reviewing" it

D: Spamming non-Korean companies' websites with photos of seemingly amused goats

STATS

939

Murders committed in Japan in 2013-the first time in the postwar era that the number has dropped below 1,000, according to the National Police Agency

8

Consecutive months that McDonald's Japan has reported a decrease in customers

3

Number of Japanese automakers-Nissan, Toyota and Honda-that logged record sales of new cars in China in 2013

MATTERS OF STATE

A 45-year-old temp worker from Shizuoka was arrested for throwing a shoe during a session of the upper house of Diet to protest the recently enacted state secrecy law.

Officials in South Korea released a promotional video touting their claims of sovereignty over the disputed Takeshima islets-two months after a previous video was criticized for using "unauthorized clips from a Japanese television drama."

The Osaka High Court became the first such judicial body in Japan to hold the government accountable for failing to protect workers from asbestos poisoning.

Prime Minister Shinzo Abe declared that his career goal is to "revise the Constitution."
Of Those In Charge
Will Toughen You Up?
Says It All
Professor cancels radio appearance after NHK declines talk on nuclear power issue



Feb. 1, 2014 (Sat.)

Public broadcaster NHK has declined to allow a regular guest on its radio program to talk about nuclear power on the grounds of the upcoming Tokyo gubernatorial election, leading him to cancel his appearance on the program.

Toru Nakakita, 62, a professor of economics at Toyo University, canceled his appearance on an NHK morning radio show after he was asked to change the subject for the program from the nuclear energy issue to something else, it was learned on Jan. 30.

Nakakita is a long-time regular guest on the program, which is titled "Radio Asa Ichiban" and is aired every morning from 5 a.m. Monday through Friday. He has had a monthly slot in the program's segment titled "Business Tenbo" (Business outlook) for more than 20 years. He had been scheduled to appear on the program on Jan. 30 to discuss the cost of restarting nuclear reactors and the risk of accidents at nuclear plants.