OK, so after years of (off and on) writing about High Speed Rail, I've finally been on a High Speed Rail train … on the Beijing – Tianjin Intercity Railway.
Though I have to say that I went to Tianjin by Subway and High Speed Rail, given that substantially more time was spent en-route on subways than on the HSR … given that Beijing South Railway Station to Tianjin Station is only 35-41 minutes (depending on whether there is a stop at Wuqing).


High Speed Rail … but mostly Subways
Beijing and Tianjin are two of the larger cities in China. In terms of the populations of the "cities proper" (Wikipedia machine link), they are the second and third largest cities in China, at 21.5m and 15.2m, respectively (in that list Shanghai is first overall, and Guangzhou ~ aka Canton ~ is fourth among Chinese cities).
However, Beijing and Tianjin are among the five Chinese cities that are organized as a Provincial-level Municipality. Because both Beijing and Tianjin are Municipalities, including substantial area that is not part of the urbanized area. So a different listing of Chinese cities by population and built up area has Beijing 2nd and Tianjin 6th in urbanized populations among cities in China.
This is, however, still with urbanized populations of 21.5m and 15.5m, which are quite substantial cachements for a HSR route. And thanks to a canal to the sea, Tianjin is the historic seaport for Beijing, so the two cities have historically had close commercial relations.
Indeed, the Beijing – Tianjin route is only 117 km (72 miles) long, which is part of why the trip only takes 35-41 minutes. The other part is the fact that the Beijing side of the route is at Beijing South railway station, which is south of the both Beijing's downtown cores and much of its inner belt of suburbs.
And that was part of the reason why so much of our trip was by subway. From our stop on subway line 15, the route to Beijing South Station goes across the inner Northern suburbs from west to east, than through the inner eastern suburbs from north to south … and then back through the inner southern suburbs from east to west.
There are shorter routes, via Line 4, but they requires either a bus to get to a station on one of the older (and therefore most crowded) lines to connect to Line 4, or else a much longer bus ride to get directly onto Line 4 … with a much higher risk of being caught up in a Beijing Traffic jam on the way. We went with the longer distance route without the risk of a connecting bus getting caught in a traffic jam.
When the current 5 year plan is finished, there will be a direct subway connection from our station to Line 4 and Beijing South station, as well as to Line 9 and Beijing West station … but until that finishes, we have to trade off a certainly longer but more certain route vs a possible quicker but possibly traffic-jammed route.
Now, if Beijing was the kind of city that trains go through … as Tianjin is … maybe we'd just go to "the closer station on the route" … but Beijing is the kind of city that trains go to. As far as I can tell, there is nowhere to go through to once a train gets to Beijing South station.
This is an issue that the Chinese authorities are clearly aware of, and the first proposals for a tunnel to connect the two busiest stations — Beijing Station and Beijing West Station — were made back in the 1980's. But with so many other transport infrastructure tasks to tackle in a rapidly growing city, construction of that tunnel only got underway in the past decade, and it was opened last year.

Going at High Speed for a Short Period of Time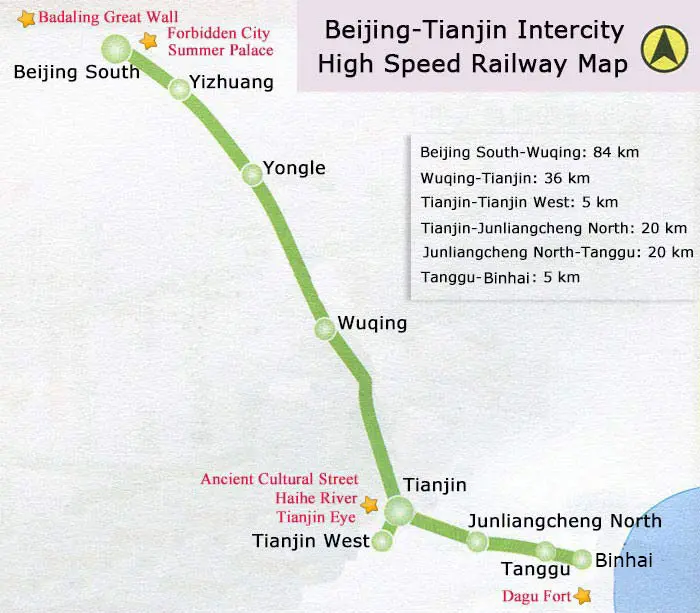 We got tickets a couple of days before at a small train ticket office on the street outside the northwest gate of the University campus. And we then proceeded to leave home about 15 minutes after the "very last possible moment to leave", and got to Beijing South Railway Station without incident … but also at about the time that our train was loading.
There was a security check, which proceeded faster than an airport security check. For one thing, there were ticket counters and automatic ticket machines on the side of the station past the security check, so there wasn't an identify and ticket check at the security line, just a bag X-ray and a step through a metal detector, with an attendant making a sweep with a handheld metal detector.
Then we got upstairs to the departure gate area, and went looking to find out what to do about our missed train. We passed automatic ticket machines, but didn't have the required card to make them work, and were about to follow a sign to a ticket counter outside the security check, but my wife saw a European looking gentleman and asked him if there were ticket counters on that level, and he said there were, so we kept looking.
We found them, and got into the shortest line. It did not turn out to be the quickest line, because some customer at the front of the line was going through some particularly intricate transaction, but eventually we got to the front, handed over our tickets, and the lady behind the counter said we could change the tickets, but we needed to do it at the line next to ours. So we got over to that line, and the tickets were changed to the next available train, free of charge. I finally read the ticket policy in English in the HSR Safety Guide on the trip back, and tickets can be changed free of charge before the service departs to another train within 48hrs, or after the train departs to another within 24hrs … but there is only one free change allowed.
There are also the equivalent of "stand-by" tickets sold, so I presume that two fortunate travelers got to take our seats to take the 10am train to Tianjin.
Now, HSR services leave from Beijing South to Tianjin every ten to twenty minutes, so even during the busy National Week holiday period, there happened to be seats available in a train leaving in under an hour.
After a wait that was substantially shorter than our subway ride, they started checking tickets for our train. At Beijing South they checked our passports and tickets at the same time, and then we got onto an escalator going down to our platform. There were actually two ticket check stations for each platform, across the width of the waiting area, so there were two lines heading in opposite directions heading for the same train.
We found our train, which happened to be the dining / cafe car, and took our seats, which were at tables in the dining section. Second class seats were five across (2+3), and were a bit narrow for my shoulders, but, unlike United Airlines economy, the leg room was fine.
We headed out, and after reading for a bit, I started looking at the scenery going by. I figure we would speed up once we got out of the urbanized section … but then I looked up at the LED display, and saw the train was already going faster than 260kph (160mph), which meant faster than the Acela at it's fastest … and that is the fastest regular train service in the US until the California HSR gets going sometime in the 2020s.
As far as it being an HSR train rather than the regular trains I rode between Newcastle and Sydney in Australia, there was not much that was remarkable. When we ran along the Expressway, it was lovely to speed past the cars, but the only time I really felt the speed was when we passed a high speed train heading the other direction.
This was a non-stop service to Tianjin Station, so we got off at the first stop. It continued on, so I assume it was one of the seven daily HSR services that continue on to Tanggu, a coastal city in the eastern part of the Tianjin Municipality. The fact that there are only seven HSR services a day to Tanggu would have accounted for the fact that only a minority of the passengers on our train got off at Tianjin.
But we headed to the Tianjjin Metro, a subway system of five lines and 130km of track connecting 95 stations. Of course, this being China, the subway system is being expanded, with two more lines scheduled to open sometime this year, and a third scheduled to open in 2020.
Unlike in the Beijing subway, the one-time "tickets" in the Tianjin system are plastic tokens, which you tap against the stored-value-card readers to get into the subway, and then drop into the token slot when you exist at your destination station. Thanks to Google Maps, we knew which exit to take from our destination station, which was an island in the middle of a big urban round about with light signals, so our hotel was directly across a three lane, one way street. That may sound scary, but with the lights controlling traffic around the round about, we easily made it across the street and to our hotel.
The return trip was similar to the trip down in most ways. We did not have a return ticket, and in the busy evening traffic to Beijing a day before the end of the National Week holiday, we had to wait two hours for our train at Tianjin Station. This time we were in a regular 2nd class car, on the two seat side of the 3+2 seats, in a train that originated at Tianjin station. It had a short stop at Wuqing before getting to Beijing South, which meant that it took 41 minutes rather than 35, to make the 100+ mile trip.

A Route So Popular They are Making Another
Given the size and proximity of Beijing and Tianjin, it is no surprise that the Beijing-Tianjin line is getting close to it's maximum capacity. The trains section of the Travel China Guide lists over 70 services from Beijing South to Tianjin daily.
Indeed, the corridor is so successful, that they are making another one.
Tianjin is essentially a "two-core" city. One core (yellow in the map) is around the original downtown, which is well served by Tianjin Station, with easy connection to the original lines of the Tianjin subway system. The other core is in the "Binhai New Area" (green in the map), the part of Tianjin Municipality along the seacoast. The original Beijing Tianjin Intercity Line has an extension into the Binhai New Area, but with an HSR Intercity Line being built to connect to Zhangjiakou in Hubei Province, directly east of Beijing, it is possible to go directly to Binhai, bypassing downtown Tianjin.
This service will run out of Beijing Station, at the southern edge of what was the old walled city of Beijing … and will have the option of including trains that load passengers in Beijing West station, in the inner western suburbs just west of what was the old walled city of Beijing, via the new underground connector. The 2nd Tianjin Line will also stop at the Binhai International Airport, which is the airport for Tianjin, in between old Tianjin City and Binhai. As line 2 of the Tianjin Metro terminates at Binhai International Airport, the 2nd Beijing – Tianjin Intercity Line will offer service for people in Tianjin's eastern suburbs as well as Binhai New Area.
(Mind, we only visited the historic districts of Tianjin City in this trip, so until we have a chance to visit Binhai New Area, anything I say about that area is secondhand info.)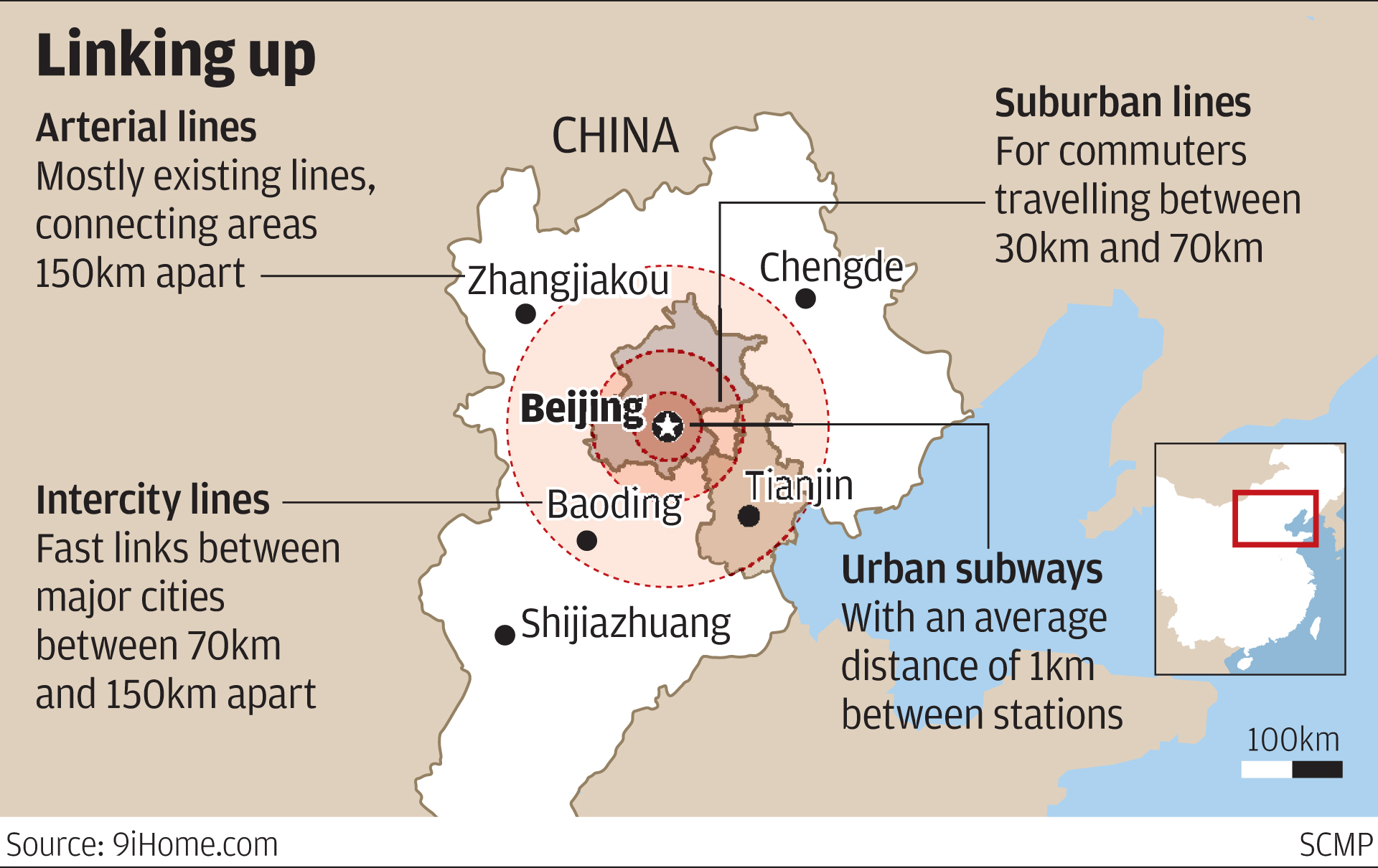 The 2nd Beijing – Tianjin Intercity Line is part of what will be a network of 4 East-West and 4 North South Intercity lines, connecting the urban core of Beijing to the surrounding region. This is part of a broader effort to integrate development in Beijing and Tianjin Municipalities and Hebei Province, to take pressure off of urban Beijing and distribute urban economic growth more widely in the region.

Conclusions and Conversations
Now, the Sunday Train essay is not the end of the journey … it's just the beginning. The journey are the conversations that it may spark.
So, where would you like to ride a bullet train? Myself, I plan on riding the bullet train to Shanghai somebody, and possibly the bullet sleeper train to Guangzhou. And if I live long enough, perhaps the California bullet train.
Of course, any topic on sustainable transport or energy is on topic at the Sunday Train, whenever it may happen to be running and whatever is the topic of the lead essay.. If you don't want to be mistaken for writing on the essay topic, just drop in a "Transport:" or "Energy:" at the head of your comment.