It's never ceases to amaze just how stupid some politicians are. Not does it never cease to amaze when the consequences of their actions backfires. Prime example would be Republican California Representative Devin Nunes, he of the midnight run to the White House to prove "no collusion," who filed $250 million lawsuit against Twitter, specifically a Republican strategist, and two parody Twitter accounts, one purporting to be Nunes's mother, the other purporting to be Nunes's cow. While the parody account of his mother has been suspended, @DevinCow now has over half a million followers, more than the congressman. The Stars Hollow Gazette is 527,150.
The creator of @NunesMom worked around the suspension creating a new account Devin Nunes' Alt-Mom @NuneAlt, re-posting a screenshot of an deleted tweet that had a "helpful diagram" to explain Nunes' relationship with Trump and Russian President Vladimir Putin.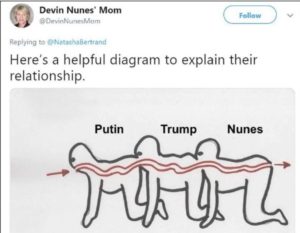 There are now numerous other parody account, such as, Devin Nunes' Thin Skin @DevinSkin, which needs to get thicker, and this list:
@devin_farm, @NunesSideCow, @NunesDad, @DevinNunesDog, @DevinsMomsCow, @DevinNunesMouth, @LeftDevin, @DMomcow, @DFleas, @NunesTears, @SdadCow, @DevinGerbil, and @LawyerNunes
That family reunion should be fun.
Pundits are calling the lawsuit "bonkers" and "ridiculous" particularly given Nunes's co-sponsorship of a bill called the Discouraging Frivolous Lawsuits Act. Last night Seth Meyers, host of NBC's "Late Night." took a closer look at Nunes' lawsuit.
Joan Coaston at Vox.com explained some of the reasoning behind the 40 page lawsuit:
Nunes's complaint is part and parcel with wider efforts to clamp down on Twitter itself. In short, Nunes argues in his lawsuit that Twitter is a content creator and thus Section 230 of the Communications Decency Act (which states that Twitter doesn't have to determine what's defamatory and what's not and basically prevents a massive speech crackdown) shouldn't apply to the social media giant. [..]

In effect, Nunes wants to force Twitter into regulating speech that is mean to Nunes and other conservatives. And as Jeet Heer wrote at Talking Points Memo on Tuesday, just the expense of fighting a lawsuit like this one can be incredibly damaging, let alone any resulting ruling. [..]

So yes, Nunes is drawing more attention to @Devincow. But he's also sending a message: Some conservatives do in fact want more regulations stemming from the federal government, provided those regulations are aimed squarely at so-called "left-leaning" social media platforms
One other point that Nunes seems to have missed, courts have ruled that under the First Amendment public figures can be parodied and ridiculed. Here's hoping a judge will dismiss this frivolous lawsuit and teach Nunes a lesson by making him pay for everyone's court costs.