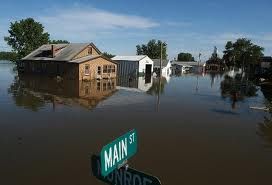 Severe storms have swept across the Midwest and Southern United States that have killed over 300 people as massive tornadoes swept through the region. It isn't just tornadoes that are causing the devastation but the heavy rains have caused flooding that is wiping out entire towns as levees along the Mississippi and Missouri Rivers fail.
Mississippi River Floods 2011: Deep South Braces For Surge Of Water Not Seen Since 1927
NEW ORLEANS — A surge of water not seen since the Great Mississippi Flood of 1927 is forecast in coming days to test the enormous levees lining the Mississippi River on its course through the Deep South, adding another element of danger to a region already raked by deadly tornadoes and thunderstorms.

Mississippi's and Louisiana's governors issued flood warnings Thursday and declared states of emergency. Authorities along the swollen waterway in both states are warning nearby residents to brace for the possibility of any flooding. River boat casinos in Mississippi are closing and levee managers are readying sand bags and supplies – and the manpower to build the defenses – to fight the rising river along hundreds of levees in both states where the river crosses en route to the Gulf of Mexico.
Missouri levee fails; prompting more evacuations
(CNN) — A compromised levee in Poplar Bluff, Missouri, failed Tuesday, forcing authorities to order more evacuations in the region.

The levee failed in at least four locations along a two-mile stretch along the Black River, City Manager Doug Bagby said.

The failure was sending floodwaters from the Black River into a populated but rural area of Butler County, sparing the city of Poplar Bluff, said the city's deputy police chief, Jeff Rolland.

Authorities were worried about another one to three inches of rain in the forecast.

It was unclear how many people might eventually be affected by the flooding, Butler County Sheriff's Detective Scott Phelps said. As of midafternoon Tuesday, several hundred homes had been evacuated in the county, he said. The breaks occurred between Poplar Bluff and the community of Qulin, about 12 miles to the southeast.
As reported at Think Progress, "the levee's failure is a tragic reminder of the sorry state of America's infrastructure."
According to the Army Corps of Engineers, nearly ten percent of the levees in the country are expected to fail during a flood event. The Civil Corps. of Engineers gave the U.S. levee system a D- grade in 2009, and estimated that it would take a $50 billion investment to get those levees into adequate shape:

During the past 50 years there has been tremendous development on lands protected by levees. Coupled with the fact that many levees have not been well maintained, this burgeoning growth has put people and infrastructure at risk-the perceived safety provided by levees has inadvertently increased flood risks by attracting development to the floodplain. Continued population growth and economic development behind levees is considered by many to be the dominant factor in the national flood risk equation, outpacing the effects of increased chance of flood occurrence and the degradation of levee condition.

Projected federal spending on levees in the next five years is expected to be just $1.13 billion, leaving a $48.87 billion shortfall in needed funding (pdf). According to the Federal Emergency Management Agency, "there are 881 counties – or 28 percent of all counties in the United States – that contain levees or other kinds of flood control and protection systems." More than half of the U.S. population resides in those counties.

Overall, the U.S. has about $2.2 trillion in unaddressed infrastructure needs (pdf). The Congressional Progressive Caucus budget that was released earlier this month includes $30 billion "as start-up costs for a national infrastructure bank (pdf) that would leverage private financing to help rebuild America's public capital stock," and budgets for $1.2 trillion in public investment (pdf) over the next five years.
Congress and the President are failing America with tax cuts and tax loopholes for the wealthy and billions in subsidies for corporations as they talk about reducing the deficits and spending cuts. Investing in infrastructure is vital to America's survival. It would create jobs, reducing unemployment and increasing tax revenue.
America is circling the drain, the drain is clogged and now we are drowning.
Update (ek hornbeck):
Missouri House Speaker Steve Tilley: Flood Cairo, Illinois To Save Farmland

Huffington Post

04-28-11 05:00 PM
Missouri's Republican House Speaker Steve Tilley was asked by reporters about the dilemma. "Would you rather have Missouri farmland flooded or Cairo underwater?" Tilley is asked.

Without hesitation, he replies, "Cairo. I've been there. Trust me. Cairo."

…

Cairo, Illinois (pronounced KAY-roh) was at the turn of the 20th century a bustling trade center. The 2,800-person town is now largely abandoned, two-thirds African-American, and deeply impoverished: nearly 50 percent of children under the age of 18 in Cairo live below the poverty level.