It takes three polls to tell us what many of us already knew without being told.
Obama ratings sink to new lows as hope fades
Public pessimism about the direction of the country has jumped to its highest level in nearly three years, erasing the sense of hope that followed President Obama's inauguration and pushing his approval ratings to a record low, according to a new Washington Post-ABC News poll.

More than 60 percent of those surveyed say they disapprove of the way the president is handling the economy and, what has become issue No. 1, the stagnant jobs situation. Just 43 percent now approve of the job he is doing overall, a new career low; 53 percent disapprove, a new high.

Among political independents – a prime target of Obama's new outreach – 78 percent see the country as off-kilter. The percentage saying so in January 2009 was 79 percent. Pessimism was even higher among independents – and everyone else – during the depth of the financial crisis in late 2008. But for Obama, things are back to square one.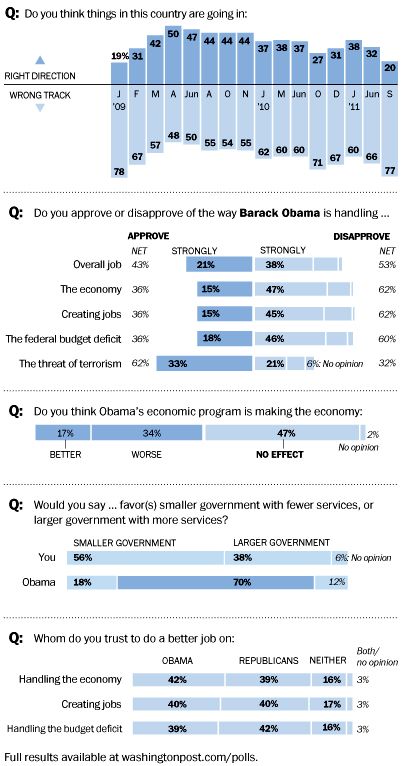 (Click on image to view full graphics)
Obama hits all-time lows, according to NBC News/Wall Street Journal poll
Transcript
Battleground Poll: Obama approval rating down amid deep economic fears
The debt-limit showdown and the stalled economy have tarnished President Barack Obama's standing with voters and dampened their optimism about America's future, with nearly three out of four voters now saying the country is headed in the wrong direction, according to a new POLITICO/George Washington University Battleground Poll.

snip

Capturing a rapid erosion of confidence through the summer months, the poll found 72 percent of voters believe the country is either strongly or somewhat headed in the wrong direction, a jump of 12 percentage points since May. Only 20 percent of voters say the country is going in the right direction, a 12-point drop in the same period.