Burning the Midnight Oil for Living Energy Independence
crossposted from Voices on the Square
By now, you would likely have seen the headline that Neil Armstrong dies: First man on the moon passes away at 82, or something akin to it.
Among those who follow the space program more closely, many are aware that there are few pictures of Neil Armstrong on the Moon. Neil Armstrong had two and a half hours of moonwalks, and Neil Armstrong operated the main camera. The camera that Buzz Aldrin operated was used for technical assignments.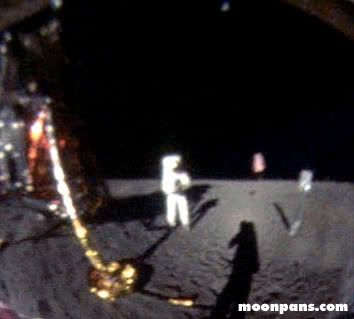 This fuzzy picture was take by enhancing a picture Neil took of Buzz Aldrin, and zooming in on the reflective visor, where Neil Armstrong appears in reflection as the photographer. And the small blue dot near the top?
That's Earth.
The passing of Neil Armstrong brought my mind back to the topic of An America that Can Do Great Things, and so I thought I would reprint my piece from 11 March, 2011, for this week's Sunday Train, on the connection between HSR and an America That Can Do Great Things.