cross-posted from Voices on the Square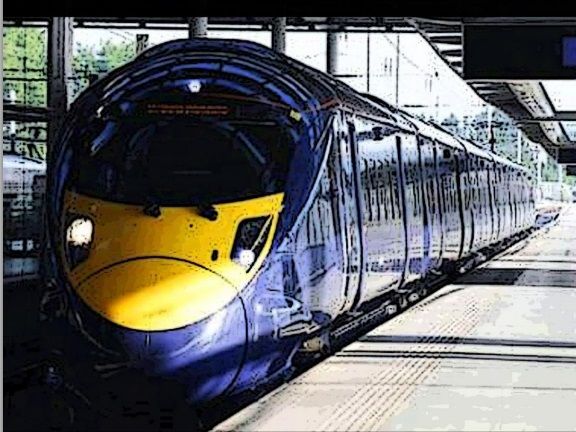 The Northeast Indiana Passenger Rail Association, on 28 June 2013, announced the results of their study of a Northern Indiana / Ohio rail corridor to Chicago:
The proposed system would operate twelve trains each way per day, including at least six express schedules. With modern diesel equipment running at speeds of up to 110 miles per hour to start, the three-hundred mile trip between downtown Chicago and downtown Columbus would normally require only three hours, forty-five minutes (express service), or four hours (local service). Track and safety improvements in a potential future phase would support speeds up to 130 mph and a downtown Chicago to downtown Columbus express time of three hours, twenty minutes.
Longer time readers of the Sunday Train may recognize this as a piece of the Ohio Hub project, first developed in the 1990's. At the time that the Ohio Hub was originally developed, the Fort Wayne to Chicago link was slated to be the second connection from Ohio to Chicago, with the envisioned phasing being:

Phase 1: Chicago to Detroit; and Cincinnati – Columbus – Cleveland ~ the Triple C backbone of the Ohio Hub

Phase 2: Cleveland to Toledo, Toledo to Detroit, completing Cleveland to Chicago via Michigan

Phase 3: Fort Wayne to Chicago; Toledo to Fort Wayne; Columbus to Fort Wayne; Cincinnati – Indianapolis – Gary – Chicago, completing Dayton/Cincinnati to Chicago via Indianapolis and Columbus/Cleveland to Chicago via Fort Wayne

Phase 4: Cleveland to Pittsburgh via Youngstown, connecting with services to Philadelphia / New York on the Keystone Corridor

Phase 5: Columbus to Pittsburgh, connecting with services to Philadelphia / New York on the Keystone Corridor

Phase 6: Cleveland to Toronto via Buffalo and Niagara Falls, connecting with services to New York and Boston on the Empire Corridor

So what the Northeast Indiana Passenger Rail Association is doing is pulling out a section of the Phase Three of the Ohio Hub and proposing it as a free-standing project. This free-standing project would bring intercity rail service back to Columbus, the largest or second largest urban area lacking rail service (depending on how you count Phoenix), and to Fort Wayne, the largest urban area in Indiana without intercity passenger rail service.