Today we take action to end the massive surveillance of the National Security Agency (NSA).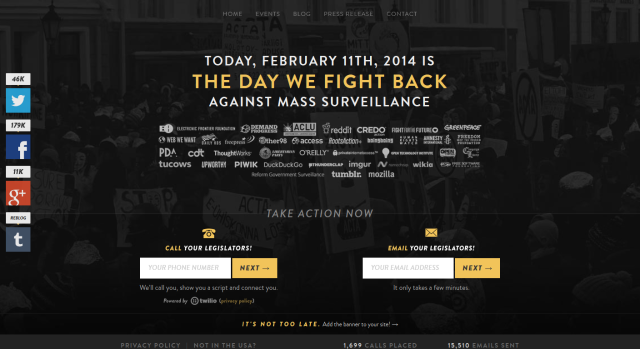 Click on image to participate
End NSA Massive Spying Programs

Dear Supporter,

We've told you about TODAY's massive action against mass spying — and now it's time to act. We're calling today The Day We Fight Back, and dozens of large organizations and websites and thousands of smaller ones are mobilizing their members and visitors to demand an end to broad suspicion-less surveillance.

We announced it on the anniversary of the passing of Aaron Swartz, to honor him and to celebrate the victory over SOPA that he helped us achieve two years ago.

If all of the organizations and sites that have signed on to the cause press forward today, we should be able to drive tens of thousands of phone calls to lawmakers to demand that the NSA's mass spying programs be reined in.

Will you place one of those calls? It'll only take 2 minutes, and we'll make it easy for you by giving you a call script and connecting you to the right office.

Just click here to call your lawmakers.

Then, or if you can't call, please click here to send an email to your lawmakers

We understand the United States to be a democracy, founded upon a Constitution that affords us critical rights, and governed by the rule of law.

Yet for years, the NSA has exploited secret legal interpretations to undermine our privacy rights — thus chilling speech and activism, and thereby threatening to subvert the very underpinnings of our democracy itself.

We are demanding that decision makers remedy this by:

* Passing the USA FREEDOM Act, which would end the bulk collection of Americans' phone records and institute other key reforms.

* Defeating the so-called FISA Improvements Act, which would entrench — and potentially expand — the spying.

* Creating additional privacy protections for non-Americans.

* Ending the NSA's subversion of encryption and other data security measures.

And we're not even that far from winning on at least one key front:

The USA FREEDOM Act has more than 100 bipartisan sponsors, including two powerful lead sponsors: Chairman of the Senate Judiciary Committee Patrick Leahy (D-VT) and Representative James Sensenbrenner (R-WI), who was the original author of the PATRIOT Act and is furious that it has been abused to spy on Americans en masse.

This summer an amendment that's very similar to parts of the USA FREEDOM Act failed to pass in the House of Representatives by just a handful of votes. Enough lawmakers now say they would have voted in support that it would pass if it came up for a vote today.

Now we need to force a vote on the issue in the House, and a first vote on it in the Senate — and we'll do that by putting pressure on lawmakers by calling and emailing them today. Tens of thousands of people are poised to join the cause: Please be one of them.

Just click here to call your lawmakers.

Then, or if you can't call, please click here to send an email to your lawmakers

We're going to persist in this fight, and we will win it.

In Solidarity,

Tim Carpenter

PDA National Director
We are in this fight together. It is time to act and end the massive surveillance of the NSA. Do it for yourself, for the future and to remember Aaron.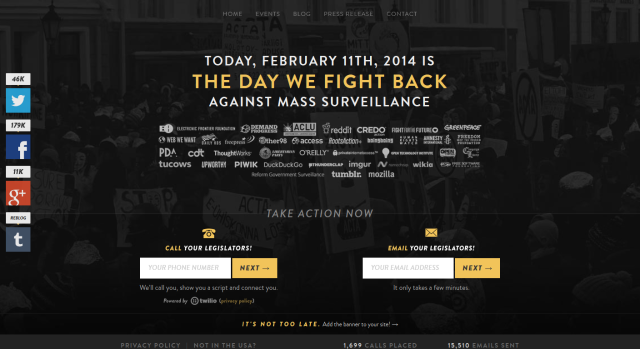 Just click here to call your lawmakers.
Then, or if you can't call, please click here to send an email to your lawmakers