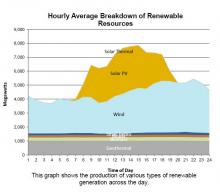 Much of the focus on the Sunday Train is on electrification of transport, ranging from 2,000 mile hauls of electrified freight through to hopping on an e-bike to pick up some groceries. And spending this school year mostly living and working in Beijing brings many of the possibilities to life … from riding the subway to get to the Sanlitun district for Texas BBQ, to seeing an electric freight train passing on a line overhead as the bus we were riding for our school spring outing last Saturday was bogged down in Beijing traffic, to seeing the electric delivery tricycle used by the pizza delivery from Woudaokou for the neighbor down the haul who seems to live in delivered pizza and Indian food.
But the efficiency gains of electric traction are only half of the story for sustainable transport, since its not fully sustainable unless that electricity is generated in a sustainable way.
And when following online discussion of renewable energy at the Energy Collective, which attracts both advocates for and detractors of investment in renewable energy resources, a perennial source of ammunition for attacks on renewable energy are the challenges of meeting demand for electricity with the harvest of a variable source of energy that is available on its own schedule, and not ours.
This is a topic I have touched on before (cf , ), Inspired by the article at the Energy Collective: Will Natural Gas Peaker Plants Become Obsolete?, I am coming back to today. What I want to focus on today is the opportunities offered by dispatchable demand for better integration of variable renewable energy. And I would be happy if you would join me to discuss this topic (or any other topic involving sustainable transport), below the fold.