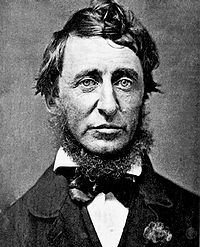 Henry David Thoreau (born David Henry Thoreau; July 12, 1817 – May 6, 1862) was an American author, poet, abolitionist, naturalist, tax resister, development critic, surveyor, historian, philosopher, and leading transcendentalist. He is best known for his book Walden, a reflection upon simple living in natural surroundings, and his essay, Civil Disobedience, an argument for individual resistance to civil government in moral opposition to an unjust state.

Thoreau's books, articles, essays, journals, and poetry total over 20 volumes. Among his lasting contributions were his writings on natural history and philosophy, where he anticipated the methods and findings of ecology and environmental history, two sources of modern day environmentalism. His literary style interweaves close natural observation, personal experience, pointed rhetoric, symbolic meanings, and historical lore; while displaying a poetic sensibility, philosophical austerity, and "Yankee" love of practical detail. He was also deeply interested in the idea of survival in the face of hostile elements, historical change, and natural decay; at the same time imploring one to abandon waste and illusion in order to discover life's true essential needs.

He was a lifelong abolitionist, delivering lectures that attacked the Fugitive Slave Law while praising the writings of Wendell Phillips and defending abolitionist John Brown. Thoreau's philosophy of civil disobedience influenced the political thoughts and actions of such later figures as Leo Tolstoy, Mahatma Gandhi, and Martin Luther King, Jr.

Thoreau is sometimes cited as an individualist anarchist. Though Civil Disobedience calls for improving rather than abolishing government – "I ask for, not at once no government, but at once a better government" the direction of this improvement aims at anarchism: "'That government is best which governs not at all;' and when men are prepared for it, that will be the kind of government which they will have."
1096 – Crusaders under Peter the Hermit reach Sofia in Hungary.
1191 – Saladin's garrison surrenders to Conrad of Montferrat, ending the two-year siege of Acre.
1543 – King Henry VIII of England marries his sixth and last wife, Catherine Parr at Hampton Court Palace.
1690 – Battle of the Boyne (Gregorian calendar) – The armies of William III defeat those of the former James II.
1691 – Battle of Aughrim (Julian calendar) – The decisive victory of William's forces in Ireland.
1804 – Former United States Secretary of the Treasury Alexander Hamilton dies after being shot in a duel.
1806 – Sixteen German imperial states leave the Holy Roman Empire and form the Confederation of the Rhine.
1812 – War of 1812: The United States invades Canada at Windsor, Ontario.
1862 – The Medal of Honor is authorized by the United States Congress.
1918 – The Japanese Imperial Navy battle ship Kawachi blows up at Shunan, western Honshu, Japan, killing at least 621.
1920 – The Soviet-Lithuanian Peace Treaty is signed. Soviet Russia recognized independent Lithuania.
1924 – The Post Office has announced it will now accept air mail letters for countries where the domestic later rate applies.
1932 – Cricket: Hedley Verity establishes a first-class record by taking all ten wickets for only ten runs against Nottinghamshire on a pitch affected by a storm.
1941 – Moscow is bombed by the German Luftwaffe for the first time.
1943 – World War II: Battle of Prokhorovka – German and Soviet forces engage in largest tank engagement of all time.
1954 – President Dwight D. Eisenhower proposes a highway modernization program, with costs to be shared by federal and state governments.
1957 – The U.S. surgeon general, Leroy E. Burney, reports that there is a direct link between smoking and lung cancer.
1962 – The Rolling Stones perform their first ever concert, at the Marquee Club in London.
1967 – The Newark riots began in Newark, New Jersey.
1974 – G. Gordon Liddy, John Ehrlichman and two others are convicted of conspiracy and perjury in connection with the Watergate scandal.
1979 – The island nation of Kiribati becomes independent from Great Britain.
1990 – After the election of Mikhail Gorbachev as head of the Soviet Communist Party, Boris Yeltsin, president of the Republic of Russia, announces his resignation from the Soviet Communist Party. This was a blow to Gorbachev who was hoping to keep all parts and factions of the Communist party working together.
1995 – A heat wave that effects Illinois and Wisconsin starts when a heat advisory is issued in Chicago, Illinois, warning of an impending record-breaking heat wave. By the time the heat wave ends one week later, nearly 2,000 people are dead in Illinois and Wisconsin with temperatures being recorded in Chicago up to 106 degrees Fahrenheit.