On this day in 1971, President Richard Nixon startled the country by announcing he would visit the People's Republic of China.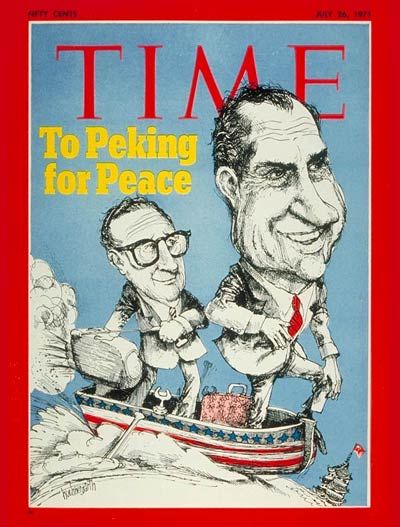 During a live television and radio broadcast, President Richard Nixon stuns the nation by announcing that he will visit communist China the following year. The statement marked a dramatic turning point in U.S.-China relations, as well as a major shift in American foreign policy.

Nixon was not always so eager to reach out to China. Since the Communists came to power in China in 1949, Nixon had been one of the most vociferous critics of American efforts to establish diplomatic relations with the Chinese. His political reputation was built on being strongly anti-communist, and he was a major figure in the post-World War II Red Scare, during which the U.S. government launched massive investigations into possible communist subversion in America.

By 1971, a number of factors pushed Nixon to reverse his stance on China. First and foremost was the Vietnam War. Two years after promising the American people "peace with honor," Nixon was as entrenched in Vietnam as ever. His national security advisor, Henry Kissinger, saw a way out: Since China's break with the Soviet Union in the mid-1960s, the Chinese were desperate for new allies and trade partners. Kissinger aimed to use the promise of closer relations and increased trade possibilities with China as a way to put increased pressure on North Vietnam–a Chinese ally–to reach an acceptable peace settlement. Also, more importantly in the long run, Kissinger thought the Chinese might become a powerful ally against the Soviet Union, America's Cold War enemy. Kissinger called such foreign policy 'realpolitik,' or politics that favored dealing with other powerful nations in a practical manner rather than on the basis of political doctrine or ethics.
1099 – First Crusade: Christian soldiers take the Church of the Holy Sepulchre in Jerusalem after the final assault of a difficult siege.
1207 – John of England expels Canterbury monks for supporting Archbishop of Canterbury Stephen Langton.
1381 – John Ball, a leader in the Peasants' Revolt, is hanged, drawn and quartered in the presence of Richard II of England.
1685 – Monmouth Rebellion: James Scott, 1st Duke of Monmouth is executed at Tower Hill, England after his defeat at the Battle of Sedgemoor on 6 July 1685.
1741 – Alexei Chirikov sights land in Southeast Alaska. He sends men ashore in a longboat, making them the first Europeans to visit Alaska.
1789 – Gilbert du Motier, marquis de La Fayette, is named by acclamation colonel-general of the new National Guard of Paris.
1799 – The Rosetta Stone is found in the Egyptian village of Rosetta by French Captain Pierre-François Bouchard during Napoleon's Egyptian Campaign.
1806 – Pike expedition: near St. Louis, Missouri, United States Army Lieutenant Zebulon Pike begins an expedition from Fort Belle Fountaine to explore the west.
1815 – Napoleonic Wars: Napoléon Bonaparte surrenders aboard HMS Bellerophon.
1838 – Ralph Waldo Emerson delivers the Divinity School Address at Harvard Divinity School, discounting Biblical miracles and declaring Jesus a great man, but not God. The Protestant community reacts with outrage.
1870 – Reconstruction era of the United States: Georgia becomes the last of the former Confederate states to be readmitted to the Union.
1870 – Rupert's Land and the North-Western Territory are transferred to Canada from the Hudson's Bay Company, and the province of Manitoba and the North-West Territories are established from these vast territories.
1888 – The stratovolcano Mount Bandai erupts killing approximately 500 people.
1916 – In Seattle, Washington, William Boeing and George Conrad Westervelt incorporate Pacific Aero Products (later renamed Boeing).
1918 – World War I: the Second Battle of the Marne begins near the River Marne with a German attack.
1934 – Continental Airlines commences operations.
1954 – First flight of the Boeing 367-80, prototype for both the Boeing 707 and C-135 series.
1955 – Eighteen Nobel laureates sign the Mainau Declaration against nuclear weapons, later co-signed by thirty-four others.
1959 – The steel strike of 1959 begins, leading to significant importation of foreign steel for the first time in United States history.
1974 – In Nicosia, Cyprus, Greek Junta-sponsored nationalists launch a coup d'état, deposing President Makarios and installing Nikos Sampson as Cypriot president.
1979 – U.S. President Jimmy Carter gives his famous "malaise" speech, where he characterizes the greatest threat to the country as "this crisis in the growing doubt about the meaning of our own lives and in the loss of a unity of purpose for our nation."
1983 – The Orly airport attack in Paris leaves 8 people dead and 55 injured.
1997 – In Miami, Florida, serial killer Andrew Phillip Cunanan guns down Gianni Versace outside his home.
2002 – "American Taliban" John Walker Lindh pleads guilty to supplying aid to the enemy and to possession of explosives during the commission of a felony.
2002 – Anti-Terrorism Court of Pakistan hands down the death sentence to British born Ahmed Omar Saeed Sheikh and life terms to three others suspected of murdering Wall Street Journal reporter Daniel Pearl.
2003 – AOL Time Warner disbands Netscape Communications Corporation. The Mozilla Foundation is established on the same day.