This is your morning Open Thread. Pour a cup of your favorite morning beverage and review the past and comment on the future.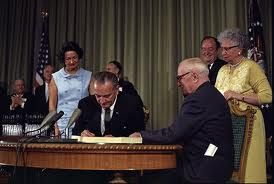 On this day in 1965, President Lyndon B. Johnson signs Medicare, a health insurance program for elderly Americans, into law. At the bill-signing ceremony, which took place at the Truman Library in Independence, Missouri, former President Harry S. Truman was enrolled as Medicare's first beneficiary and received the first Medicare card. Johnson wanted to recognize Truman, who, in 1945, had become the first president to propose national health insurance, an initiative that was opposed at the time by Congress.

The Medicare program, providing hospital and medical insurance for Americans age 65 or older, was signed into law as an amendment to the Social Security Act of 1935. Some 19 million people enrolled in Medicare when it went into effect in 1966. In 1972, eligibility for the program was extended to Americans under 65 with certain disabilities and people of all ages with permanent kidney disease requiring dialysis or transplant. In December 2003, President George W. Bush signed into law the Medicare Modernization Act (MMA), which added outpatient prescription drug benefits to Medicare.
762 – Baghdad is founded.
1419 – First Defenestration of Prague.
1502 – Christopher Columbus lands at Guanaja in the Bay Islands off the coast of Honduras during his fourth voyage.
1608 – At Ticonderoga (now Crown Point, New York), Samuel de Champlain shoots and kills two Iroquois chiefs. This was to set the tone for French-Iroquois relations for the next one hundred years.
1619 – In Jamestown, Virginia, the first representative assembly in the Americas, the House of Burgesses, convenes for the first time.
1629 – An earthquake in Naples, Italy kills 10,000 people.
1729 – Baltimore, Maryland is founded.
1733 – The first Masonic Grand Lodge in the future United States is constituted in Massachusetts.
1756 – Bartolomeo Rastrelli presents the newly-built Catherine Palace to Empress Elizabeth and her courtiers.
1811 – Father Miguel Hidalgo y Costilla, leader of the Mexican insurgency, is executed by the Spanish in Chihuahua, Mexico.
1825 – Malden Island is discovered.
1859 – First ascent of Grand Combin, one of the highest summits in the Alps.
1863 – Indian Wars: Chief Pocatello of the Shoshone tribe signs the Treaty of Box Elder, agreeing to stop the harassment of emigrant trails in southern Idaho and northern Utah.
1864 – American Civil War: Battle of the Crater – Union forces attempt to break Confederate lines at Petersburg, Virginia by exploding a large bomb under their trenches.
1866 – New Orleans's Democratic government orders police to raid an integrated Republican Party meeting, killing 40 people and injuring 150.
1871 – The Staten Island Ferry Westfield's boiler explodes, killing over 85 people.
1916 – Black Tom Island explosion in Jersey City, NJ.
1930 – In Montevideo, Uruguay wins the first Football World Cup.
1932 – Premiere of Walt Disney's Flowers and Trees, the first cartoon short to use Technicolor and the first Academy Award winning cartoon short
1945 – World War II: Japanese submarine I-58 sinks the USS Indianapolis, killing 883 seamen.
1953 – Rikidozan holds a ceremony announcing the establishment of the Japan Pro Wrestling Alliance.
1956 – A joint resolution of the U.S. Congress is signed by President Dwight D. Eisenhower, authorizing In God We Trust as the U.S. national motto.
1965 – US President Lyndon B. Johnson signs the Social Security Act of 1965 into law, establishing Medicare and Medicaid.
1969 – Vietnam War: US President Richard M. Nixon makes an unscheduled visit to South Vietnam and meets with President Nguyen Van Thieu and U.S. military commanders.
1971 – Apollo program: Apollo 15 Mission – David Scott and James Irwin on Apollo Lunar Module module, Falcon, land with first Lunar Rover on the moon.
1971 – An All Nippon Airways Boeing 727 and a Japanese Air Force F-86 collide over Morioka, Japan killing 162.
1974 – Watergate Scandal: US President Richard M. Nixon releases subpoenaed White House recordings after being ordered to do so by the United States Supreme Court.

1974 – Six Royal Canadian Army Cadets killed and fifty-four injured in an accidental grenade blast at CFB Valcartier Cadet Camp.
1975 – Jimmy Hoffa disappears from the parking lot of the Machus Red Fox restaurant in Bloomfield Hills, Michigan, a suburb of Detroit, at about 2:30 p.m. He is never seen or heard from again.
1975 – The Troubles: three members of a popular cabaret band and two gunmen are killed during a botched paramilitary attack in Northern Ireland (see Miami Showband killings).
1978 – The 730 (transport), Okinawa changes its traffic on the right-hand side of the road to the left-hand side.
1980 – Vanuatu gains independence.
1980 – Israel's Knesset passes the Jerusalem Law
2003 – In Mexico, the last 'old style' Volkswagen Beetle rolls off the assembly line.
2006 – World's longest running music show Top of the Pops is broadcast for the last time on BBC Two. The show had aired for 42 years.
2006 – Lebanon War: At least 28 civilians, including 16 children are killed by the Israeli Air Force in what Lebanese call the Second Qana massacre.
2009 – A bomb explodes in Palma Nova, Mallorca, killing 2 police officers. Basque separatist group ETA is believed to be responsible.