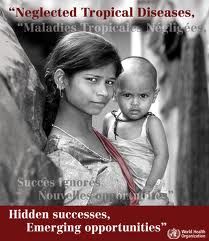 This is a series of diaries focused on the World Health Organization Neglected Tropical Diseases Program. I initially wrote a diary about Dengue Fever that had hospitalized Salon columnist and constitutional lawyer, Glenn Greenwald. The second diary briefly introduced the other diseases on the WHO list.
This diary will focus in Human African trypanosomiasis HAT, or sleeping sickness, parasitic disease transmitted by the bite of the 'Glossina' insect, commonly known as the tsetse fly infected with a protozoa of the species Trypanosoma brucei. The flagellate protozoan Trypanosoma brucei exists in 2 morphologically identical subspecies: Trypanosoma brucei rhodesiense (East African or Rhodesian African trypanosomiasis) and Trypanosoma brucei gambiense (West African or Gambian African trypanosomiasis).
Tsetse flies are found in 36 countries in sub-Saharan Africa, putting 60 million people at risk. The disease affects mostly poor populations living in remote rural areas of Africa. Untreated, it is usually fatal. Travelers also risk becoming infected if they venture through regions where the insect is common. Generally, the disease is not found in urban areas.
Sleeping Sickness is the deadliest disease in the world. Without treatment, the parasites kill.