I'm not sure about the rest of you, but I need a break from reality, at least for a few hours. The chance to sit in front of the big tube with a drink and a bowl of popcorn or other finger food and watch the glitz and glamor as the Stars walk down the red carpet and make fools of themselves bumbling the lines of acceptance speeches.
Tomorrow night at The Stars Hollow Gazette, I will be hosting a live blog of the 83rd Academy Awards starting at 7:00 PM EST when the march of celebrities in to the Kodak Theater. (yeah, I know I said I needed a break from reality but who said a blog was reality?). I haven't seen any of these movies. If it weren't for all the hype about a few of them, I couldn't even tell you the plot. The hosts this year will be Anne Hathaway, the youngest host in the history of the Oscars, and James Franco, a Best Actor nominee for his tour de force in "127 Hours".
Some folks make this show like the Super Bowl with special drinks and food. Some go for simple, while some just go all out for exotic drinks and fancy food. The fanciest I get is an extra olive in my martini and maybe some fresh grated Parmesan cheese on my popcorn. So for chuckles here are some of the more exotic drinks in honor of some of the nominees and a few recipes for nibbles to munch as you watch.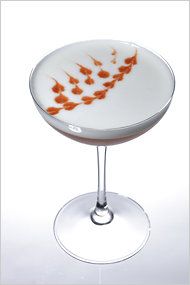 The Natalie Portman
This is quite ambitious but looked so pretty in the glass. My experience with some of these types of drinks is, Look, Don't Drink.
Named for the best actress nominee (for "Black Swan") and created by Eamon Rockey of Compose.

Beforehand, chill red wine that's been sweetened slightly with sugar (about a tablespoon per half cup of wine) and steeped with lemon peels.

Next, combine one and a half ounces of Brooklyn gin, three-quarters of an ounce of lemon juice, a half-ounce of triple sec, a quarter ounce of gum syrup and an egg white.

Shake and strain into a cocktail glass. Using a funnel, pour the red wine into the bottom of the glass so it forms a deep layer of color.

Mist the top of the cocktail with absinthe (if you don't have a spare mister, drizzle a few drops of absinthe) and garnish with a few dashes of Angostura bitters.
The James Franco is another ambitious cocktail that requires a lot of pre-prep. However, It was amusing that the drink is kept shilled with a chunk of frozen rock.
The Helena Bonham Carter goes for the simple. It starts out with a chilled glass that has been rinsed with absinthe, then the absinthe is discarded. I know where it can be "discarded". Never waste absinthe.
Here are some really tasty recipes for appetizers that are fairly simple, can be made ahead and some only take about 20 minutes to prepare.
These would not last 5 minutes in my house
These eggs required hot smoked paprika which I found in my local Stop 'n Shop
Make this dip a day ahead
Greek Goddess Dip
For something warm and spicy, this is great. Worth the extra time but can be made ahead and reheated under the broiler
Queso Fundido With Chorizo, Jalapeño and Cilantro
Another one that wouldn't last in my house. If you like shumai, double this
This would be a great brunch recipe, too
An Asian twist on Swedish meatballs