Punting the Pundits" is an Open Thread. It is a selection of editorials and opinions from around the news medium and the internet blogs. The intent is to provide a forum for your reactions and opinions, not just to the opinions presented, but to what ever you find important.
Thanks to ek hornbeck, click on the link and you can access all the past "Punting the Pundits".
Robert Reich: The Truth About the American Economy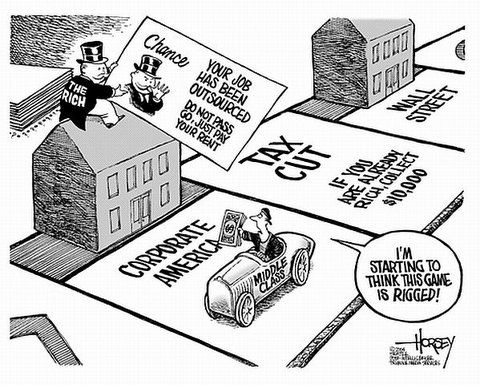 The U.S. economy continues to stagnate. It's growing at the rate of 1.8 percent, which is barely growing at all. Consumer spending is down. Home prices are down. Jobs and wages are going nowhere.

It's vital that we understand the truth about the American economy.

How did we go from the Great Depression to 30 years of Great Prosperity? And from there, to 30 years of stagnant incomes and widening inequality, culminating in the Great Recession? And from the Great Recession into such an anemic recovery?
New York Times Editorail: The Numbers Are Grim
A month ago, when an initial gauge of first-quarter economic growth came in surprisingly weak, many policy makers and economists expected the bad news to prove fleeting. But when revised data were released last week, the growth estimate remained stuck at an annual rate of 1.8 percent, compared with 3.1 percent at the end of last year.

More troubling in the latest figures, consumer spending – the largest component of the economy – was especially slow. Stagnant wages and higher prices for gas and food are squeezing family budgets, while falling home equity hurts consumer confidence. That suggests more bad news to come.
David Bromwich
:
Obama, Bush, and the Patriot Act
Minutes before midnight on May 26, President Obama, in Paris, by a species of teleportable pen signed into law a four-year extension of the Patriot Act: the central domestic support of the security apparatus devised by the Bush administration, after the bombings of 11 September 2001 and the 'anthrax letters' a week later. The first Patriot Act passed the senate on 25 October 2001, by a vote of 98-1 — the opposing vote coming from Senator Russ Feingold of Wisconsin. In the years that followed, a minority view developed, which said that the Patriot Act 'went too far'; but its steadiest opponents have come from outside the mainstream media: the American Civil Liberties Union, the Cato Institute, and libertarian columnists, such as Glenn Greenwald and Nat Hentoff.

In the last few days, two senators, Ron Wyden of Oregon and Mark Udall of Colorado, took up the mantle of Senator Feingold (who lost his bid for re-election in the anti-Obama midterm disaster of 2010). Both spoke against a government interpretation of the new Patriot Act, which has not yet been shared with the American people.

The senate as a whole voted (this time 72-23) to renew a law that citizens have had no opportunity to understand, as Wyden and Udall present it, and that few members of Congress have looked into, even to the limited extent allowed. The Patriot Act controls secret investigations. The government, however, according to Wyden, has a private understanding of the law. This interpretation has been classified. So the meaning of a law about secrets is hidden because the government's view of the law is itself a secret.
After more than two years, President Obama's national security policy looks all too familiar: like President Bush's policy. You remember the Bush doctrine? Its most prominent tenet was the policy of preventive war — using the U.S. military to eliminate potentially dangerous enemies, rather than using military force only when the United States is clearly threatened.

Generally speaking, the Bush administration argued that deposing unfriendly regimes and promoting democracy both militarily and diplomatically were in America's long-term best interests. President Obama not only has embraced this approach, stressing it again in his May 19 speech on the Middle East, he's gone further: increasing military spending, expanding the war in Afghanistan, handing off more of the mission to contractors and mercenaries, and bombing Libya without anything resembling a threat to the United States or even a nod from Congress — in violation of the War Powers Act.
As Democrats hustle to shovel a billion dollars into President Obama's campaign coffers – making promises to rich people and their corporations every step of the way – America's billionaires are spending even more money to seize control of the nation's public schools. Although super-wealthy capitalists like Microsoft's Bill Gates, fellow computer mogul Michael Dell, real estate magnate Eli Broad, and the rapacious owners of Wal-Mart, the Walton Family, would like people to think of them as philanthropists, they are nothing more than down-and-dirty investors who hope to reap much more than they sow. This mega-buck mafia's goal is to gain access to the $600 billion per year that taxpayers pump into public schools, and then to profit in perpetuity by shaping the nation's educational system to their corporate needs. The corporate education project has nothing to do with growing new generations of smarter, socially aware, independent-thinking citizens, but is designed to raid public treasuries through wholesale contracting-out of public schooling.

Teachers are the biggest obstacle in the way of the corporate educational coup, which is why the billionaires, eagerly assisted by their servants in the Obama administration, have made demonization and eventual destruction of teachers unions their top priority. Corporations hate collective bargaining, or working people's power of any kind, but their vision goes way beyond simply neutralizing teachers unions. The billionaires, and the politicians they have purchased, want nothing less than to destroy teaching as a profession. Plutocrats like Bill Gates and politicians like Barack Obama may make noises about respecting teachers' life-long commitment to learning, but their actions prove the opposite. At every opportunity, whenever a real or manufactured educational crisis presents itself, the corporate gang champions charter schools and imports platoons of young, mostly white, inexperienced rookies from programs like Teach for America. Most of these neophytes have no intention of making teaching a career, so they accept low wages, turnover is high, and they have no long term interest in any particular school, or school system, or the profession in general. They are temporary teachers – which is precisely the point.
The rapid and terrifying acceleration of global warming, which is disfiguring the ecosystem at a swifter pace than even the gloomiest scientific studies predicted a few years ago, has been confronted by the power elite with equal parts of self-delusion. There are those, many of whom hold elected office, who dismiss the science and empirical evidence as false. There are others who accept the science surrounding global warming but insist that the human species can adapt. Our only salvation-the rapid dismantling of the fossil fuel industry-is ignored by both groups. And we will be led, unless we build popular resistance movements and carry out sustained acts of civil disobedience, toward collective self-annihilation by dimwitted Pied Pipers and fools.

Those who concede that the planet is warming but insist we can learn to live with it are perhaps more dangerous than the buffoons who decide to shut their eyes. It is horrifying enough that the House of Representatives voted 240-184 this spring to defeat a resolution that said that "climate change is occurring, is caused largely by human activities, and poses significant risks for public health and welfare." But it is not much of an alternative to trust those who insist we can cope with the effects while continuing to burn fossil fuels.
My advice to Sarah Palin, not that she would take it, is that she'd better be careful. If she keeps pretending to run for the presidential nomination, people might take her seriously.

The former half-term Alaska governor's "One Nation" bus tour has made the Republican establishment nervous. If her aim is just to get back in the news, reinflate the Palin brand and boost her speaking fees, then party leaders have every reason to be pleased. In the unlikely event that she's actually running, they have every reason to order another Scotch.What the GOP should worry about is the intoxication that adoring crowds often induce in politicians. Palin might board the bus intending to pull a Trump and disembark convinced that now, more than ever, the nation requires her service. The hosannas ringing in her ears might deafen her to voices of reason.