"Punting the Pundits" is an Open Thread. It is a selection of editorials and opinions from around the news medium and the internet blogs. The intent is to provide a forum for your reactions and opinions, not just to the opinions presented, but to what ever you find important.
Thanks to ek hornbeck, click on the link and you can access all the past "Punting the Pundits"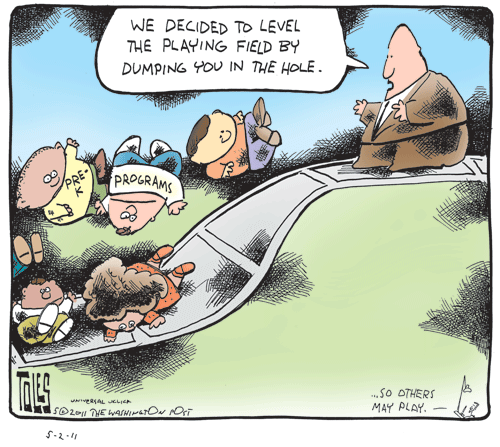 Paul Krugman: Springtime for Bankers
Last year the G.O.P. pulled off two spectacular examples of bait-and-switch campaigning. Medicare, where the same people who screamed about death panels are now trying to dismantle the whole program, was the most obvious. But the same thing

happened with regard to financial reform.

As you may recall, Republicans ran hard against bank bailouts. Among other things, they managed to convince a plurality of voters that the deeply unpopular bailout legislation proposed and passed by the Bush administration was enacted on President Obama's watch.

And now they're doing everything they can to ensure that there will be even bigger bailouts in years to come.
Katrina vanden Heuvel: With Osama bin Laden Dead, It's Time to End the War on Terror
In a dramatic, yet sober, Sunday night address to the American people, President Obama announced the capture and killing of Osama bin Laden. He reminded us of the horror, the grief, the tragedy and senseless slaughter of September 11, 2001. He reminded us of how, in those grim days, "we reaffirmed our unity as one American family…and our resolve to bring those who committed this vicious attack to justice."

The President spoke of how the capture and killing of bin Laden was the "most significant effort to date in our efforts to defeat Al-Qaeda. " And he reaffirmed that this country will never wage a war against Islam. For that reason, Obama said, bin Laden's "demise should be welcomed by all those who welcome peace and human dignity."

His call to Americans to remember what unifies us, to remember that "justice has been done," is a defining opening to seize. It is time to end the "global war on terror" we have lived with for this last decade. It is time to stop defining the post 9/11 struggle against stateless terrorists a "war." And it is time to bring an end to the senseless war in Afghanistan that has cost this nation so much in lives and money.
E.J. Dionne Jr.
:
The GOP's debt-ceiling silliness
Starting this week, the talk in our nation's capital will be dominated by whether Congress should raise the debt ceiling – as if we have any choice but to pay off our obligations. It will be a colossally foolish and self-destructive battle, another sign of how fanaticism and ideological obsession are rendering our country ungovernable.

Republicans, joined, it seems, by some terrified Democrats, are trying to use the debt-limit vote to force cuts in spending that they could not win on the merits. If the debt ceiling isn't raised, the government could face the possibility of defaulting. Even if default doesn't happen, global markets could punish us by demanding higher interest rates on our debt.
The New York Times Editorial: The Economy Slows
The economy still needs help and, specifically, a sustained focus on jobs and income. Instead, policy makers are gearing up for deep spending cuts, ignoring the damage they are likely to cause. Last quarter, cutbacks by governments at all levels took a chunk out of overall growth. If cuts of similar or greater magnitude become the norm, the slow economic pace of the first quarter also could very well become the norm. It's nice to believe slowing growth is transitory. But as long as spending, jobs and incomes are at risk and policy priorities are skewed, it's hard to believe in a turnaround.
Peter Dreier: Banks Should Pay for Foreclosures
The epidemic of foreclosures that began in 2008 has been devastating America's families, communities and the state economy.

Nowhere is this more true than in California, where one in five U.S. foreclosures has taken place. Since 2008, more than 1.2 million Californians have lost their homes, and the number is expected to exceed 2 million by the end of next year. More than a third of California homeowners with a mortgage already owe more on their mortgages than their homes are worth.