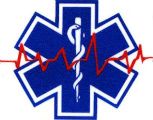 Welcome to the Stars Hollow Health and Fitness weekly diary. It will publish on Saturday afternoon and be open for discussion about health related issues including diet, exercise, health and health care issues, as well as, tips on what you can do when there is a medical emergency. Also an opportunity to share and exchange your favorite healthy recipes.
Questions are encouraged and I will answer to the best of my ability. If I can't, I will try to steer you in the right direction. Naturally, I cannot give individual medical advice for personal health issues. I can give you information about medical conditions and the current treatments available.
You can now find past Health and Fitness News diaries here and on the right hand side of the Front Page.
Cooking With Green Garlic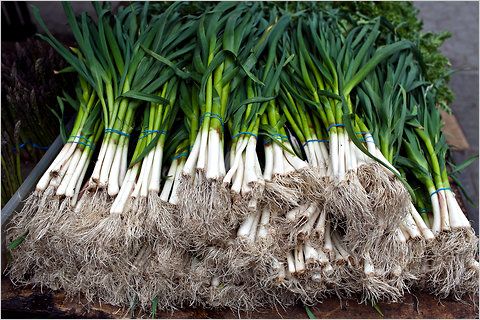 This was green garlic, freshly harvested. By now it should be available at most farmers' markets. At some stands, the bulbs look a lot like spring onions, or even leeks, because they haven't set cloves yet. Once the cloves appear, the garlic looks more familiar; still, the green stems will be attached, and you must remove several layers of moist skin to get to the cloves.
Whole Wheat Spaghetti With Green Garlic
Inspired by a classic pasta dish, this recipe includes chicory, a bitter green much loved in southern Italy.
Asparagus With Green Garlic
Serve this skillet dish with grains, pasta or eggs.
Green Garlic, Potato and Leek Soup
A very pale green springtime cousin of vichyssoise, this purée is comforting when served hot, refreshing when cold.
Beet Greens, Green Garlic and Barley Gratin
Use any kind of barley, brown rice or arborio rice in this Provençal gratin.
Rice Bowl With Spinach or Pea Tendrils
This easy skillet dish is filled with sweet spring vegetables.
General Medicine/Family Medical
Vitamin D Treatments Target Psoriasis

By Salynn Boyles
Study Helps Explain How Ultraviolet Light Therapy and Vitamin D Creams Treat Psoriasis.

May 12, 2011 — Ultraviolet light therapy and vitamin D creams are widely prescribed treatments for psoriasis, and now a new study may help explain why they work for so many patients.

Researchers say the vitamin D-based treatments increase the binding of a peptide called cathelicidin to DNA, which, in turn, inhibits the inflammatory response that triggers psoriasis.
Many Heart Patients Aren't Taking Needed Drugs

By Salynn Boyles
Study Shows Patients Are Missing Out on Benefits of Preventive Medications

May 10, 2011 — Too few patients with stable coronary artery disease are taking recommended drugs that could help them avoid the need for procedures that open up clogged arteries, a study shows.

The study is published in The Journal of the American Medical Association.
Heart Failure May Be Linked to Osteoporosis

By Bill Hendrick
Researchers Say Chest X-Rays of Heart Failure Patients May Reveal Fractures

May 10, 2011 — New research suggests that up to 12% of people with heart failure may have osteoporosis as well as spine compression fractures that often are characteristic of the bone disease.

What is more, the osteoporosis in most cases probably could be detected with a simple chest X-ray, leading to treatment to prevent fractures, according to a new study.

The study is published in the journal Circulation: Heart Failure, a publication of the American Heart Association.
Some Painkillers May Be Risky After Heart Attack

By Jennifer Warner
Study Shows Taking NSAIDs After a Heart Attack May Raise Risk of Another Heart Attack

May 9, 2011 — Even short-term use of a popular type of painkiller may be dangerous for people who have had a heart attack.

A new study shows heart attack survivors who were prescribed nonsteroidal anti-inflammatory drugs (NSAIDs) were 45% more likely to die or have another heart attack within one week of treatment.
Many Strokes Occur in Sleep, Preventing Treatment

By Bill Hendrick
Study Shows 14% of Strokes Are So-Called 'Wake-Up' Strokes

May 9, 2011 — Many people who suffer strokes have them while they are asleep, which may prevent them from getting clot-busting treatment in the critical first few hours after a stroke, a study shows.

Such strokes, referred to as wake-up strokes, account for about 14% of all strokes, according to the study. Previous research estimated the percentage of wake-up strokes between 8% and 28%.
Mindfulness Meditation May Cut IBS Symptoms

By Bill Hendrick
Study Shows Reduction in Severity of Symptoms for Patients With Irritable Bowel Syndrome

May 10, 2011 — People who practice the meditative technique called mindfulness meditation may be able to reduce the symptoms of irritable bowel syndrome (IBS), a new study shows.

The study found that the physical and psychological symptoms of IBS were more effectively managed by people practicing mindfulness meditation than in support group therapy.
Experimental Drug May Treat Chronic Constipation

By Brenda Goodman
Researchers Find That the New Drug May Also Lower LDL 'Bad' Cholesterol

May 10, 2011 — An experimental pill that blocks the absorption of bile acids by the small intestine may help to relieve chronic constipation, early research shows.

The drug, called A3309, works by inhibiting a molecule that removes digestive juices called bile acids from the lower part of the small intestine so they can be recycled by the body.
Study: Stomach Acid Drugs Linked to Fracture Risk

By Matt McMillen
Analysis Suggests Increased Risk of Fractures for Users of Proton Pump Inhibitors

May 9, 2011 — Long-term, regular users of drugs known as proton pump inhibitors (PPIs) such as Nexium, Prevacid, Prilosec, and Protonix appear to have a heightened risk of fractures, a study shows.

The researchers found that this class of acid-suppressive drugs raises the chances of breaking a bone by nearly 30%.

The study is published in the Annals of Family Medicine.
Warnings/Alerts/Guidelines
Experts Propose Age-Based Hepatitis C Testing

By Kathleen Doheny
Screening People Born From 1946 to 1970 Would Prevent Advanced Disease, Model Shows; Other Experts Want More Evidence

May 9, 2011 — Screening all people born between 1946 and 1970 for the hepatitis C virus would greatly reduce the number of people with advanced liver disease linked with the virus, according to new research.

"Current recommendations are to screen high-risk people," says researcher Lisa McGarry, MPH, director of health economics and outcomes research at Ingenix Life Sciences, a health information, technology, and consulting service.
Household Germs Hide in Unexpected Spots

By Matt McMillen
Study Shows More Germs Are Found in Kitchens Than in Bathrooms

May 13, 2011 — Germs may be lurking where you least expect them, according to a new study by NSF International.

Contrary to public perception that the bathroom is the most germ-ridden room in the house, the real trouble spot is the kitchen. And the most germ-tainted item is the one most people reach for when it's time to clean up: the sponge.
Seasonal Flu/Other Epidemics/Disasters
Study: Early Treatment Makes HIV Less Infectious

By Daniel J. DeNoon
Uninfected Sex Partner 96% Less Likely to Get HIV if Infected Partner Is Treated

May 12, 2011 — People who start HIV treatment while their immune systems still are strong are 27 times less likely to infect their sex partner than are those who delay treatment, an international study shows.

Nearly all of the people who volunteered for the study — 97% — were heterosexual couples. This makes it impossible to say whether the findings also apply to same-sex couples.
FDA OKs Flu Shot With Smaller Needle

By Bill Hendrick
New Needle Is 90% Shorter Than Traditional Needle

May 12, 2011 — The FDA has approved the first flu shot to be injected with a tiny needle into a skin layer called the dermis rather than into muscle.

The new needle is expected to be available for adults for the 2011-2012 flu season.
Do Bedbugs Spread MRSA?

By Daniel J. DeNoon
Drug-Resistant Bacteria Cultured From Bedbugs

May 11, 2011 — Bedbugs removed from people seeking care at a Vancouver hospital were carrying drug-resistant MRSA or VRE bacteria, Canadian doctors report.

The patients were residents of Vancouver's Downtown Eastside, an area with high rates of homelessness, HIV/AIDS, and injection drug use.
Women's Health
Diabetes, Hypertension, Obesity Linked to Autism

By Kathleen Doheny
Study Suggests Women With These Conditions May Have Greater Risk of Having an Autistic Child

May 11, 2011 (San Diego) — Women who have diabetes, high blood pressure, or are obese before pregnancy are more likely to have a child with autism, according to new research.

"For mothers with at least one of these conditions, there was a 60% increased risk for autism in the offspring," says Irva Hertz-Picciotto, PhD, an autism researcher at the University of California, Davis MIND Institute.
Low Oxytocin Linked to Postpartum Depression

By Brenda Goodman
Study Shows Higher Risk of Postpartum Depression for Pregnant Women With Low Levels of Oxytocin

May 11, 2011 — Pregnant women who have lower levels of the hormone oxytocin may be at greater risk for developing postpartum depression, a new study shows.

Sometimes called the "cuddle hormone" or the "hormone of love," oxytocin has been the subject of much research interest for its ability to foster feelings of bonding and attachment.
Does Coffee Cut Breast Cancer Risk?

By Kathleen Doheny
Study Suggests Heavy Coffee Drinking May Help Reduce Risk of Certain Cancers

May 10, 2011 — Women who drink more than five cups of coffee a day may be reducing their risk of one type of breast cancer, new research suggests.

Previous research has produced conflicting results about coffee and breast cancer risk, says researcher Jingmei Li, PhD, of the Karolinska Institutet in Stockholm.
Men's Health
Cancer Diagnosis Rates Differ for Gays, Heterosexuals

By Cari Nierenberg
Study Shows Gay Men Have Twice the Odds of Being Diagnosed With Cancer as Heterosexual Men

May 9, 2011 — A new study sheds light on the differences in cancer prevalence and survival rates in gay, lesbian, and bisexual populations compared with heterosexuals.

It found that gay men had nearly twice the odds of being diagnosed with cancer as heterosexual males. In women there was no significant difference in cancer prevalence by sexual orientation. But cancer survivors who were lesbians were twice as likely to describe their health as fair or poor, and bisexual women were 2.3 times as likely compared with heterosexual females.
Pediatric Health
Shooting Is No. 2 Cause of Kids' Injury Death

By Denice Mann
CDC Study Shows Firearm Homicide Rate Is Higher in Large Metropolitan Areas

May 12, 2011 — Firearm homicide is the second leading cause of injury death among youths aged 10 to 19, according to the latest data from the CDC.

The findings are published in the CDC's Morbidity and Mortality Weekly Report.
Observation After Head Injury Cuts Kids' CT Scans

By Kathleen Doheny
Study Shows Advantages of Postponing CT Scans in Emergency Rooms

May 9, 2011 — A period of observation in the emergency department after a minor childhood head injury can reduce the use of a CT scan by as much as half without affecting good care, according to a new study.

As a result, the child may be exposed to less radiation. That reduces the long-term risks, such as the link with accumulated radiation exposure and cancers.
Drug Combo May Help Treat Kids With ADHD

By Denise Mann
Study Shows Improvement in ADHD Symptoms in Kids Treated With Clonidine and a Stimulant

May 11, 2011 — Combining an extended-release version of the blood pressure pill clonidine with a stimulant may benefit children with attention deficit hyperactivity disorder (ADHD) who are not getting adequate relief from stimulants alone, according to a new study.

As many as 5% of children and adults in the U.S. have ADHD, a behavioral disorder marked by impulsiveness, hyperactivity, and inattention. Stimulants are often the first-line therapy, but they can have side effects that include poor appetite and sleeplessness.
Marital Strife Linked to Infants' Sleeping Woes

By Bill Hendrick
Study Shows Instability in Parents' Relationship Has Impact on Sleep of Infants

May 11, 2011 — Infants who are exposed to marital discord are more likely to have trouble sleeping during infancy and when they approach the toddler stage, a study shows.

Researchers evaluated more than 350 families when their babies were 9 months old and 18 months old. All the babies had been adopted because the scientists wanted to eliminate the chance that any behaviors between parents and kids weren't caused by shared genes or personality characteristics
When Do Kids Form Their First Memories?

By Salynn Boyles
Study Suggests Even Very Young Children Can Recall Past Events

May 11, 2011 — New research challenges the notion that very young children do not form memories, finding that they do but that the memories often fade over time.

Most adults remember little before their third or fourth birthdays, and the thinking has been that prior to this age children do not have the cognitive or language skills to process and store events as memories
Study: Autism May Be More Common Than Thought

By Daniel J. DeNoon
Researchers Suggest Many Undiagnosed Kids Have Mild Autism

May 9, 2011 – A "startling" one in 38 children has autism, South Korean and U.S. researcher find.

The estimate is far higher than CDC's estimate of one in 110 children, as the study found many school kids have mild, undiagnosed autism.
Low Vitamin D at Birth Linked to Lung Infections

By Daniel J. DeNoon
Sixfold Higher Risk of RSV Lung Infection for Newborns With Low Vitamin D

May 10, 2011 — Newborns with low vitamin D levels have a sixfold higher risk of lung infections with respiratory syncytial virus (RSV), Dutch researchers say.

RSV is the major cause of serious lung infections in infants. During the first 12 months of life, it's the most common cause of bronchiolitis (inflammation of the small airways in the lung) and pneumonia in the U.S.
Aging
Weight Loss Surgery May Benefit Older Adults

By Brenda Goodman
Study Shows Weight Loss Surgery Is Safe and Effective for Patients Over 65

May 9, 2011 — Age does not appear to significantly increase the risks associated with having weight loss surgery, a new study shows.

The study analyzed data on more than 48,000 adults in a national registry who had open or laparoscopic bariatric surgery procedures between 2005 and 2009.

Over that period, the percentage of adults over age 65 who had surgery to lose weight more than doubled.
4 in 10 Over Age 85 Have Cognitive Impairment

By Kathleen Dohney
Prevalence of Dementia Increases Dramatically After Age 90, Study Finds

May 9, 2011 — More than four in 10 women over age 85 have some type of cognitive impairment, according to a new study.

The results show nearly 18% of women over 85 have dementia and 23% more have mild cognitive impairment, and the prevalence of dementia doubles after age 90 compared to women who are 85 to 89 years old.
Mental Health
Alzheimer's Caregivers May Be at Risk for Dementia

By Brenda Goodman
Stress and Shared Lifestyle May Raise Risk of Mental Decline for Spouses Who Are Also Caregivers



May 13, 2011 — Husbands and wives who care for a spouse with Alzheimer's disease or another kind of dementia may face an increased risk of mental decline themselves, a new research review shows.

"It is incredibly ironic, but also, it makes sense," says study researcher Peter P. Vitaliano, PhD, an adjunct professor and director of the Stress and Coping Project at the University of Washington, Seattle.
Fibromyalgia Pain Takes Toll on Everyday Life

By Bill Hendrick
Work, Relationships, Parenting Affected by the Chronic Pain Disorder, Survey Shows

May 13, 2011 — Fibromyalgia affects relationships, parenting duties, and life decisions of people afflicted with the chronic pain disorder, a new survey finds.

Fibromyalgia is characterized by widespread muscle tenderness and pain, fatigue, and sleep problems. The cause is unclear, but abnormalities in the way the body responds to and processes pain may play a role.
Nutrition/Diet/Fitness
Jenny Craig Nabs 'Best Diet' Ranking

By Denise Mann
Consumer Reports Health: Jenny Craig Beats Other Weight Loss Plans Based on Weight Loss, Adherence

May 10, 2011 — Jenny Craig bested Slim Fast 3-2-1 and Weight Watchers in the latest battle in the diet wars. The new diet ratings, released by Consumer Reports Health, gave six popular diets a score based on their overall effect on weight loss, adherence, and how well they followed the 2010 U.S. dietary guidelines for Americans.