"Punting the Pundits" is an Open Thread. It is a selection of editorials and opinions from around the news medium and the internet blogs. The intent is to provide a forum for your reactions and opinions, not just to the opinions presented, but to what ever you find important.
Thanks to ek hornbeck, click on the link and you can access all the past "Punting the Pundits".
Wednesday is Ladies' Day
Katrina vander Huevel: Rick Perry: Governor for Sale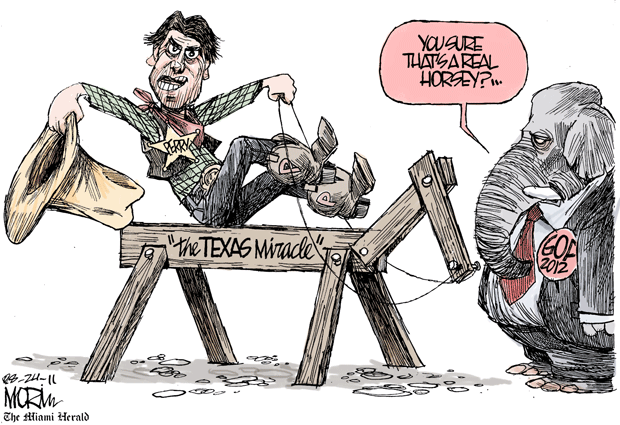 There's a saying in Texas when someone has the swagger of success without the accomplishments to back it up: He's all hat and no cattle. Put another way: he's acting like Texas Governor Rick Perry (R).

Perry has been elected governor three times and has proclaimed his state a model worth replicating at the national level. Yet Texas has the highest number of residents without health insurance in the nation, among the worst-ranked food stamp programs, one of the highest child poverty rates, the lowest percentage of residents with a high school diploma and one of the highest teenage birth rates. These are stats that deserve swears, not swagger.

Texas's political system is also as brazenly capable of corruption by money and special interests as that in Washington, and unabashedly so.
Amanda Marcotte: Texas, Sex, and Separation of Church and State
Governor Rick Perry of Texas has thrown his hat into the presidential contender ring, and his nascent campaign has quickly came to demonstrate why the blurring of the distinctions between church and state are so dangerous, especially to women. His campaign has surprisingly been even more of a demonstration of this than that of Michele Bachmann's, even though the mainstream media consensus is Bachmann is more of a theocrat. Part of the reason is that Perry has been the governor of Texas for over a decade now, and his experience and power as an executive has simply given him more chances to blur the lines….and more reasons to be called out for it.

The incident that got the most attention was Perry's prayer rally in Houston, TX, where Perry, in what many (including myself) consider a flagrant violation of the First Amendment, led 30,000 evangelical Christians in a day of prayers for the state and the nation. Perry's contempt for constitutional restrictions on government establishing an official religion throws into stark relief how much the anti-choice movement, to which he is currently pandering as hard as he can, is basically just one arm of an overall theocratic movement in the U.S. to wed state to a very particular interpretation of the Bible.
Amy Goodman
:
D.C. Protests That Make Big Oil Quake
The White House was rocked Tuesday, not only by a 5.9-magnitude earthquake, but by the protests mounting outside its gates. More than 2,100 people say they'll risk arrest there during the next two weeks. They oppose the Keystone XL pipeline project, designed to carry heavy crude oil from the tar sands of Alberta, Canada, to refineries on the U.S. Gulf Coast.

A "keystone" in architecture is the stone at the top of an arch that holds the arch together; without it, the structure collapses. By putting their bodies on the line-as more than 200 have already at the time of this writing-these practitioners of the proud tradition of civil disobedience hope to collapse not only the pipeline, but the fossil-fuel dependence that is accelerating disruptive global climate change.
Phyllis Bennis: Too Soon to Declare Victory
The origins of the Libyan transition emerged very much in the context of the Arab Spring – a popular uprising against a brutal dictatorship. But unlike others in the neighborhood – Egypt and Tunisia especially, but also Bahrain, and even Syria – Libyans quickly took up arms on a large scale to challenge the regime's assault. That initial decision soon led to calls for a Western no-fly zone, and quickly to the welcoming of direct US/NATO/Qatari military intervention based on the UN resolution's "all necessary measures" language.

Despite the resolution's focus on protecting civilians, it was U.S., European, and NATO officials who made the actual decisions about the use of force – and quickly the NATO planes soon began what one Al Jazeera reporter described as "openly functioning as the air force of the opposition army." Particularly in these last few days of fast-moving gains by the opposition, air power played a disproportionately important role. That means that the ability of opposition forces to move into Tripoli, take control of at least parts of the capital so quickly, and potentially accede to power, was dependent on NATO.
Donna Smith: Nurses Say: Come Join Us on September 1 on Main Street, Don't Return to DC
Main Street, USA – Nurses call their neighbors and their elected officials to come to Main Street on September 1, even as many of the elected officials continue chiding one another about returning to DC.

Main Street is where the damage has been done and is being felt most deeply; DC is where deals are cut to protect Wall Street with breath-taking regularity. This is not a time when political posturing for some distant election cycle by those largely insulated from the harsh financial realties they helped create ought to take precedence over the real-time, real-life needs of millions.
Rebecca Smith and Jill Shenker: Domestic Workers Struggle Now Like Women in 'The Help'
The movie "The Help" has attracted throngs of movie-goers, swept up in the story of domestic workers struggling for dignity and respect in Civil Rights-era Mississippi. Viewers might be surprised to learn that in the current era, domestic workers continue to live out those same struggles across America and throughout the world.

Back in the 1930s, under the New Deal, most workers won the rights to organize and bargain collectively, and secured minimum wage and overtime protections. But that wasn't true for domestic workers.

At a time when housekeepers and nannies were overwhelmingly African American women, these workers were shut out partly because Southern senators refused to vote for laws that covered them. Some of these exclusions from our most basic workplace rights still remain in place.

Today, domestic workers in the United States and around the world are still largely women of color, and primarily immigrant women of color. They struggle to support their own families while they labor every day in support of others. Very few are afforded health care, so their families go without.