(2 pm. – promoted by ek hornbeck)
I'm not a fan of Rand Paul, the Tea Party backed Republican Senator from Kentucky but I have to give him credit for pushing for an answer to his question "whether the president has the power to authorize lethal force, such as a drone strike, against a US citizen on US soil." Sen. Paul sent three letters to CIA director nominee John Brennan and finally got his answer from Brennan and from Attorney General Eric Holder. The answer, in so many words, yes, he can and on American soil without due process.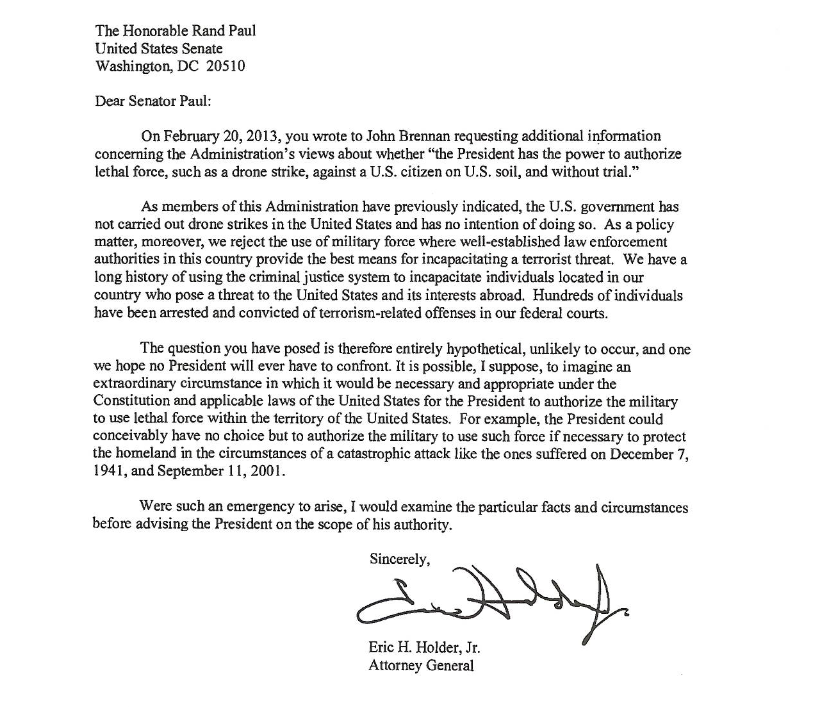 Click on image to enlarge
The Obama administration has asserted that it believes that "under an extraordinary circumstance," it has the power to assassinate an American citizen on American soil using lethal force.
…It is possible, I suppose, to imagine an extraordinary circumstance in which it would be necessary and appropriate under the Constitution and applicable laws of the United States for the President to authorize the military to use lethal force within the territory of the United States. For example, the President could conceivably have no choice but to authorize the military to use such force if necessary to protect the homeland in the circumstances of a catastrophic attack like the ones suffered on December 7, 1941, and September 11, 2001…
Sen. Paul was appalled at Mr. Holder's response, "The U.S. Attorney General's refusal to rule out the possibility of drone strikes on American citizens and on American soil is more than frightening – it is an affront the Constitutional due process rights of all Americans."
At FDL's The Dissenter, Kevin Gosztola had his observation about the letter:
Though Holder noted the country's "long history of using the criminal justice system to incapacitate individuals located" in America "who pose a threat to the United States" and he contended "the use of military force" would be rejected "where well-established law enforcement authorities in the country provide the best means for incapacitating the terrorist threat," the mere fact that his answer was a yes is outrageous. However, it fits the framework for fighting a permanent global "War on Terrorism" without any geographical limitations, which the Obama administration has maintained it has the authority to wage.

Guardian writer Glenn Greenwald, speaking at the Freedom to Connect conference, said today, "There is a theoretical framework being built that posits that the US Government has unlimited power, when it comes to any kind of threats it perceives, to take whatever action against them that it wants without any constraints or limitations of any kind."

Paul had to send three letters to Brennan and the question had to be raised by someone in a Google+ chat with the president before the Obama administration would give something resembling an appropriate answer because, as Greenwald suggested saying "yes" would "illustrate the real radicalism that the government has embraced in terms of how it uses its own power." If they said "no," it would "jeopardize this critical theoretical foundation that they very carefully have constructed that says there are no cognizable constraints on how US government power can be asserted."

As it turns out, Holder, the Justice Department and the wider Obama administration opted to not jeopardize the framework.
What Charles Pierce said
This is that into which we have rendered ourselves. As a democracy, we now debate only what kind of monsters we may decide we have to be.