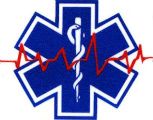 Welcome to the Health and Fitness NewsWelcome to the Stars Hollow Health and Fitness News weekly diary. It will publish on Saturday afternoon and be open for discussion about health related issues including diet, exercise, health and health care issues, as well as, tips on what you can do when there is a medical emergency. Also an opportunity to share and exchange your favorite healthy recipes.
Questions are encouraged and I will answer to the best of my ability. If I can't, I will try to steer you in the right direction. Naturally, I cannot give individual medical advice for personal health issues. I can give you information about medical conditions and the current treatments available.
You can now find past Health and Fitness News diaries here and on the right hand side of the Front Page.
Follow us on Twitter @StarsHollowGzt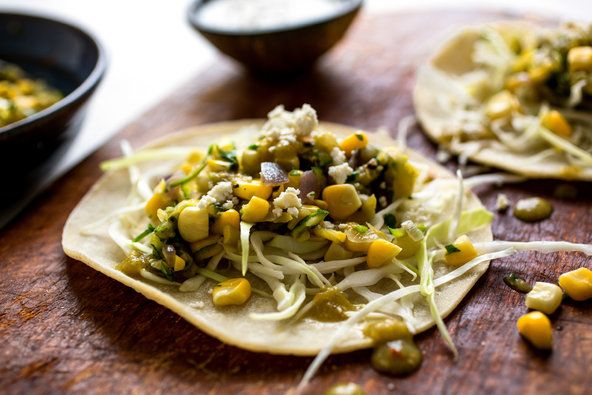 Tomatillos, which are closer botanically to the gooseberry than to the tomato, have a wonderful acidic tang. They're low in calories and a good source of iron, magnesium, phosphorus and copper, as well as dietary fiber, vitamin C, vitamin K, niacin, potassium and manganese. To get the best out of them they should be simmered or grilled for about 10 minutes, until they're soft and the color has gone from pale green to olive. You can use them for a quick, blended salsa and also for a cooked salsa, which has a rounder, seared flavor. I made both last week and used them with different taco fillings. The salsas keep well in the refrigerator and I'm enjoying the leftovers with just about everything I make, from scrambled eggs to grilled fish to plain corn tortillas that I crisp in the microwave.
Two Tomatillo Salsas
You could eat both of these green salsas with a spoon. The quick fresh salsa is the tangier of the two.
The filling for these tacos can also stand alone as a potato salad, but it's very nice and comforting inside a warm tortilla.
Tacos with a light filling make for a perfect summer meal.
This tangy fish filling tastes good hot or cold.
This filling works in tacos or on its own as a delicious summer salad.
General Medicine/Family Medical
Diabetes: Low Blood Sugar May Pose Heart Risks

by Robert Preidt, HealthDay
The findings were based on six prior studies

uly 31 (HealthDay News) — Type 2 diabetes patients with dangerously low blood sugar levels may be at increased risk for cardiovascular disease, according to a new study.

Given their findings, "less stringent glycemic targets may be considered for type 2 diabetic patients at high risk of hypoglycemia (severely low blood sugar)," the researchers said.
Camping Sets Body Clock In Tune With Nature

by Amy Norton, HealthDay Reporter
Study found artificial light might be disrupting circadian rhythms

Aug. 1 (HealthDay News) — Putting down your phone and living for a week with nothing but sunlight and campfires may bring your body clock in sync with nature's rhythms, a small study suggests.

And, researchers found, even avowed night owls turn into early birds after a week of camping in the woods with no sources of artificial light — including smartphones, computers and TVs.
Will You Look Better After Plastic Surgery?

by Alan Mozes, HealthDay Reporter
Patients appear younger, but not necessarily better looking, small study finds

Aug. 1 (HealthDay News) — Facial plastic surgery may turn back the hands of time, but new research suggests it may not, alas, boost attractiveness.

For this small study, 50 strangers were asked to guess the age and subjectively rank the attractiveness of 49 patients after viewing photos of them either before or after facial plastic surgery.

The bottom-line: Surgical intervention shaved a few years off perceived age but did almost nothing to boost patients' overall attractiveness.
Can Poor Dental Health Cause Dementia?

by Tim Locke, WebMD Health New
July 31, 2013 — Poor dental health and gum disease may be linked to Alzheimer's disease and dementia, a new study from the University of Central Lancashire School of Medicine and Dentistry suggests.

Although past studies have suggested a link between oral health and dementia, this is the first to pinpoint a specific gum disease bacteria in the brain.

Researchers looked at donated brain samples of 10 people without dementia and 10 people with dementia. They found the bacteria Porphyromonas gingivalis in the brains of four of those with dementia.
Tattoos Can Hide Malignant Melanomas, Experts Say

by Robert Preidt, HealthDay Reporter
Case studies show it can happen, and dermatologists say people should keep moles free of ink

July 31 (HealthDay News) — Millions of Americans head to the tattoo parlor to get "inked" each year, but a new study suggests that getting a tattoo over a mole or birthmark may not be healthy.

That's because having a tattoo over a mole especially can make it difficult to detect the development of skin cancer, the researchers said.

Reporting July 31 in the journal JAMA Dermatology, researchers in Germany pointed to the case of a young man who developed melanoma on a pre-existing colored skin lesion (mole or birthmark) within a tattoo during and between phases of laser tattoo removal.
Experts Call for Redefinition of 'Cancer'

by E.J. Mundell, HealthDay
Many growths are slow to progress and nonlethal, only leading to unnecessary treatment, panel says

July 30 (HealthDay News) — A panel of experts commissioned by the U.S. National Cancer Institute says that the word "cancer" may need to be redefined to prevent overdiagnosis and overtreatment of conditions that are often not lethal.

Writing in the July 29 online edition of the Journal of the American Medical Association, the experts say that widespread cancer screening programs turn up too many growths that would not progress to a lethal stage and are considered "indolent."
Routine Lung CT Scans for Older, Heavy Smokers

by Dennis Thompson, HealthDay
Yearly testing will prevent some lung cancer deaths, experts conclude

July 29 (HealthDay News) — A highly influential government panel of experts is recommending that older smokers at high risk of lung cancer receive annual low-dose CT scans to help detect and possibly prevent the spread of the fatal disease.

The The U.S. Preventive Services Task Force (USPSTF) concluded that the benefits to a very specific segment of smokers outweigh the risks involved in receiving the annual scans, said co-vice chair Dr. Michael LeFevre, a distinguished professor of family medicine at the University of Missouri.
Docs Order Too Many Narcotics for Back Pain: Study

by Randy Dotinga, HealthDay
Physical therapy and over-the-counter painkillers usually more appropriate, guidelines say

July 29 (HealthDay News) — Many doctors ignore guidelines about the treatment of back pain and instead turn to extensive use of scans like MRIs and the most addictive types of painkillers, new research finds.

It's not clear exactly how many aren't following recommendations, nor whether they're causing harm or perhaps just not helping patients get better. Researchers also don't know if the physicians are unaware of the guidelines or simply don't want to follow them.
Warnings/Alerts/Guidelines
Diabetes Testing Strips Recalled for Potential False Readings

by Robert Preidt, HealthDay
Batches of Nova Max Glucose Test Strips could give erroneous, overly high blood sugar readings

July 30 (HealthDay News) — Certain diabetes blood sugar testing strips are being recalled by their maker, Nova Diabetes Care, because they may give users false, abnormally high readings, according to the U.S. Food and Drug Administration.

Twenty-one lots of the Nova Max Glucose Test Strips, as well as Nova Max Plus glucose meter kits that contain the test strips from the recalled lots, are part of the voluntary recall.
About 50,000 pounds of ground beef products that may be contaminated with potentially deadly E. coli O157:H7 have been recalled by Kansas-based National Beef Packing Co.

The problem was discovered through routine monitoring by the U.S. Department of Agriculture's Food Safety and Inspection Service (FSIS). The agency and the company have not received any reports of illnesses associated with the products.
400 Now Sickened in Stomach Bug Outbreak

by Dennis Thompson, HealthDay Reporter
Health officials in Iowa, Nebraska point to salad mix as culprit, but CDC has not confirmed a source

Aug. 2 (HealthDay News) — The ongoing outbreak of infection with the foodborne cyclospora parasite has now reached 400 cases and spread to 16 states and New York City, according to the latest U.S. Centers for Disease Control and Prevention report issued Friday.

The source or sources of the nationwide outbreak has not yet been located, although health officials at two of the hardest-hit states, Iowa and Nebraska, say they have traced local outbreaks to an as-yet-unnamed salad mix.
FDA Defines 'Gluten-Free' for Food Labels

by Steven Reinberg, HealthDay Reporter
Rule will benefit millions of Americans with celiac disease

Aug. 2 (HealthDay News) — That loaf of bread or can of soup may be labeled "gluten-free," but is it really? To help the nearly 3 million Americans who have celiac disease and must avoid gluten, the U.S. Food and Drug Administration on Friday said that it is issuing new rules for marketing such food products.

"Adherence to a gluten-free diet is the key to treating celiac disease, which can be very disruptive to everyday life," FDA commissioner Dr. Margaret Hamburg said in an FDA statement.
Women's Health
Childhood Abuse & Later Thyroid Problems for Women

by Robert Preidt, HealthDay Reporter
Stress hormone in 'fight-or-flight' reaction may be involved, researcher suggests

Aug. 2 (HealthDay News) — Women who suffered physical abuse during childhood are at increased risk for thyroid problems, according to a new study.

"We found a significant association with thyroid disorders for women who were abused during childhood," lead author Esme Fuller Thomson, professor and chair at the University of Toronto's Faculty of Social Work, said in a university news release
Exercise Won't Ease Hot Flashes, Study Finds

by Robert Preidt, HealthDay
But it did help a little with insomnia, depression, researchers report

Aug. 1 (HealthDay News) — Easing hot flashes is not among the many benefits that exercise offers women, a new study indicates.

The researchers looked at 248 women who were either approaching menopause or were postmenopausal. They were divided into two groups; 106 of them took part in aerobic exercise training three times a week for 12 weeks while the remainder did their usual activities.
Plastics Chemical BPA May Harm Human Fertility

by Steven Reinberg, HealthDay
However, experts say lab findings might not translate to real-life risk

July 31 (HealthDay News) — A chemical used in everything from food-can linings to store receipts might also pose some risk for infertility and birth defects, a new study suggests.

Exposure to bisphenol A, or BPA, may disrupt the human reproductive process and play a role in about 20 percent of unexplained infertility, said researchers from Harvard University.
Men's Health
New Dads' Interest in Sex Often Drops: Study

by Dennis Thompson, HealthDay
They're also stressed and tired, survey finds

Aug. 1 (HealthDay News) — New dads often experience shifts in sexual desire for the mothers of their newborns, which can ebb and surge based on factors other than the physical changes of childbirth, a new study has found.

The fatigue and stress of being a new parent can cause a loss of desire in the partners — whether male or female — of birth mothers, according to research published online Aug. 1 in the Journal of Sexual Medicine.
Pediatric Health
Childhood Hazard: Choking on Food Persists

by Kathleen Doheny, HealthDay
About 34 children admitted to U.S. emergency rooms daily as experts urge greater public awareness

July 29 (HealthDay News) — About 34 children are treated in U.S. emergency rooms every day for choking on food, according to a new report, despite education campaigns and other prevention efforts.

"It's a very common thing," said researcher Dr. Gary Smith, director of the Center for Injury Research and Policy at Nationwide Children's Hospital, in Columbus, Ohio.
Vitamin B Supplement Contains Anabolic Steroids
A product marketed as a vitamin B dietary supplement contains two potentially harmful anabolic steroids and should not be used by consumers, the U.S. Food and Drug Administration says.

Laboratory analysis showed that Healthy Life Chemistry By Purity First B-50 contains methasterone and dimethazine. These ingredients are not listed on the label and should not be in a dietary supplement.
Breast-Fed Baby May Become Higher-IQ Child, Study Suggests

by Denise Mann, HealthDay
Benefits for children seen at 3 years, 7 years

July 29 (HealthDay News) — Mothers can add higher child IQ to the list of benefits associated with breast-feeding: New research shows that the longer a new mom breast-feeds up to one year, the greater the benefit on her baby's intelligence.

Babies who were breast-fed for the first year of life gained 4 points on their IQ, compared with babies who were not breast-fed for as long, according to the findings, published online July 29 in JAMA Pediatrics. These children were better able to understand what others were telling them (receptive language) at 3 years and had higher verbal and nonverbal intelligence at 7 years.
Video Game 'Addiction' More Likely With Autism, ADHD

by Serena Gordon, HealthDay
Study cites poor peer relationships as one reason these kids embrace gaming

July 29 (HealthDay News) — Boys with autism or attention-deficit/hyperactivity disorder are more at risk of addictive video game use than typically developing boys, according to new research.

The study of nearly 150 boys found that those with an autism spectrum disorder (ASD) played video games for significantly longer periods each day than typically developing boys — an average of 2.1 hours versus 1.2 hours. Boys with attention-deficit/hyperactivity disorder (ADHD) averaged 1.7 hours of video game use daily.
Aging
Anemia Might Raise Dementia Risk, Study Suggests

by Steven Reinberg, HealthDay
Screening elderly for the blood condition makes sense, researcher says

July 31 (HealthDay News) — Older adults suffering from anemia — lower than normal red blood cell levels — may be at increased risk for dementia, a new study suggests.

Anemia affects as many as 23 percent of seniors, the researchers say.
Mental Health
Coffee May Reduce Suicide Risk
People who drank more than four cups of coffee a day were 53 percent less likely to commit suicide than those who drank less than one cup a day, a new study found.

Those who drank two to three cups of coffee a day had a 45 percent lower risk of suicide, according to the analysis of data from more than 208,000 people who were followed from 1988 to 2008. During that time, there were 277 suicides, CBS News reported.

The study was published in the July issue of the World Journal of Biological Psychiatry.
'Retail Therapy' Might Not Be So Bad After All

by Kathleen Doheny, HealthDay Reporter
Are you a one-upper, comfort seeker or 'happy hedonist' shopper?

Aug. 2 (HealthDay News) — Those who love to shop are often painted as lonely souls, trying to fill a void by buying — and becoming even more isolated in the process.

Not always so, according to new Dutch research. The relationship of shopping and loneliness can go both ways — and the direction seems to have a lot to do with why you shop, according to researcher Rik Pieters, a professor of marketing at Tilburg University in the Netherlands.
Nutrition/Diet/Fitness
How Many Extra Calories Add Up to Obesity for Kids?

by Brenda Goodman, HealthDay
Study finds overweight children consume more excess calories daily than previously thought

July 30 (HealthDay News) — Overweight kids may be consuming far more calories than their doctors or parents realize, a new study suggests.

The study, which is published in the July 30 online issue of The Lancet Diabetes & Endocrinology, updates the mathematical model doctors use to calculate the daily calorie needs of children and adolescents.
Our Bodies May Have a Fat-Cell 'Switch'

by Robert Preidt, HealthDay
Scientists say finding has potential to lead to new obesity treatments

Aug. 1 (HealthDay News) — Researchers say they've found a "toggle switch" that controls whether fat cells in the body burn up or store their energy.

The switch is the vitamin D receptor (VDR), a protein that binds with vitamin D. Along with many already identified functions, it also determines whether fat cells become the brown, energy-burning type or the white, energy-storing type, according to the researchers from the Stanford University School of Medicine.
Could Dietary Tweaks Ease Type 1 Diabetes?

by Serena Gordon, HealthDay Reporter
Foods rich in amino and fatty acids may help preserve insulin production, study suggests

Aug. 2 (HealthDay News) — Eating foods that contain certain nutrients may help people with newly diagnosed type 1 diabetes continue producing some insulin for as long as two years, a new study finds.

Although eating such foods doesn't alter the need to take insulin injections to treat type 1 diabetes, foods with leucine — an amino acid — and with omega-3 fatty acids may mean that less insulin is needed, according to the new research.
Q&A: Were You Born to Be Obese?

by Kathleen Doheny, WebMD Health News
Aug. 1, 2013 — For people who often feel hungry right after eating, a recent finding about genetics and obesity was, if not welcome news, at least thought-provoking.

People who have two copies of a modified form (or variant) of a certain gene are much more likely to feel hungry after eating a meal, says researcher Rachel Batterham, MD, PhD, of the University College London.