We are down to the Semifinals of the 2014 World Cup in Brazil. In today's match, it's the home team Brazil faces off with Germany; tomorrow Argentina meets the Netherlands' "Red Devils.". Coverage of today's game begins at 3 PM EDT on ESPN.
From The Guardian here's what to look for in this afternoon's game:
1) Brazil's mind

Earlier in the tournament Luiz Felipe Scolari had fears for tears. The overwrought emoting of many of his players seemed to be sapping their energy and focus. [..]

2) Replacing Neymar

Brazil's second task is, of course, to figure out how best to replace their stricken idol. Minus their leader, they need to operate better as a collective. [..]

3) Strikers with a point to prove

One gets the impression that the next worst thing that could befall Brazil fans after being deprived of Neymar would be for Argentina to go on and win the World Cup at the Maracanã. But it would also be supremely galling if Brazil were prevented from making the final by a goal in their own backyard from Miroslav Klose, who would thereby surpass Ronaldo as the tournament's all-time leading goalscorer [..]

4) Time to see more of the wizardry of Özil

"If Löw is bold, he'll say: 'I will not play with only 10 people'" – that is the verdict of the former Bayern Munich left-back Paul Breitner, who has joined the chorus of German voices calling for Mesut Özil to be dropped for the semi-final [..]

5) The man in the middle

Referees are the subject of an unfair amount of attention in football and no one could reasonably criticise Marco Rodríguez for missing Luis Suárez's bite when he took charge of the Italy-Uruguay match earlier in the tournament.
The Neymar injury and the Spanish referee are still very much in the news.
No Punishment on Neymar Hit

By The New York Times
World Cup 2014: FIFA Won't Act on Neymar Hit Due to Referee's Ruling

And since the referee, Carlos Velasco Carballo of Spain, did not issue a yellow card or red card incorrectly – or any card in this case – there also was no "obvious error" for the disciplinary committee to correct, FIFA said.

The disciplinary committee also dismissed the Brazilian federation's appeal of a yellow card issued to Thiago Silva during the Colombia match. The yellow card, Silva's second of the tournament, meant that he would be suspended for Tuesday's semifinal against Germany.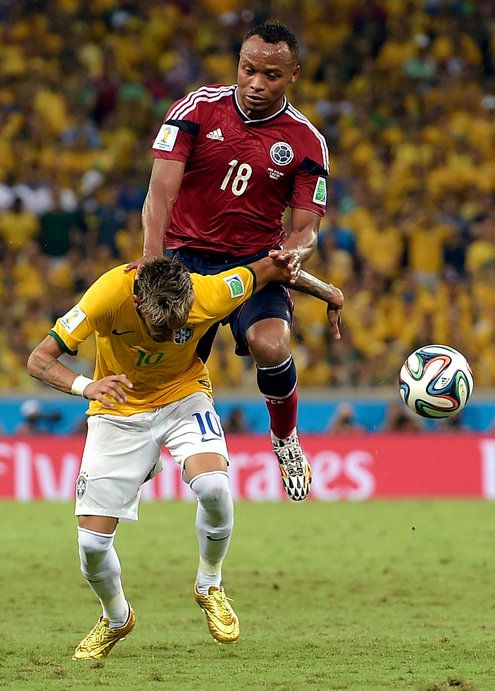 Coutesy Manu Fernandez/Associated Press
Tell can't tell me that Zúñiga should not have been red carded. Neymar is fortunate that he wasn't injured more seriously. It only takes 40 pounds of lateral pressure to severe the spine.
It's also given the Cup'a theme to end world racism a black eye:
Neymar's Injury Sidelines Effort to End World Cup Racism

By Simon Romero, The New York Times
After an episode in Peru earlier this year in which Peruvian soccer fans subjected a Brazilian player to racial abuse by imitating the sounds of monkeys, President Dilma Rousseff of Brazil swiftly pledged a "World Cup against racism," declaring, "Sports should be no place for prejudice."

Yet when Brazil's top player, Neymar, broke a vertebra when he was kneed in the back during a match on Friday by a Colombian player, the torrent of racist insults against the Colombian, Juan Camilo Zúñiga, showed how far the host of the World Cup remains from achieving that goal.

Expressing fury over Neymar's injury, which sidelined him for the rest of the tournament, some Brazilians took to social media, including Twitter and Instagram, to express their rage against Mr. Zúñiga with racial slurs. [..]

Brazil's government issued stern warnings against racial insults or other discriminatory behavior during the tournament. Even before the match between Brazil and Colombia, players from both teams held aloft a banner declaring, "Say No to Racism," a slogan promoted by FIFA, the organization that oversees the World Cup.

Yet Brazil's racial divide has also come into greater focus since the tournament began in June. Reflecting high ticket prices in a country where blacks still generally earn far less than whites, a poll by the Datafolha polling company suggested that fans attending games were overwhelmingly rich and white.
The press is also underplaying the protests and riots that have been taking place all around Brazil over the inequality of the mostly poor black population many of whom have not only been priced out of being able to attend any of the games but where displaced from their homes around the venues, much like what happened in Sochi, Russia for the 2014 Winter Olympic village. You won't hear about any of this on ABC or ESPN.
Before the World Cup Ends, Will the Media Tell the Truth?
FIFA boss Sepp Blatter was strutting like a rooster over the weekend about the absence of mass protests during Brazil's World Cup. "Where is all this social unrest?" he asked in mocking snark that, along with bribery and corruption, has become his trademark. Then Blatter waxed rhapsodic about how "football is more than a religion" in Brazil, as if that explains the absence of millions of people marching on his "FIFA quality stadiums". Similar, sentiments were expressed by Brazil's Deputy Minister of Sports Luis Fernandes, who said that "during the World Cup, the passion for football has taken over."

This position has been echoed continuously in the US media. The Washington Post has carried headlines that have read, "In Brazil,smiles, parties have replaced protests" and "A nation's haves, have nots unite for a common cause." No need to pick on the Post, as this has been "the line" in multiple media outlets over the last several weeks.

As is often the case with the mainstream media, they have started with an indisputable truth and then have chosen to draw conclusions that match their own embedded perspective: a perspective shaped by Sepp Blatter, his broadcast partners and a blinkered reality of hotels and black SUVs. It is certainly true that the million-person protests have not taken place during the World Cup, as they did during the 2013 Confederation's Cup. But the conclusion that now everything is awesome and "parties have replaced protests" is simply not true. I recently returned from Brazil and saw a different reality. The fact is that there are protests, strikes and battles with police happening every day. In the favelas, there are demonstrations against the police occupations that are happening because of the Cup. (Here is a terrific photo essay by Andalusia Knoll that shows images from all the World Cup protests that are not happening.)[