This is your morning Open Thread. Pour a cup of your favorite morning beverage and review the past and comment on the future.
Find the past "On This Day in History" here.
August 28 is the 240th day of the year (241st in leap years) in the Gregorian calendar. There are 125 days remaining until the end of the year.
On this day in 1963, the Reverend Martin Luther King addressed the crowds assembled on the Washington Mall from the steps at the Lincoln Memorial.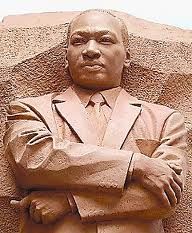 His speech, "I have a Dream", is forever embedded in history and our memories as one of the great moments in the fight for civil rights. But there were many other speakers, and in particular one great performance by the "Queen of Gospel", Mahalia Jackson. Right before Dr. King spoke, Ms. Jackson performed "How I Got Over".
Indeed, if Martin Luther King, Jr., had a favorite opening act, it was Mahalia Jackson, who performed by his side many times. On August 28, 1963, as she took to the podium before an audience of 250,000 to give the last musical performance before Dr. King's speech, Dr. King himself requested that she sing the gospel classic "I've Been 'Buked, and I've Been Scorned." Jackson was just as familiar with Dr. King's repertoire as he was with hers, and just as King felt comfortable telling her what to sing as the lead-in to what would prove to be the most famous speech of his life, Jackson felt comfortable telling him in what direction to take that speech.

The story that has been told since that day has Mahalia Jackson intervening at a critical junction when she decided King's speech needed a course-correction. Recalling a theme she had heard him use in earlier speeches, Jackson said out loud to Martin Luther King, Jr., from behind the podium on the steps of the Lincoln Memorial, "Tell them about the dream, Martin." And at that moment, as can be seen in films of the speech, Dr. King leaves his prepared notes behind to improvise the entire next section of his speech-the historic section that famously begins "And so even though we face the difficulties of today and tomorrow, I still have a dream. It is a dream deeply rooted in the American dream…."
There is no embeddable video of Ms Jackson from that day but here is the inspirational song she performed that day.