History
First of all, it's not called the America's Cup because it belongs to the United States (though History might seem to validate that assumption it's simply the accidental by product of the fact that the holder of the Cup gets to make the rules for the next competition) it's named after a boat, the America which won a race against 15 boats of the Royal Yacht Squadron around the Isle of Wight in 1851. Queen Victoria is reported to have said, "Who finished second?" "Your Majesty, there is no second."
Just for the record it was Aurora by a little over 8 minutes.
It's original name was the "Royal Yacht Squadron £100 Cup" which refers not to the value of the Cup itself, which is modeled after a Claret jug (don't try and put any wine in it though, it has no bottom) and was one of several similar ones produced by Garrard and Company in 1848, but instead the cash prize attached to it. Now if you want to get poetic and obscure you can call it the 'Auld Mug', a deliberate anachronism even back in the day- sort of like 'Ye Olde Yankee Tinker Shoppe'. It is however the oldest International Sporting Trophy.
From 1857 until 1983 the Cup was continuously in the possession of the New York Yacht Club (donated by John Stevens, founding member and leader of the syndicate that built the America) leading to the misconception that it is named for the United States. It was 19 years before the first challenge for the Cup by the Cambria which was defeated in a regatta style race by the Magic.
It was kind of unfair, but less unfair than the next challenge where the Columbia was dismasted and replaced by the Sappho. Thus started a long tradition of the New York Yacht Club making it virtually impossible to lose the Cup by tinkering with the rules.
And so things stood until 1983 (a year many in sailing circles mark as the end of United States hegemony) when Dennis Connor (boo, hiss) managed, despite maximum cheating, to lose to the Australia II and her revolutionary winged keel. Make no mistake, this was a bigger than Bill Buckner sized boot. Alan Bond used a gold wrench to separate the Cup from it's base.
Since then racing has become a little fairer in the sense that Formula One is fair. Usually one team gains advantage at the start and sails away into the distance, either through superior engineering or tactics. Wind shifts can be thought of as bad pit stops or inappropriate tire selection and there are in fact 'crashes' where the bow will catch a wave and the boat capsizes. There are also equipment failures in which sails fill with water while being taken down and have to be cut away or masts and booms crack.
Like everything nautical the experience is best thought of as standing in a cold shower for an hour or more while ripping up $100 bills as fast as you can. I love it.
The Rules
First of all, it still ain't that fair. While there can be a Defender's series there isn't usually and they get a pass right to the final round. This is an advantage and a disadvantage, less wear and tear but you don't know how fast your boat really is. Recent practice is to build two mostly identical hulls and race them against each other in the background while the Challenger's series is progressing. Also the 3 person arbitration panel has been picked entirely by the Defenders as opposed to the International sanctioning committee as has become the custom.
This year's race has been preceded by 9 regattas (that's a race where you have a bunch of boats out on the course at the same time) between potential Challengers (and the U.S. entry) over the last 2 years. I was lucky enough to see one of them in New York Harbor at Battery (cannons, not electrical) Park.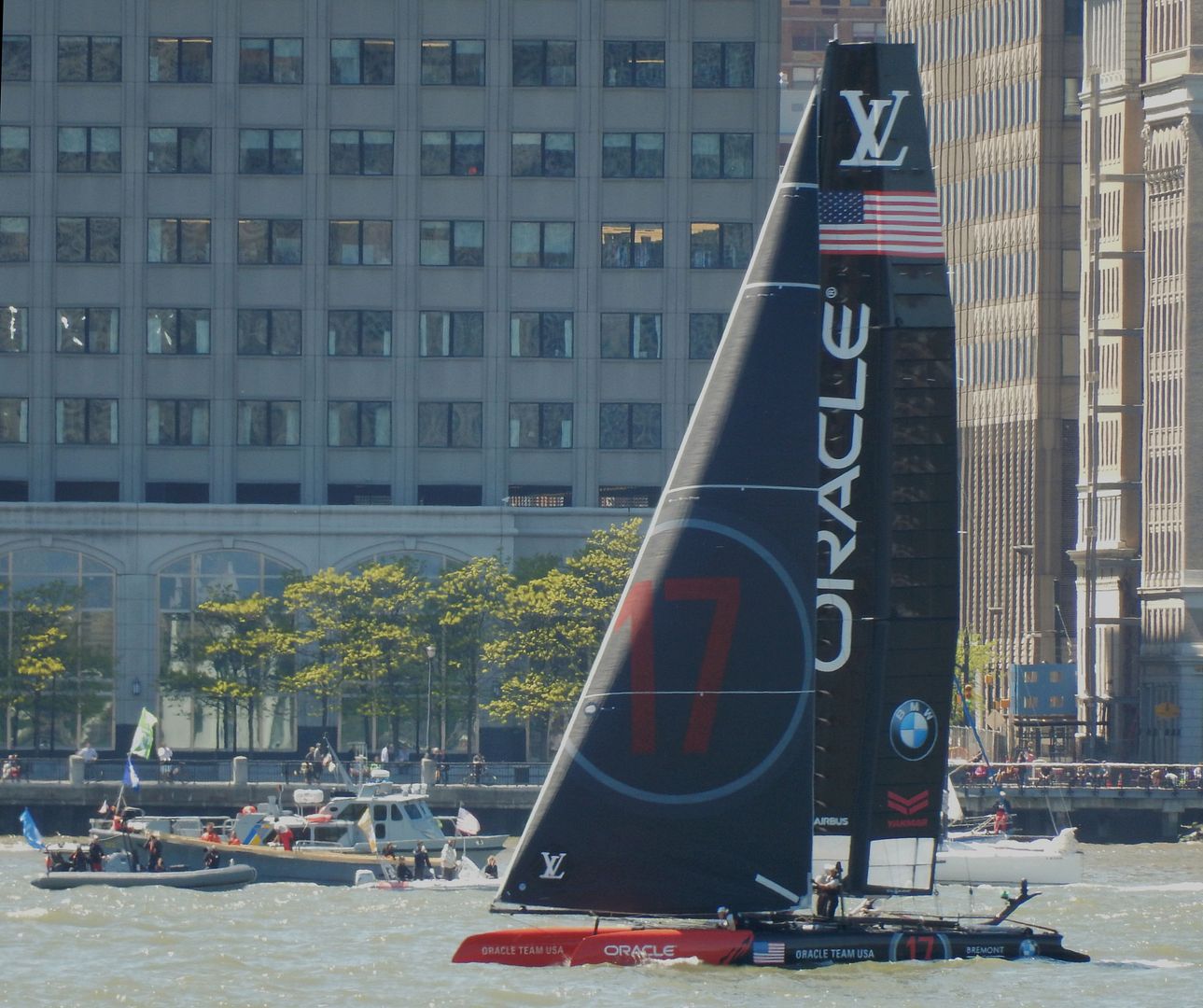 That's a picture I took of Oracle USA.
These races were contested by AC (America's Cup) 45s (length at the waterline in feet), they're basically junk now. The winner was the British Land Rover BAR team and the ("there is no second place") runner up Oracle USA. This gives Land Rover 2 'bonus points' which I suppose might be good for a Goombay Smash at the Tiki bar.
What is significant is that the main sail is not so much a fabric sail (my family is partial to Ratsey & Lapthorn) as it is a semi rigid wing, the hull is a catamaran (low drag and stable), and (though it's not apparent in this shot) the keels are not only winged, they are hydrofoils as are the rudders.
They can achieve speeds up to 55 mph which is plenty fast on water, faster than most motorboats.
The actual race boats were originally supposed to be 62 feet long but in a rare display of democracy (especially for the America's Cup) the teams voted to reduce the size to 50 feet in March 2015. The Italian Luna Rossa team quit in disgust and the Emirates/New Zealand team is distinctly unpopular for supporting them in the vote.
The remaining teams are Oracle USA (Golden Gate Yacht Club, Defender), Land Rover BAR (Royal Yacht Squadron, Britain), Groupama (Yacht Club de France, France), Emirates/New Zealand (Royal New Zealand Yacht Squadron, United Arab Emirates/New Zealand), SoftBank (Kansai Yacht Club, Japan), and Artemis (Kungliga Svenska Segelsällskapet, Sweden). Teams must include 25% nationals which some would say is an improvement over the purely mercenary allegiances of the past. So that's 5 Challengers which makes scheduling a little interesting in the 'round robin' portion of the Louis Vitton Cup for also rans so Oracle USA is participating to even things out.
The racing off Bermuda will work something like this- a double round robin to eliminate just the one slowest team. The remaining 4 get seeded into a Playoff round, 5 of 9 match racing, the remaining 2 compete for the Louis Vitton Cup for also rans (also 5 0f 9). Then it gets serious. The finals will be best 7 of 13 which works to Oracle's advantage in case they are a bit rusty.
Individual races will be short as they no longer include 'Reach' legs and are strictly up and down wind (they'll even shift the course to achieve this). I think it's a crying shame.
Coverage
It will be carried on the NBC family of channels (when it doesn't interfere with more important things like Football and the Idiot's Market of 'Equities'), often live (at about 1 pm) with repeats!
There is also a YouTube Channel. Today's racing is not yet posted (it should be eventually, it was last time). The 'official' site starts here (yeah, good luck with that).
I'll try to follow along, it's got to be easier than Le Tour or March Madness.
Results
The big news today is that Land Rover body checked SoftBank but lost. Everyone sailed twice, Oracle won twice and Groupama lost twice- everyone else split.
In detail- Oracle beat Groupama and Emirates/New Zealand. Land Rover beat Artemis and lost to SoftBank. Artemis beat SoftBank and lost to Land Rover. SoftBank beat Land Rover and lost to Artemis. Emirates/New Zealand beat Groupama and lost to Oracle. Groupama lost to Oracle and Emirates/New Zealand.
Because of its 2 Goombay Smash points Land Rover is tied with Oracle in the standings (whatever shall they do if the Defender wins?).
| | | | | |
| --- | --- | --- | --- | --- |
| Team | Wins | Losses | Goombay Smash Points | Total |
| | | | | |
| | | | | |
| Oracle | 2 | 0 | 1 | 3 |
| | | | | |
| | | | | |
| Land Rover | 1 | 1 | 2 | 3 |
| Artemis | 1 | 1 | 0 | 1 |
| Emirates/New Zealand | 1 | 1 | 0 | 1 |
| SoftBank | 1 | 1 | 0 | 1 |
| Groupama | 0 | 2 | 0 | 0 |