Burning the Midnight Oil for Living Energy Independence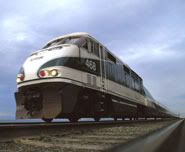 Express HSR is sexy. Indeed, its sexy enough that when Big Oil propagandizes against it, they have to paint it as too expensive or something that America is too incompetent to handle, since the idea of sitting in an actually comfortable rail seat, watching a movie on a laptop or snacking on a sandwich while flying along at two to three times highway speeds, "just like in France or Japan or Spain", that's too appealing to convince a big majority of people that it would be anything but nice to have. So they have to con people into thinking of it as an unrealistic pipe dream that the US can do what Spain has been doing for a decade, France for three decades, and Japan for half a century.
Rapid Rail is not as sexy as Express HSR, but at least it is as fast as driving for most drivers on most corridors, and appreciably faster than driving on the corridor with the "best bones", like either Cleveland / Columbus or Davenport / Des Moines / Iowa wold be at 110mph top passenger speed. And it is much cheaper than Express HSR, with lots of potential corridors that local residents will start lobbying for once the first of the Rapid Passenger Rail services come into service.
But conventional long haul rail? Surely plodding along at 50mph to as slow as 30mph on heavy freight rail corridors is an obsolete holdover from an earlier time?
Well, no. Conventional long haul rail has a 21st century role to play, if the United States should declare Economic Independence and start working to regain the economic freedom that we surrendered to the Big Oil and the oil exporting regions in the 70's and 80's.
And so, in this evening's Sunday Train, we look at the "PRIIA Section 210" plans that Amtrak has developed for the five weakest of its fifteen long distance corridors: the California Zephyr, the Capitol Limited, the Cardinal, the Sunset Limited, and the Texas Eagle.