This is your morning Open Thread. Pour a cup of your favorite morning beverage and review the past and comment on the future.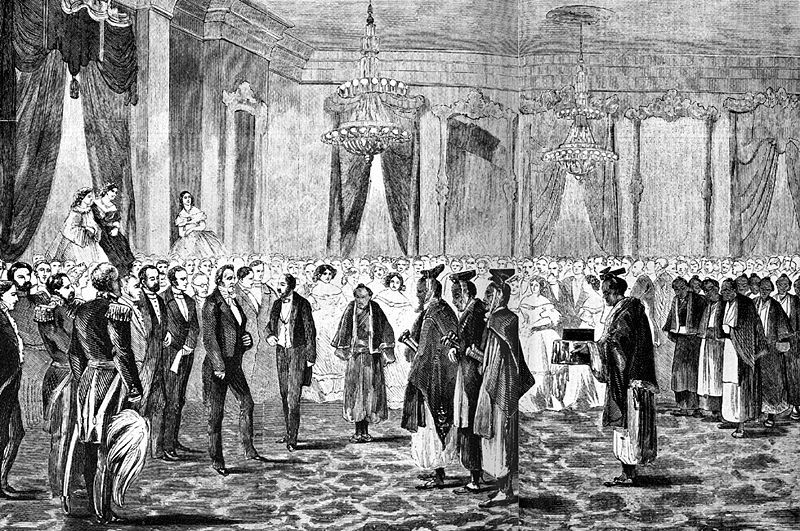 On this day in 1858, the Harris Treaty was signed between the United States and Japan was signed at the Ryosen-ji in Shimoda. Also known as the Treaty of Amity and Commerce, it opened the ports of Edo and four other Japanese cities to American trade and granted extraterritoriality to foreigners, among other stipulations.
The treaty followed the 1854 Convention of Kanagawa, which granted coaling rights for U.S. ships and allowed for a U.S. Consul in Shimoda. Although Commodore Matthew Perry secured fuel for U.S. ships and protection, he left the important matter of trading rights to Townsend Harris, another U.S. envoy who negotiated with the Tokugawa Shogunate; the treaty is therefore often referred to as the Harris Treaty. It took two years to break down Japanese resistance, but with the threat of looming British demands for similar privileges, the Tokugawa government eventually capitulated.

Treaties of Amity and Commerce between Japan and Holland, England, France, Russia and the United States, 1858.

The most important points were:

* exchange of diplomatic agents

* Edo, Kobe, Nagasaki, Niigata, and Yokohama's opening to foreign trade as ports

* ability of United States citizens to live and trade in those ports

* a system of phttp://en.wikipedia.org/wiki/Extraterritoriality extraterritoriality] that provided for the subjugation of foreign residents to the laws of their own consular courts instead of the Japanese law system

* fixed low import-export duties, subject to international control

The agreement served as a model for similar treaties signed by Japan with other foreign countries in the ensuing weeks. These Unequal Treaties curtailed Japanese sovereignty for the first time in its history; more importantly, it revealed Japan's growing weakness, and was seen by the West as a pretext for possible colonisation of Japan. The recovery of national status and strength became an overarching priority for the Japanese, with the treaty's domestic consequences being the end of Bakufu (Shogun) control and the establishment of a new imperial government.
1014 – Byzantine-Bulgarian Wars: Battle of Kleidion: Byzantine emperor Basil II inflicts a decisive defeat on the Bulgarian army, and his subsequent treatment of 15,000 prisoners reportedly causes Tsar Samuil of Bulgaria to die of a heart attack several months later, on October 6.
1030 – Ladejarl-Fairhair succession wars: Battle of Stiklestad – King Olaf II fights and dies trying to regain his Norwegian throne from the Danes.
1565 – The widowed Mary, Queen of Scots, marries Henry Stuart, Lord Darnley, Duke of Albany at Holyrood Palace in Edinburgh, Scotland.
1567 – James VI is crowned King of Scotland at Stirling.
1588 – Anglo-Spanish War: Battle of Gravelines – English naval forces under command of Lord Charles Howard and Sir Francis Drake defeat the Spanish Armada off the coast of Gravelines, France.
1693 – War of the Grand Alliance: Battle of Landen – France wins a Pyrrhic victory over Allied forces in the Netherlands.
1793 – John Graves Simcoe decides to build a fort and settlement at Toronto, having sailed into the bay there.
1830 – Abdication of Charles X of France.
1836 – Inauguration of the Arc de Triomphe in Paris.
1847 – Cumberland School of Law is founded in Lebanon, Tennessee, United States, one of only 15 law schools to exist in the United States at the end of 1847.
1848 – Irish Potato Famine: Tipperary Revolt – in Tipperary, an unsuccessful nationalist revolt against British rule is put down by police.
1851 – Annibale de Gasparis discovers asteroid 15 Eunomia.
1858 – United States and Japan sign the Harris Treaty.
1864 – American Civil War: Confederate spy Belle Boyd is arrested by Union troops and detained at the Old Capitol Prison in Washington, D.C..
1899 – The First Hague Convention is signed.
1900 – In Italy, King Umberto I of Italy is assassinated by Italian-born anarchist Gaetano Bresci.
1901 – The Socialist Party of America founded.
1907 – Sir Robert Baden Powell sets up the Brownsea Island Scout camp in Poole Harbour on the south coast of England. The camp ran from August 1-9, 1907, and is regarded as the foundation of the Scouting movement.
1920 – Construction of the Link River Dam begins as part of the Klamath Reclamation Project.
1921 – Adolf Hitler becomes leader of the National Socialist German Workers Party.
1932 – Great Depression: in Washington, D.C., troops disperse the last of the "Bonus Army" of World War I veterans.
1945 – The BBC Light Programme radio station is launched for mainstream light entertainment and music.
1948 – Olympic Games: The Games of the XIV Olympiad – after a hiatus of 12 years caused by World War II, the first Summer Olympics to be held since the 1936 Summer Olympics in Berlin open in London.
1957 – The International Atomic Energy Agency is established.
1958 – U.S. President Dwight D. Eisenhower signs into law the National Aeronautics and Space Act, which creates the National Aeronautics and Space Administration (NASA).
1959 – First United States Congress elections in Hawaii as a state of the Union.
1965 – Vietnam War: the first 4,000 101st Airborne Division paratroopers arrive in Vietnam, landing at Cam Ranh Bay.
1967 – Vietnam War: off the coast of North Vietnam the USS Forrestal catches on fire in the worst U.S. naval disaster since World War II, killing 134.
1967 – During the fourth day of celebrating its 400th anniversary, the city of Caracas, Venezuela is shaken by an earthquake, leaving approximately 500 dead.
1976 – In New York City, the "Son of Sam" kills one person and seriously wounds another in the first of a series of attacks.
1981 – A worldwide television audience of over 700 million people watched the Wedding of Charles, Prince of Wales, and Lady Diana Spencer at St Paul's Cathedral in London.
1987 – British Prime Minister Margaret Thatcher and President of France François Mitterrand sign the agreement to build a tunnel under the English Channel (Eurotunnel).
1988 – The film Cry Freedom is seized by South African authorities.
1987 – Prime Minister of India Rajiv Gandhi and President of Sri Lanka J. R. Jayawardene sign the Indo-Lankan Pact on ethnic issues.
1993 – The Israeli Supreme Court acquits alleged Nazi death camp guard John Demjanjuk of all charges and he is set free.
1996 – The child protection portion of the Communications Decency Act is struck down by a U.S. federal court as too broad .
2005 – Astronomers announce their discovery of Eris.