There have been two explosion at the Boston Marathon this afternoon. There are reports of numerous injuries. It is unknown at this time if there are any fatalities or the cause of the two explosions. MSNBC is also reporting a fire at the JFK library that started shortly after the explosions.
The A.P. said that a loud explosion was heard on the north side of Boylston Street, near a photo bridge that marks the finish line. Another explosion was heard several seconds later. [..]

The headquarters for the organizers of the marathon, one of the world's oldest, was reportedly locked down while authorities investigate. Reporters inside the Copley Plaza Hotel, where the media center is and where many elite athletes are staying, were unable to leave.

The explosions went off more than four hours after the start of the men's race, which meant that there were still several thousand runners yet to finish the race.
Up Date 21:10 EDT: This is the final up date for the night.
From the Live Feed at The Guardian
'No further devices'

Police commissioner Davis is asked if he is confident that officers have found all the explosives.

"We've pretty much cleared the area … there are no further devices that we've located. … I'm not prepared to say that we are at ease at this point in time."

He says the focus of the investigation is in the area near the explosions.

Agent DesLauriers says investigative activity is ongoing. "It is a very active and fluid investigation."

He declines to comment on evidence analysis, possible people of interest – pretty much everything.

Governor Patrick says the secure area "may get smaller… but that area is not going to be accessible for normal traffic."

"It's not going to be easy, simple or regular. I think in most cases people are not going to have access to that specific area."

The briefing is closed.

Police: three dead, no suspect

Police commissioner Ed Davis speaks, offering his sympathies to the victims. "This cowardly act will not be taken in stride. We will turn every rock over to find the people who are responsible for this. It's been a horrendous loss of life."

Davis says that at least three people died, but stressed the casualty numbers are in flux.

"There is no suspect," he says. "There are people that we are talking to, but there is no suspect at Brigham and Women's Hospital as has been reported."

He went on: "Tomorrow, as the governor said, will not be business as usual in Boston." He says police will be working 12-hour shifts to investigate the case.

Up Date 16:21 EDT: MSNBC News reporting two fatalities and 23 injured.
Air space over Boston is closed.
Security in New York City has been tightened.
In Washington DC, Pennsylvania Av in front of the White House has been closed.
The fire at the JFK Library has been declared not suspicious and was caused by a mechanical equipment.
Up Date 17:35: Map of Boston Marathon Explosion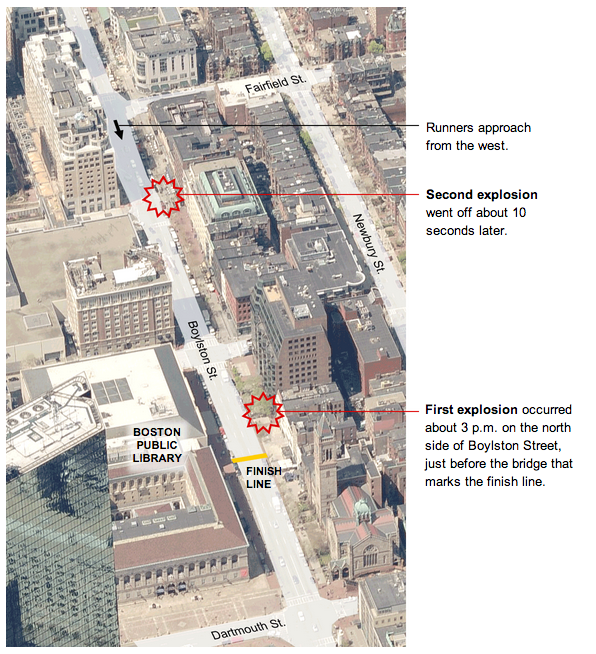 Click on picture to enlarge
AP is reporting that there are three devices that are being disarmed.
Flights have been halted into Boston Logan airport. "Traffic destined to this airport is being delayed at its departure point," the FAA has advised.
Video of first explosion at marathon finish
From Live Up Dates at The Guardian:
5.30pm ET: Boston hospitals are now reporting 100 wounded, according to the Boston Globe.

5:16 PM EDT: A law enforcement official says cellphone service has been shut down in the Boston area to prevent any potential remote detonations of explosives, the Associated Press reports (warning: graphic image)
Up Date 18:08 EDT: From Michael Moore on Twitter:
The final mile of the Boston Marathon today had been dedicated to the Newtown school victims.theatlanticwire.com/national/2013/…

— Michael Moore (@MMFlint) April 15, 2013
From TPM on Twitter:
Boston Police Commissioner: "There is no suspect in custody" bit.ly/Zmd6Ig

— Talking Points Memo (@TPM) April 15, 2013
Up Date 19:05 EDT:Reports are coming from multiple sources that one of the fatalities was an 8 year old.
At least 98 people taken to hospitals…

BRIGHAM & WOMEN'S

26 patients total, including 8-10 seriously injured. Ages from teens to mid-60s

BETH ISRAEL DEACONESS MEDICAL CENTER

21 patients

18 major injuries

3 minor

7 life-threatening injuries — in the OR now

MASS GENERAL HOSPITAL

22 total, 6 critical, 5 serious

BOSTON MEDICAL CENTER

20 total, including 2 children. Most have lower leg injuries

TUFTS MEDICAL CENTER

9

CHILDREN'S HOSPITAL

unknown # of patients, youngest is 3 years old