If you can't get congress to abide by the Constitution and its amendments, then resort to a tactic they might fall for, amend the egregious law with the appropriate amendment:
(WASHINGTON, D.C.) – Congressman Alan Grayson (FL-09) submitted an amendment today to the National Defense Authorization Act, which would prohibit the Department of Defense from collecting information on U.S. citizens without probable cause of a terrorism or criminal offense. Grayson's amendment is a response to recent reports that the National Security Agency (NSA), which falls under the Defense Department, has been secretly collecting the telephone records and the private internet communications of U.S. citizens.

Grayson called these reports "disturbing." "Without probable cause, there's no excuse for the NSA to be compiling this type of data on American citizens who have done nothing wrong-particularly without their knowledge," he said. "This amendment prevents the Defense Department from collecting ANY information about U.S. citizens within the country-no telephone records, no internet records, no physical locations-unless there is probable cause of a terrorism or criminal offense."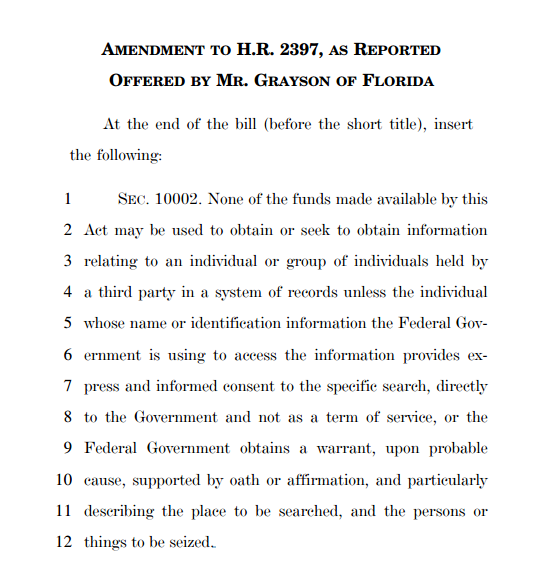 Click on image to enlarge
What digby said:
Hmm. I could swear I've heard that somewhere before. Oh wait:



The right of the people to be secure in their persons, houses, papers, and effects, against unreasonable searches and seizures, shall not be violated, and no Warrants shall issue, but upon probable cause, supported by Oath or affirmation, and particularly describing the place to be searched, and the persons or things to be seized

I can't wait to see how many members of Congress vote against the 4th Amendment.

This should not be necessary.