(10 am. – promoted by ek hornbeck)
The following is a guest diary by Diana Zavala. An educator, political activist and single mother of two, this is the second guest diary that Diana has written for us. Diana presented this piece as part of the panel at Left Forum 2013 organised by Geminijen.


Three years ago I found myself closing the chapter on my marriage. I did this against the advice of my friends who tried persuading me to stay for the children, for the sake of security and until I finished my studies. I had spent 10 years in an unsatisfying marriage and the thought of one more day for the sake of something/somebody else just was not acceptable. I left the marriage and while the emotional release was satisfying; but being independent and having to be responsible for my family was a reality I don't think I fully grasped.
I decided there had to be a way that women in my situation could qualify for public assistance. Here I was a student, with two kids, huge rent bill, no health insurance, but these circumstances were only temporary I thought, and with a little assistance I would be able to overcome them and get myself back on my feet. I thought 'hey, I'm not the quintessential "welfare queen" so demonized by society', I'm someone who needs help and can become independent with some assistance. I discovered it wasn't the case, that women who were in my predicament had no safety nets available for them to bounce back. I didn't qualify for anything because I had too much money from child support which was just enough to cover the rent. The Welfare office recommended I become homeless in order to apply for Section 8 housing and I didn't qualify for Food Stamps, nor did I qualify for Medicaid.
Here it was, I had been a high school teacher before getting married, I left teaching to care for my son while my husband's career progressed and so did his income and retirement. I had no money and no savings and was being advised to become homeless so I could qualify for housing assistance and food stamps, so I could provide for my children.
I had walked into the office feeling like a strong feminist who had left her marriage choosing independence from a husband and who could make it on her own. I was college educated, employable, and young enough to have energy to fight and overcome. I came out of the office understanding that my situation was no different from other women who leave, that while I had education and language, my status as a single mother did not differ much from that of my mother's when she immigrated from Honduras after she divorced my father.
Resulting from our divorces, both my mother and I took pay cuts and lost the ability to save and create personal and family wealth that we could pass on to our children.




My mother's decision to leave Honduras and come to New York where two of her siblings lived was the same as all the women who have enough and break free. She also walked in feeling privileged, she was college educated, documented, and had family here waiting to support her. She hoped this country would open itself to her and with effort, she could become independent and self-sufficient. For my mother, the reality she encountered served as a wake-up call that the odds were against her. She had trouble securing employment and for some time worked as a factory worker in NJ. She described that experience as having to wake up early to wait at a corner for a van to pick her and other immigrant factory workers in Queens to take them to Jersey. The conditions were unpleasant and workers were mistreated. The factory didn't offer benefits and job security was zero. She was eventually laid off and she found work as a domestic cleaning rich people's houses and babysitting their children. Meanwhile she couldn't afford to pay for babysitters for us. My mother was poor even though she had a job as a domestic; we had no savings. By no means were we living large, but the system uses single mothers to blame them for poverty and stigmatizes them with labels that carry gender and racial connotations to make them seem like social pariahs draining society's resources.
It's important to acknowledge the reality that the status of 'single,' accompanied by motherhood, creates a whole other picture when discussing the relationship of women's wage and wealth in comparison to our male counterparts.

While our society makes us believe that we've come a long way and that women are equal to men, the inequity that exists for single mothers is not representative of that picture. The disparity in wages and wealth for single mothers is most striking when we consider the role of race and ethnicity, language, immigration, education, and social capital as indicators of advantage. Recent census data indicate that Black women earn 69.5 percent of what men make, and Latina women earn 60.5 percent compared to white male counterparts. (see: www.labornotes.org). Single mothers make less than men, less than married women, and less than women who don't have children.
The gender wealth gap, however, is another measure of gender inequality, not just their income, that is key to ensuring economic security and enables families to build better futures. The gender wealth gap which, measures the total wealth or net worth a woman has accumulated over time, shows that women have, on average, only 6% to 36% of the wealth owned by men and that the gap is growing. (See: "Shortchanged: Women and the wealth gap" by Alison Perlberg on Monday, April 4, 2011)
When using the wealth gap, black and Latina women, have negative wealth. That is, on average, they have no wealth and are in debt. The wealth gap for single women, of all races, especially those who have never been married or single women with children is similar. Meanwhile white middle class married women still have 67% wealth accumulation, compared to all men. (Lifting as We Climb: Women of Color, Wealth, and America's Future, 2008)
Awareness and effort to address the racial and ethnic wealth inequities based on structural factors is important if women, especially single mothers of color, are to be self-sufficient in a capitalist society. Historically, and even today, both women and people of color have been "red-lined"– that is denied the right to buy a house, the major method of wealth accumulation in middle class families. Additionally, what used to be considered the "golden ticket" to financial independence that our Feminist sisters believed in, education, is no longer serving our society the same way and it's leaving women of color and single mothers behind.
This is compounded by the absence of social safety nets that afford women the ability to market themselves in the public sphere and earn better wages, and balance the responsibilities of the domestic sphere.



The United States has recently promoted healthcare, education, and care for the elderly and children as an individual's responsibility in order to maintain traditional social roles. These social roles continue to glorify the definition of marriage, when in reality half of all households are not married, and half of all marriages end in divorce. Since single mothers are often the custodial and residential parents, they have less disposable income to improve their quality of life and be able to invest in order to go up the wealth ladder. Part of the reason why it's difficult for single mothers, especially for mothers of color, is because wealth is available through fringe benefits given to employees in addition to their salary, when single mothers can't stay later and work longer hours, they forfeit the benefits of a bonus and or extra pay for their labor. As a result, single mothers of color make up the profile of poverty in America. In 2010 African American and Latina single mothers had poverty rates of 47.1 percent and 50.3 percent, significantly higher than the national average (www.legalmomentum.org).
A recent NYT article (April 28, 2013) describing the impact of the current economic crisis among the races concluded that " the growth in the wealth divide is going to be very hard to close and there is no positive feeling about the racial inequality resolving itself with the recovery (http://www.nytimes.com/2013/04/29/business/racial-wealth-gap-widened-during-recession.html?pagewanted=all&_r=0)."
What does this all mean for the future of our children? Education is no longer the cure for poverty if we can't confidently believe it opens up jobs and upward mobility.

In my education activism both in El Salvador and with Change The Stakes, I've seen the way education reform models that have long been implemented by the IMF in third-world countries, are now being put in place at the local schools. The capitalist and privatization model is taking place and going full force in the current school system. Our schools are being turned into testing labor camps for private businesses. With the lie that schools are not serving students of color and that there is an 'achievement gap' the reformers are destroying education by robbing students from a meaningful and rich education, disrupting communities by closing and co-locating schools, severing the teacher-student-parent ties and breaking up the teachers union; causing as much disruption so that there are no safety nets.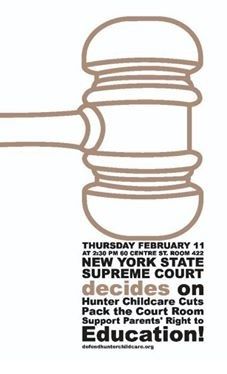 In communities of color with high levels of poverty, where the likelihood of a student being raised by a single mother is high, that is where the impact is most disastrous.

Federal policy such as No Child Left Behind, and Obama's Race To The Top have placed public education under siege and they represent yet another attack on women. Education used to be considered a woman's domain as part of social reproduction: to introduce early literacy and morality at home. With the language of 'accountability' mothers are no longer responsible for educating their children. Taking education away from women and charging the schools with not educating all students has made the agenda of 'accountability' take full steam. Believing that schools are nurturing places, students' second homes and teachers as second parents is a thing of the past. Communities are encouraged to believe that teachers, who are predominantly women, can't be trusted to teach. Therefore, they don't deserve a strong union that protects their job and protects their ability to not only have a competitive wage, but also retirement safety (a pension) and the ability to save and create wealth. Children are being over-tested and critical thinking has been replaced with incessant test prep and rote-learning aligned with the Common Core. Students are being trained to be compliant and follow rules, find single answers, and be measured by test scores. The future of schools and the future of students is questionable and so is the future of women and the ability of future single mothers to close the wage and wealth gap.
-Diana

"To educate is to Free"—José Martí