"Punting the Pundits" is an Open Thread. It is a selection of editorials and opinions from around the news medium and the internet blogs. The intent is to provide a forum for your reactions and opinions, not just to the opinions presented, but to what ever you find important.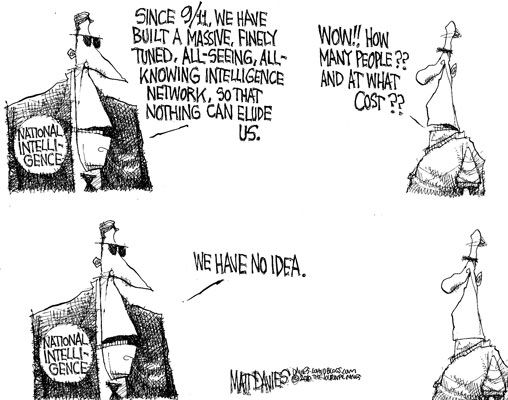 Eugene Robinson: Momentum becomes substitute for logic in Afghan war
In Afghanistan, momentum has become a substitute for logic. We're not fighting because we have a clear set of achievable goals. We're at war, apparently, because we're at war.

No other conclusion can be drawn from the circular, contradictory, confusing statements that the war's commanders and supporters keep making. President Obama, in an interview with CBS taped last Friday, said it is "important for our national security to finish the job in Afghanistan." But as the war's deadliest month for U.S. troops came to an end, Obama was far from definitive about just what this job might be.
It is very apparent, the US military is not leaving.
Laurence Lewis: Gates: "We are not leaving Afghanistan in July of 2011"
But the U.S. will be staying in Afghanistan. For a long time. With no end date in sight, and even the long-suspect timeline for the beginning of a withdrawal looking more and more like the beginning of nothing much at all.

To be continued.
Richard Cohen: Newt Gingrich, pushing prejudice at Ground Zero
Newt Gingrich, his doctorate notwithstanding, has offered us an illogical and ahistorical context to the ugly dispute about building an Islamic cultural center and mosque near Manhattan's Ground Zero. For a while, I thought that Sarah Palin and others would be the only ones to reap the political benefit of exploiting anti-Muslim sentiment, but Gingrich was not to be denied. With a preposterous solemnity, he expounded the schoolyard doctrine of tit for tat.

Gingrich noted that there "are no churches or synagogues in Saudi Arabia." True enough. However, it is not the government of Saudi Arabia that seeks to open a mosque in Lower Manhattan, but a private group. In addition, and just for the record, Saudi Arabia does not represent all of Islam and, also just for the record, the al-Qaeda terrorists who murdered nearly 3,000 people on Sept. 11, 2001, would gladly have added the vast Saudi royal family to the list of victims. In recompense, the Saudis would just as gladly apply some dull swords to the necks of al-Qaeda's leaders. It is the way of the desert, or something like that.
Bob Herbert: The Lunatic's Manual
The Army, to its credit, tells the story of a middle-aged lieutenant colonel who had served multiple combat tours and was suffering the agonizing effects of traumatic brain injury and dementia. He also had difficulty sleeping. Several medications were prescribed

On a visit to an emergency room, he was given a 30-tablet refill of Ambien. He went to his car and killed himself by ingesting the entire prescription with a quantity of rum. He left a suicide note that said his headaches and other pain were unbearable.

As if there is not enough that has gone tragically wrong in this era of endless warfare, the military is facing an epidemic of suicides. In the year that ended Sept. 30, 2009, 160 active duty soldiers took their own lives – a record for the Army. The Marines set their own tragic record in 2009 with 52 suicides. And this past June, another record was set – 32 military suicides in just one month.
Anne Applebaum: GOP shows historic amnesia on spending cuts
Historical amnesia is at once the most endearing and the most frustrating of American qualities. On the one hand, it means that — F. Scott Fitzgerald notwithstanding — there really are second acts in American lives. People can move somewhere else, reinvent themselves, start again.

On the other hand, our inability to remember what our policy was last week, never mind last decade, drives outsiders crazy. We forget that we supported the dictator before we decided to destroy him. Then we can't understand why others, especially the dictator's subjects, don't always believe in the goodness of our intentions or the sincerity of our devotion to democracy.