09/05/2010

archive

"Punting the Pundits" is an Open Thread. It is a selection of editorials and opinions from around the news medium and the internet blogs. The intent is to provide a forum for your reactions and opinions, not just to the opinions presented, but to what ever you find important.

Jimmy Breslin: Jimmy Breslin on the National Mood
There are these sudden loud noises in the hotel kitchen, one, two, three, probably a tray falling, and then there is so much screaming and a hand holding a gun high in the air and Robert Kennedy, who had walked into the gun, is on the floor with his eyes seeing nothing. On this June night in 1968 he has just won a Presidential primary and suddenly he is fit only for a gravedigger's dirt.

It happens this way when the claws of madness swipe through the sky. In 1919 Justice Oliver Wendell Holmes called it for all time, and crashingly so today, when he wrote, "The most stringent protection of free speech would not protect a man in falsely shouting fire in a theatre and causing a panic."

And now in New York they are turning an empty lot of the old World Trade Center and a mosque that isn't built and probably never will be, into national fear. Omaha fights the mosque in Manhattan! Some foamer named Jones says he burns the Koran, and he actually is treated as news. All day on television yesterday you had the aimless babbles of this Beck, who looks like he eats Bibles.
h/t to Gaius Publius @ AMERICA blog, yes, Breslin is a national treasure.
Frank Rich: Freedom's Just Another Word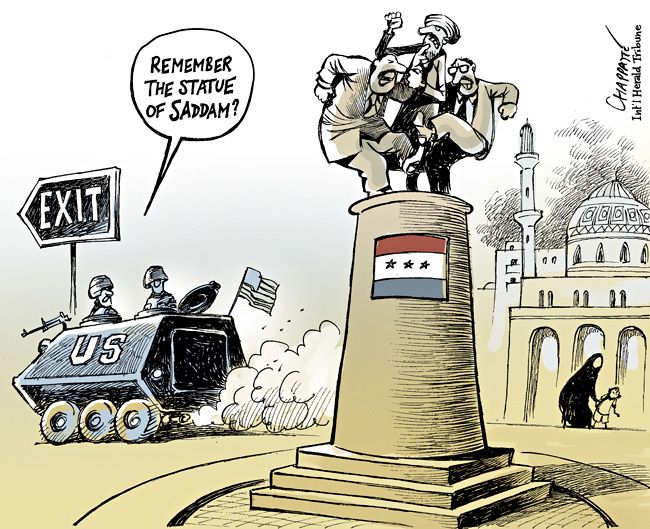 Among the few scraps of news to emerge from Barack Obama's vacation was the anecdote of a Martha's Vineyard bookseller handing him an advance copy of Jonathan Franzen's new novel, "Freedom." The book has since rocketed up the Amazon best-seller list, powered by reviews even more ecstatic than those for Franzen's last novel, "The Corrections." But I doubt that the president, a fine writer who draws sustenance from great American writers, has read "Freedom" yet. If he had, he never would have delivered that bloodless speech on Tuesday night.

What was so grievously missing from Obama's address was any feeling for what has happened to our country during the seven-and-a-half-year war whose "end" he was marking. That legacy of anger and grief is what "Freedom" mainlines to its readers. In chronicling one Midwestern family as it migrates from St. Paul to Washington during the 9/11 decade, Franzen does for our traumatic time what Tom Wolfe's "The Bonfire of the Vanities" did for the cartoonish go-go 1980s. Or perhaps, more pertinently, what "The Great Gatsby" did for the ominous boom of the 1920s. The heady intoxication of freedom is everywhere in "Freedom," from extramarital sexual couplings to the consumer nirvana of the iPod to Operation Iraqi Freedom itself. Yet most everyone, regardless of age or calling or politics, is at war – not with terrorists, but with depression, with their consciences and with one another.

This mood has not lifted and may be thickening as we trudge toward Year 10 in Afghanistan. But Obama only paid it lip service. It's a mystery why a candidate so attuned to the nation's pulse, most especially on the matter of war, has grown tone deaf in office. On Tuesday, Obama asked the country to turn the page on Iraq as if that were as easy as, say, voting for him in 2008. His brief rhetorical pivot from the war to the economy only raised the question of why the crisis of joblessness has not merited a prime-time Oval Office speech of its own.