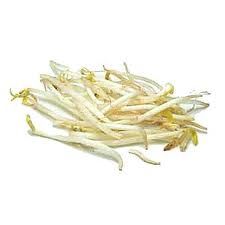 The deadly deadly out break of food poisoning in Germany has supposedly been traced to its source, bean sprouts that were grown at an organic farm in Germany. Over 3000 people have been sickened, many of them seriously, and 31 one deaths have been attributed to this contamination. According to the article in the NYT, even though there has been no harmful bacteria found in the sprouts, Reinhard Burger, the head of the country's disease control agency said:
investigations centering on interviews with patients and even the chefs at restaurants where they had eaten showed that people who had consumed bean sprouts were nine times more likely to become infected than those who had not.
Even though Germany has lifted the advisory about eating fresh produce and sealed off the organic farm that was the source of the sprouts, the damage has been done with consumers all over Europe still not buying fresh tomatoes, cucumbers and other frsh produce from Spain. Meanwhile, Spain has refused to accept the compensation that was offered for the losses to farmers as too little. From the Guardian:
The European commission on Tuesday promised to pay more than €150m (£134m) to farmers hit by the E coli crisis, following robust lobbying by Spain and France.

The agriculture commissioner, Dacian Ciolos, proposed sharing out to farmers affected by falling sales amid the public health panic the sum of €150m, equating to payments worth about 30% of the average market price for the unsold crops.

But at the meeting of agriculture ministers in Luxembourg, representatives from several member states demanded more help.

Spain immediately warned the €150m would not be enough. Spain has suffered disproportionately from the economic impact of the outbreak, in part because it grows a significant share of Europe's salad produce but also because blame for the bacteria outbreak at first was attributed to its cucumber crop.
The German health ministry was too quick to make a conclusion and should have been more diligent in their investigation.