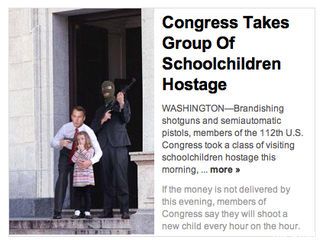 The Onion hit a nerve with the Capital Police in Washington, DC today as it broke its latest political satirical story via Twitter:
BREAKING: Witnesses reporting screams and gunfire heard inside Capitol building.
BREAKING: Capitol building being evacuated. 12 children held hostage by group of armed congressmen. #CongressHostage
Arlington gun shop confirms Rep. @EricCantor bought 6 semi-automatic handguns, 3 rifles & 600 clips of ammo last month #CongressHostage
Extra demands include transport to Dulles airport with fueled-up private jet waiting on runway. McCain expected to fly it. #CongressHostage
Obama on bullhorn: "John, I know you can hear me in there. Please, you don't need to do this." #CongressHostage
Typical of most "very serious" bureaucracies the US Capitol Police released a statement to the press that gave the tweets and the story credibility as reported by the "very serious" Politico:
It has come to our attention that recent twitter feeds are reporting false information concerning current conditions at the U.S. Capitol. Conditions at the U.S. Capitol are currently normal. There is no credibility to these stories or the twitter feeds. The U.S. Capitol Police are currently investigating the reporting.
Of course Talking Points Memo, in need of some "very serious" news for today, ran with the story on their front page and, of course no one would talk to their reporter:
When contacted by TPM, Sgt. Schneider declined to comment on what the Capitol Police might be doing to investigate the matter, saying that the police do not discuss the preliminary stages of a law enforcement investigation.

The Onion has not immediately responded to TPM's request for comment.
Anyway, according to the latest Tweets from The Onion, the 4 PM deadline has passed and, as is typical of this Congress:
UPDATE: Hostage Negotiation Talks Stall In Congress #CongressHostage
This hostage situation could go on for months or years. We'll keep you updated on what the "very serious" people in our Nation's Capitol are doing to end this stand off.
h/t Talking Points Memo DC for the screen shot of The Onion's Front Page