(10 am. – promoted by ek hornbeck)
Some really great news, all be it, in the grand scheme of things not all that earth shaking but a win for an wounded Iraq veteran and her bomb sniffing dog, Sgt. Rex who will be reunited thanks to the efforts of New York Sen, Chuck Schumer and an animal loving blogosphere.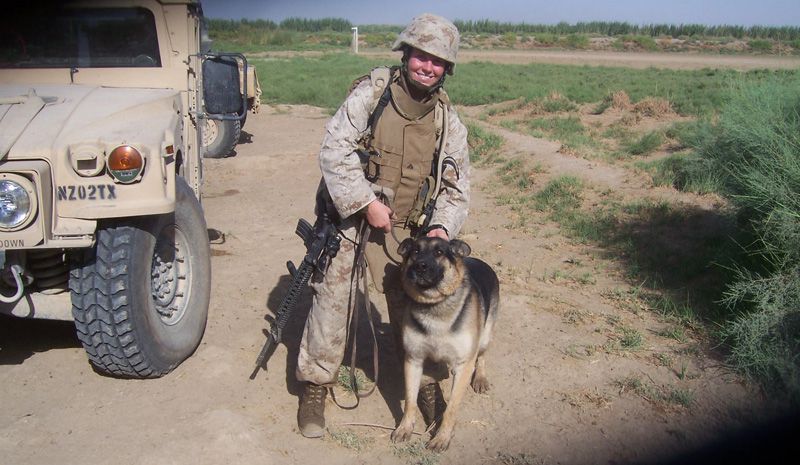 U.S. Sen. Charles Schumer said Monday night that the Air Force has agreed to release Sgt. Rex into the care of former Cpl. Megan Leavey, of Rockland County, just north of New York City.

Leavey was injured with Rex in 2006 while trying to disarm an explosive. They convalesced together.

Rex is credited with saving lives and uncovering explosives that saved more.

Schumer had intervened when Leavey, a Purple Heart recipient, was first denied in her effort to adopt Rex in 2007. Rex had recovered with Leavey from their injuries, and Rex was returned to service.

Now Rex, a black and brown German Shepherd, is 10 years old and can't continue his military service, but Schumer said bureaucracy still stood in the way of the adoption.

"We salute the Air Force and the Marines for doing the right thing and allowing Rex to be with Corporal Leavey," Schumer said Monday night. "One canine, one human, both heroes. They should be united shortly, and we're glad it's happening." [..]

Schumer, a Democrat, had sought to help Leavey cut through red tape to reunite the pair. He also started a national online petition to help persuade the Air Force to act quicker.

"It's only appropriate and right that the two of them enjoy their retirement from the service together," Schumer said. "I again want to thank the Air Force and Marines for moving so quickly, and I want to thank the thousands of New Yorkers and Americans who showed their support online."

Leavey recently told MSNBC that Rex is her partner and she loves him.

"We have been through so much together," she said. "… I've spent day and night with this dog. It's a very strong bond."
Thank you, especially. to our dear friend and blog partner, davidseth, who brought this to the attention of our readers at The Stars Hollow Gazette, Docudharma and Daily Kos, with his website, Dream Antilles h.
Thank you to our dog loving friend, noweasels, at Daily Kos who had a recommended diary to get more signatures on the petition.
Thank you to Sen. Schumer, who has worked to petition the Department of Defense to reunite Cpl. Leavey and Sgt Rex.
And thank you, thank you, thank you, to everyone who signed the petition, sent an e-mail, recommended an article to reunite these two veterans.
My late, beloved dog, Mulder, would approve.