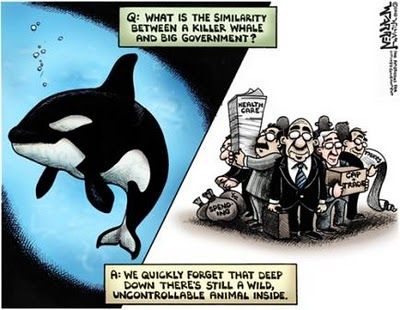 That $2 billion failed London Whale has burgeoned up to a hefty $7 billion:
The crisis at JP Morgan escalated yesterday as it emerged its trading losses in London could rise to as much as $7bn (£4.5bn) and the US bank cancelled a share buyback. Fears were growing that the losses could spiral from an initial $2bn, which was declared on 10 May, as JP Morgan struggles to unwind the massive bets made by the so-called "London Whale" trader Bruno Iksil. [..]

The main index on which Mr Iksil's credit default swaps trades were based has calmed down in recent days, which suggests that JP Morgan has decided to trade out of its positions gradually rather than take one massive hit. Mr Dimon originally said the bank would deal with the positions to "maximise economic value". But there is a danger in taking the long view. Mr Iksil was betting on the credit-worthiness of corporate America and if that starts to fall JP Morgan's losses could mount further.
But in the meantime, Dimon decided to suspend the $15 billion stock buy back:
Two months after announcing a $15 billion share buyback program, JPMorgan Chase reversed course on Monday, saying it was halting the repurchases after the bank's multibillion-dollar trading loss. [..]

Mr. Dimon said the bank intended to keep its dividend of 30 cents a quarter unchanged. Bank officials have repeatedly emphasized that the company has no plans to reduce it despite the trading loss. Initially estimated by the bank at $2 billion, the trading loss on credit derivatives now stands at more than $3 billion, according to traders and regulators. [..]

The decision to halt the repurchases – a move the company said it made on its own, not at the behest of regulators – sent JPMorgan's shares sliding again Monday, closing at their lowest level since late last year.
As the losses from London Whale increase and Dimon's reputation as the "saviour" of JP Morgan is tarnished, the calls for better and tighter regulations for banking increase. That's the problem faced by the Senate Banking Committee as they consider the "Volker Rule". As David Dayen pointed out today the rule should not so complex that it just creates more loopholes:
The Fail Whale trades showed that massive, as-yet unregulated risk still exists in our financial system, with the potential to bring down the economy once again and trigger massive taxpayer bailouts. Since the Administration already passed a law that was supposed to deal with that, they're scrambling to restore what little of value existed in those laws. [..]

The article intimates that independent regulators have authority over writing things like the Volcker rule, and that the White House and the Treasury Department have limited ability to ensure that the rule properly follows from the legislative mandate. Given that a senior Administration official told reporters just yesterday that the losses at JPMorgan Chase would "inform… how the ultimate contours of the Volcker ruler come out-make sure that it is strong," it's clear that not even the Administration believes that. They appointed the regulators, and Treasury has plenty of control over almost everything related to Dodd-Frank. If they want a stronger Volcker rule, they'll get it.
But will the Banking Committee come out with strong, simple rules regulating the gambling that banks are doing with depositor funds? There is a lot of doubt considering that not only are the Senators on the banking committee "financed" by the banks and lobbied heavily, a former lobbyist for JP Morgan Chase, Dwight Fettig is the staff director for the Senate Banking Committee. As our friend watertiger at Dependable Renegade observed "Well, isn't that conVEEEEENient":
The Senate Banking Committee is responding to outrage over the news that J.P. Morgan lost some $3 billion in customer money because of a risky trading strategy. The committee is preparing for two hearings with regulators, and Senator Tim Johnson (D-SD), chair of the committee, is hoping that Jamie Dimon will testify in the near future. "Our due diligence has made it clear that the Banking Committee should hear directly from JPMorgan Chase's CEO Jamie Dimon," Johnson said in a statement last week.

Luckily for Dimon, the professional staff in charge of managing the banking committee will be quite familiar to him and his team of lobbyists. That's because the staff director for the Senate Banking Committee is none other than a former J.P. Morgan lobbyist, Dwight Fettig.

In 2009, Fettig was a registered lobbyist for J.P. Morgan. His disclosures show that he was hired to work on "financial services regulatory reform" and the "Restoring American Financial Stability Act of 2009″ on behalf of the investment bank. Now, as staff director for the Senate Banking Committee, he will be overseeing the hearings on J.P. Morgan's risky proprietary trading.
I agree with Yves Smith in her NYT op-ed opinion that "for starters, reinstate Glass – Steagall":
Preventing blow-ups like the JPMorgan "hedge" that bears no resemblance to any known hedge isn't difficult. What makes preventing it difficult is that banks that exist only by virtue of state-granted charters – and more recently, huge transfers from the public – have persuaded public officials and regulators that they have a God-granted right not just to high levels of profit but also high levels of employee and executive compensation. [..]

Maybe it's time to recognize that these firms are too big and in too many complex businesses to be managed. Jamie Dimon was touted as a star who could supervise a sprawling firm running huge risks, and he fell short because no one can do the job adequately. A less disaster-prone financial system requires more simplicity and redundancy. Re-instituting Glass-Steagall or other variants on the narrow banking theme isn't a full solution, but it would make for a good start.