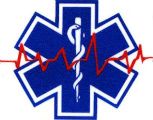 Welcome to the Stars Hollow Health and Fitness News weekly diary. It will publish on Saturday afternoon and be open for discussion about health related issues including diet, exercise, health and health care issues, as well as, tips on what you can do when there is a medical emergency. Also an opportunity to share and exchange your favorite healthy recipes.
Questions are encouraged and I will answer to the best of my ability. If I can't, I will try to steer you in the right direction. Naturally, I cannot give individual medical advice for personal health issues. I can give you information about medical conditions and the current treatments available.
You can now find past Health and Fitness News diaries here and on the right hand side of the Front Page.
Follow us on Twitter @StarsHollowGzt
For Thanksgiving, Why Not Go Greek?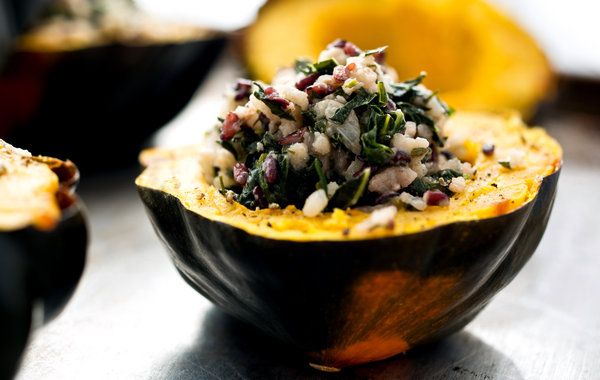 I've written before about Greek vegetarian main dishes. The culture is rich with them, both vegan dishes and dishes with cheese and eggs. I know that Greek food is not exactly what comes to mind when you hear the word "Thanksgiving," yet why not consider this cuisine if you're searching for a meatless main dish that will please a crowd? It's certainly a better idea, in my mind, than Tofurky and all of the other overprocessed attempts at making a vegan turkey. If you want to serve something that will be somewhat reminiscent of a turkey, make the stuffed acorn squashes in this week's selection, and once they're out of the oven, stick some feathers in the "rump," as I did for the first vegetarian Thanksgiving I ever cooked: I stuffed and baked a huge crookneck squash, then decorated it with turkey feathers. The filling wasn't nearly as good as the one you'll get this week, but the creation was fun.

~Martha Rose Shulman
Baked Acorn Squash Stuffed With Wild Rice and Kale Risotto
Look for small acorn squash so that each person can have one.
The filling is wrapped in phyllo cylinders, which are arranged in a coil in a pan, then baked until crisp.
Eggplant is always a good, substantial vegetable to use for a vegetarian main dish.
Use portobello mushrooms for this. They are meaty and make for a very substantial pie.
The traditional way to wilt spinach in that part of Greece is to salt it lightly, put it in a colander and knead it against the sides of the colander for about 10 minutes.
General Medicine/Family Medical
Smoking Bans Are on the Rise in Big Cities

by Daniel J. DeNoon
Nov. 15, 2012 — The CDC says 30 of the 50 biggest U.S. cities are smoke-free, with absolutely no smoking allowed in any bar, restaurant, or workplace.

And the news is even better than it looks.

Several more of these big cities at least partially ban smoking. Los Angeles and Atlanta, for example, are covered by state laws that ban much smoking but fall short of the CDC's 100% smoke-free designation.
Transcendental Meditation May Lower Heart Risk

by Matt McMillen
Nov. 13, 2012 — Transcendental Meditation is good for the heart, according to a new study.

The study was funded by the National Institutes of Health. It found that African-Americans with heart disease who regularly practiced TM reduced their risk of death, heart attack, and stroke by 48%.

Researcher Robert Schneider, MD, says those results should apply to the general population. Schneider is director of the Institute for Natural Medicine and Prevention at the Maharishi University of Management (MUM) in Fairfield, Iowa.
Drug Slows Knee Osteoarthritis Progression

by Charlene Laino
Nov. 12, 2012 — A drug used outside the U.S. to treat osteoporosis may not only lessen the everyday pain associated with knee osteoarthritis, but may even slow down the progression of osteoarthritis, researchers say.

The drug is called strontium ranelate.

In a three-year study of more than 1,300 people with knee osteoarthritis, digital X-rays revealed substantially less loss of cartilage in the joint space in those who took strontium ranelate every day compared with people who took a placebo daily.
Nearly Every State Seeing Large Surge in Diabetes

by Denise Mann
Nov. 15, 2012 — The number of people diagnosed with diabetes in the U.S. jumped by 50% or more in 42 states and by more than 100% in 18 of those states in just under two decades, according to the latest snapshot from the CDC.

The new data set looked at rates of diabetes in the U.S. from 1995 and 2010. The findings appear in the CDC's Morbidity and Mortality Weekly Report (MMWR).
Are Common Chemicals Affecting Your Fertility?

by Denise Mann
Nov. 14, 2012 — Many couples try month after month to become pregnant, and new research suggests that for some, the delay may be related to their exposure to chemicals found in the soil, water, and food supply.

These chemicals, called persistent organochlorine pollutants, may persist in the environment for decades. Some, such as persistent lipophilic organochlorine pollutants, accumulate in fatty tissues in animals, while perfluorochemicals or PFCs are used in clothing, furniture, adhesives, food packaging, nonstick cooking surfaces, and electrical wire insulation.
Fasting May Not Be Needed Before Cholesterol Test

by Brenda Goodman. MA
Nov. 12, 2012 — The requirement to fast before a cholesterol check can be a major inconvenience.

People who forget to fast may be told to reschedule their appointments. For those who remember, sitting in a doctor's waiting room with a growling stomach can make for a rough start to the day.

Now a large new study shows that cholesterol levels aren't radically different in people who ate compared to those who fasted before their blood was drawn.

The study, which is published in the Archives of Internal Medicine, suggests that people may not need to fast before they get a cholesterol test.
iPads May Help Those With 'Low Vision' Read Better

by Denise Mann
Nov. 12, 2012 — iPads and other tablets with backlit screens may allow millions of people with "low vision" to read faster and easier, a new study suggests.

Low vision is an umbrella term for people who still have trouble reading, watching TV, or performing other daily activities despite glasses, contact lenses, medication, or even surgery. For people in this situation, the only options left are often magnifying glasses and low-vision aids, many of which are bulky and not that easy to use.

Enter iPads, Kindles, and other backlit tablets.
Warnings/Alerts/Guidelines
[Children's PeaPod Travel Beds Recalled ]

by Jennifer Warner
Nov. 16, 2012 — KidCo is recalling 220,000 of its PeaPod and PeaPod Plus travel beds due to possible suffocation and entrapment risks for children.

The company announced the voluntary recall today in cooperation with the Consumer Product Safety Commission (CPSC).

Officials say infants and young children can roll off the edge of the inflatable air mattress and become entrapped between the mattress and fabric sides of the tent, and suffocate.
More Deaths, Illness Linked to Energy Drinks

by Daniel J. DeNoon
Nov. 16, 2012 — The FDA has posted adverse-event reports for two more energy drinks: 40 illnesses and five deaths linked to Monster Energy, and 13 illnesses and two lasting disabilities linked to Rockstar Energy.

The new reports follow this week's revelation of FDA reports linking 92 illnesses and 13 deaths to 5-Hour Energy shots. The FDA previously said it was investigating the deaths linked to Monster Energy.
Women's Health
Migraines' Brain Changes Not Linked to Mental Harm

by Brenda Goodman, MA
Nov. 13, 2012 — Women who get migraines are more likely than those who don't to develop small areas of tissue changes in their brains, a new study shows. At the same time, these changes do not seem to affect the women's thinking or memory.

For years, researchers have wondered whether migraine headaches might leave a lasting impact on the brain. "There's a big question, which is, 'Is migraine progressive?'" says neurologist Richard Lipton, MD. Lipton directs the Montefiore Headache Center in New York City. He was not involved in the research.

The new study found evidence that migraines might be tied to having more structural changes in the brain for some people.
Men's Health
Soda May Worsen Knee Osteoarthritis in Men

by Charlene Laino
Nov. 14, 2012 — Men with osteoarthritis of the knee may want to avoid sugar-packed soft drinks. That's the advice of researchers who found that drinking sugary soda is associated with progression of the disease in men.

No such link was found in women in the study of more than 2,000 people with knee osteoarthritis.

"Our main finding is that in general, the more sugary soda men drink, the greater the risk that knee osteoarthritis will get worse," says researcher Bing Lu, MD, DrPh. Lu is assistant professor of medicine at Harvard Medical School and associate biostatistician at Brigham and Women's Hospital in Boston.
Pediatric Health
Flu During Pregnancy May Be Linked to Autism Risk

by Salynn Boyles
Nov. 12, 2012 — Children born to mothers who had the flu during pregnancy or fevers lasting more than a week may have a slightly higher risk for autism, new research suggests.

"Our findings are interesting for research purposes, but they should not alarm women who are pregnant," says researcher Hjordis Osk Atladottir, MD, PhD, of Denmark's University of Aarhus. "It needs to be emphasized that around 98% of the women in this study who experienced influenza or fever or took antibiotics during pregnancy did not have children with autism."

The study, published today in the journal Pediatrics, included children born in Denmark between 1997 and 2002, including those with a diagnosis of autism spectrum disorder.
Aging
Does Air Pollution Hurt Memory of Older Adults?

by Kathleen Doheny
Nov. 16, 2012 — Air pollution may be bad for older brains, a new study shows.

Older adults who live in areas of high pollution did not do as well on tests of memory and other thinking skills, according to a new study.

"We know that air pollution is harmful for a child's developing brain," says researcher Jennifer Ailshire, PhD. She is a National Institute on Aging postdoctoral fellow at the Andrus Gerontology Center of the University of Southern California.

"Now we are starting to understand that air pollution is also harmful for the aging brain," she says.

She presented the findings today at the Gerontological Society of America meeting in San Diego.
Mental Health
Health and Happiness Are Not Always Linked

buy Salynn Boyles
Nov. 15, 2012 — Think good health is a major predictor of happiness? A study says yes, but there's a catch.

The new study adds to the evidence examining the impact of health status on happiness in older adults.

Several previous studies suggest that people in poor health — including those with life-threatening diseases, such as cancer, or life-altering disabilities — are often just as happy as those in good health.

The new research also finds this to be the case, with the exception of those whose daily lives are disrupted by their conditions, such as people with chronic severe pain or urinary incontinence.
Nutrition/Diet/Fitness
Alcohol Adds 100 Calories a Day to Our Diet

by Jennifer Warner
Nov. 15, 2012 — Alcoholic drinks contribute about 100 calories a day to the average American's diet.

But wine, liquor, and especially beer may add much more to the daily calorie count for younger adults and men.

A new study shows that on any given day, people who drink alcohol get about 16% of their total calories from alcoholic drinks.