(2 pm. – promoted by ek hornbeck)
While browsing the Midwest HSR Association site recently, I came across this story:
Midwest High Speed Rail Association Lauds Rep. Moffit's Proposal for New Midwestern Amtrak Link

CHICAGO (May 23, 2013) — Midwest High Speed Rail Association Executive Director Richard Harnish released the following statement Thursday in response to Illinois State Rep. Donald Moffitt's (74th District) proposal of a new bill proposing a study leading to the creation of a new east-west Amtrak line in Illinois:

"Rep. Moffitt has identified a missing link in our state's mass transportation system.

"The addition of a new Amtrak route linking population and commercial centers would be a major enhancement of our rail system, and a stepping-stone to further expansion and improvement of the system.

"Today, if you need to travel between Chicago and Springfield, Galesburg, Peoria, Normal and Urbana-Champaign or over to the Quad Cities, you are most likely to drive.

… "This addition and the public's utilization of it will help to lay the solid foundation for future modernization–especially for the full implementation of high-speed rail between Chicago and St. Louis and other major midwest destinations.

Illinois' Hub And Spoke Intercity Rail System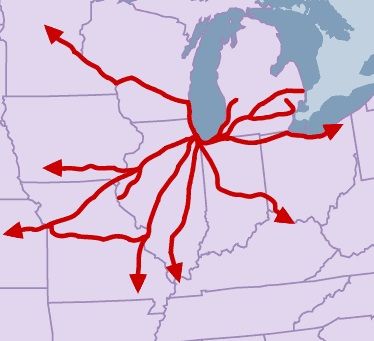 To understand the point of this proposal, it helps to understand the present nature of Illinois's intercity rail system. There are the long distance routes to the east coast, which run from Chicago to Boston & NYC (splitting at Albany), Chicago to DC, and Chicago to NYC via DC. There are the long distance routes to the west coast, which run from Chicago to Portland and Seattle (splitting at Spokane), Chicago to San Francisco, Chicago to Los Angeles. There are the long distance routes to the South/Southwest, which run from Chicago to New Orleans and Chicago to San Antonio.
Then there are the multi-state corridor services. These run from Chicago to Grand Rapids, Chicago to Port Huron, Chicago to Detroit, Chicago to Indianapolis, Chicago to Kansas City, Missouri, and Chicago to Milwaukee (Gov. Scott Walker handed back the money to extend this to Madison, Wisconsin).
And then there are the in-state corridor services. Already in existence are: the Illinois Zephyr and the Carl Sandburg, from Chicago to Quincy; the Illini Service and Saluki, from Chicago to Carbondale; and the Lincoln Service, from Chicago to St, Louis. The proposed Illinois Rapid Rail service will also run from Chicago to St. Louis, while there is also a proposed additional route from Chicago into Iowa via the Quad Cities.
You'll have noticed something about those routes, I'm sure: they all converge on Chicago. Actually, you probably noticed it on the map before I started listing the end points of routes. For the Amtrak long-haul system, Chicago's Union Station is the primary east/west transfer hub. For the existing corridor system into and through Illinois, Chicago is the hub. And for the proposed Midwest HSR system, Chicago is the hub.
In that system, this line is an "orbital" — it cuts across keeping the hub to one side, which allows for substantially better instate cross connections for people who do not have Chicago as their origin or destination. Considering someone in in Danville or Peoria, traveling to St. Louis, and considering the train. Under the present route structure, both of those would travel to Chicago, and change there for the Chicago / St. Louis trip. With the Cross-Illinois, both would travel to Bloomington and change there for St. Louis. The orbital line cuts over half the route miles out of these trips.


The Cross Illinois in the Context of National Sustainable Transport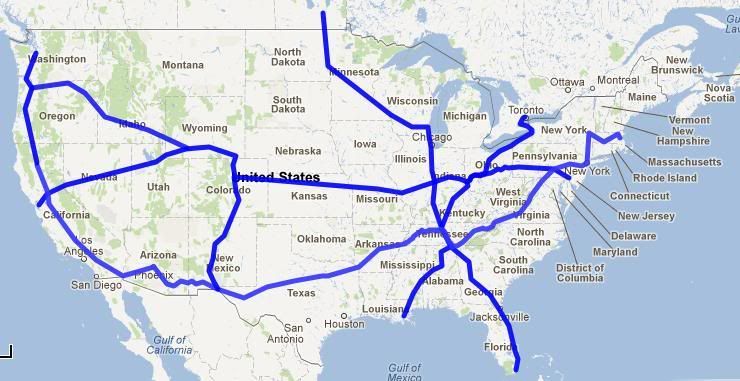 Now, what excited me about this proposal was something different. I have been advocating, for a long time now, establishment of a Steel Interstate system. This would be a network of Electric Rapid Freight and Passenger Rail corridors that could be used to move freight across the country more quickly and inexpensively, with substantial energy savings, substantial explicit cost savings, and, by taking pressure off the heavily subsidized Asphalt Interstate Freight transport system, substantial hidden cost savings as well.
The focus of the Steel Interstates is on longer haul freight. And the reason that it can be such a loose grid is that you do not have to take the freight off of the train to take it off the Steel Interstate. Just like Semi-Trucks hitting the Interstate off-ramp and finishing their trip on US and State highways, all you have to do is swap locomotives and you can take the train to a final railhead well away from the main electric freight corridor system.
And Chicago, as the long standing freight hub between eastern and western freight rail systems, can be an absolutely nightmare for freight. There is already a multi-million dollar project to untangle the rail logjams in the Chicago area, CREATE. The way that the Steel Interstate system as sketched proposes to contribute to the solution is primarily by not contributing to the problem. It includes a route to Chicago, but Chicago is not the primary east/west throughway.
And so you might now see what I was thinking. This Cross-Illinois Line … is this a potential alignment for what I dub the "National" east west corridor system? Its western end is the Quad Cities, and I've already talked about how the Rock Island Line alignment from the Quad Cities through Iowa to Omaha is a Mighty Fine Iowa Rapid-Rail Road. Here, it seemed, might be the National Road alignment that acts as an "outer, outer bypass" of Chicago for the freight going through Illinois but not to Chicago.
And so I started following the rail corridors on Google Maps to see what the actual alignment looked like. I worked from West to East. In the West, it turned out that the alignment was made up of a series of "water routes", that ran not very far from larger or smaller rivers and creeks. These were popular alignments when the railroads were first being laid out, both because a water route tends to avoid steep slopes, and because the rivers and creeks were primary means of transportation before the rail came, so the water route tended to connect to existing communities.
But this is Illinois, not West Virginia, so even though the water routes looks a little squiggly, the actual curves tend to be mild curves. As far as a High Speed Freight route, balanced for heavier freight to travel at 60mph, and with curves allowing higher speed freight to run at 90mph, it actually looked like a very good route. If a regular passenger train would be speed limited on these curves, surely a tilt-train could operate at 110mph over almost all of this section of the route.
This was looking good, because the Eastern part of central would surely be a lot of long, straight sections. And so I kept going from Bloomington to Danville …
Uh, oh. Well, then I got to Bloomington, and started looking for the route to Champaign/Urbana and Danville. And I discovered that while there were lots of long straight routes here … they didn't run between Bloomington and Champaign and Danville. They ran north to Chicago. They ran south to Carbondale. They ran northeast to Fort Wayne or South Bend via Lafayette, Indiana. I started following a line from Danville west toward Champaign, and it literally just stopped in the middle of nowhere — I wouldn't be surprised if its a grain line ("granger road") with some nice tall elevators right next to the last section of track.
So my best guess to the route to get from Bloomington, Illinois to Danville via Champaign is illustrated here, but it turns out that this is not a prospective cross-country Steel Interstate route either.
Well, not the entire route. But just as electric rail freight can run out from under the wires just by swapping the locomotive, electric passenger freight can run out from under the wires if it has a dual mode locomotive, which can run off the overhead electric when its there, and on diesel when there is no overhead electric. So I'm not tossing the whole route off to one side just yet. It could be that there is a possible alignment from heading straight east from Bloomington, Illinois and on toward Lafayette, Indiana, then Indianapolis, then Dayton and Columbus, then east to Pittsburgh, then over the Keystone corridor to the East Coast.
And of course, the Asphalt Interstate runs the proposed route: the list of main cities is a list of the main Illinois cities served by Interstate 74. So it might also be worthwhile looking at what the gradiants are along Interstate 74 and whether there are any promising Expressway alignments to fill in the segments that are not directly available on existing rail corridors.


Contemplations and Considerations
I don't have any ringing conclusion to offer here. If you live in Illinois, certainly contact your state and federal Representatives in support of the proposed Cross-Illinois route.
Also, its been a long time since the last Sunday Train rolled out of the station, so a brief reminder that there is no expectation that discussion will be limited to the topic or topics raised in the weekly Sunday Train. Any discussion on immediate or long term development of sustainable transport and sustainable energy systems is on topic at the Sunday Train. Just start a new main comment response with the topic, issue, piece of information, etc. that you want to raise.