This is your morning Open Thread. Pour your favorite beverage and review the past and comment on the future.
September 10 is the 253rd day of the year (254th in leap years) in the Gregorian calendar. There are 112 days remaining until the end of the year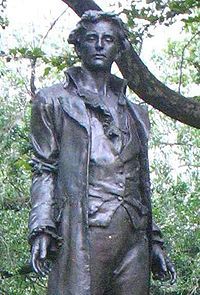 On this day in 1776, Nathan Hale volunteers to spy behind British lines

On this day in 1776, General George Washington asks for a volunteer for an extremely dangerous mission: to gather intelligence behind enemy lines before the coming Battle of Harlem Heights. Captain Nathan Hale of the 19th Regiment of the Continental Army stepped forward and subsequently become one of the first known American spies of the Revolutionary War.
the Battle of Long Island, which led to British victory and the capture of New York City, via a flanking move from Staten Island across Long Island, Hale volunteered on September 8, 1776, to go behind enemy lines and report on British troop movements. He was ferried across on September 12. It was an act of spying that was immediately punishable by death, and posed a great risk to Hale.

An account of Nathan Hale's capture was written by Consider Tiffany, a Connecticut shopkeeper and Loyalist, and obtained by the Library of Congress. In Tiffany's account, Major Robert Rogers of the Queen's Rangers saw Hale in a tavern and recognized him despite his disguise. After luring Hale into betraying himself by pretending to be a patriot himself, Rogers and his Rangers apprehended Hale near Flushing Bay, in Queens, New York. Another story was that his Loyalist cousin, Samuel Hale, was the one who revealed his true identity.

British General William Howe had established his headquarters in the Beekman House in a rural part of Manhattan, on a rise between 50th and 51st Streets between First and Second Avenues Hale reportedly was questioned by Howe, and physical evidence was found on him. Rogers provided information about the case. According to tradition, Hale spent the night in a greenhouse at the mansion. He requested a Bible; his request was denied. Sometime later, he requested a clergyman. Again, the request was denied.

According to the standards of the time, spies were hanged as illegal combatants. On the morning of September 22, 1776, Hale was marched along Post Road to the Park of Artillery, which was next to a public house called the Dove Tavern (at modern day 66th Street and Third Avenue), and hanged. He was 21 years old. Bill Richmond, a 13-year-old former slave and Loyalist who later became famous as an African American boxer in Europe, was reportedly one of the hangmen, "his responsibility being that of fastening the rope to a strong tree branch and securing the knot and noose."

By all accounts, Hale comported himself eloquently before the hanging. Over the years, there has been some speculation as to whether he specifically uttered the famous line:

I only regret that I have but one life to give for my country.

But may be a revision of:

I am so satisfied with the cause in which I have engaged that my only regret is that I have not more lives than one to offer in its service.

The story of Hale's famous speech began with John Montresor, a British soldier who witnessed the hanging. Soon after the execution, Montresor spoke with the American officer William Hull about Hale's death. Later, it was Hull who widely publicized Hale's use of the phrase. Because Hull was not an eyewitness to Hale's speech, some historians have questioned the reliability of the account
506 – The bishops of Visigothic Gaul meet in the Council of Agde.
1419 – John the Fearless, Duke of Burgundy is assassinated by adherents of the Dauphin, the future Charles VII of France.
1547 – The Battle of Pinkie Cleugh, the last full scale military confrontation between England and Scotland, resulting in a decisive victory for the forces of Edward VI.
1608 – John Smith is elected council president of Jamestown, Virginia.
1776 – American Revolutionary War: Nathan Hale volunteers to spy for the Continental Army.
1798 – At the Battle of St. George's Caye, British Honduras defeats Spain.
1813 – The United States defeats the British Fleet at the Battle of Lake Erie during the War of 1812.
1823 – Simon Bolivar is named President of Peru.
1846 – Elias Howe is granted a patent for the sewing machine.
1858 – George Mary Searle discovers the asteroid 55 Pandora.
1897 – Lattimer massacre: A sheriff's posse kills 20 unarmed immigrant miners in Pennsylvania, United States.
1898 – Empress Elizabeth of Austria is assassinated by Luigi Lucheni.
1919 – Austria and the Allies sign the Treaty of Saint-Germain recognizing the independence of Poland, Hungary, Czechoslovakia and Yugoslavia.
1932 – The New York City Subway's third competing subway system, the municipally-owned IND, is opened.
1939 – World War II: The submarine HMS Oxley is mistakenly sunk by the submarine HMS Triton near Norway and becomes the Royal Navy's first loss.
1939 – World War II: Canada declares war on Nazi Germany, joining the Allies – France, the United Kingdom, New Zealand and Australia.
1942 – World War II: The British Army carries out an amphibious landing on Madagascar to re-launch Allied offensive operations in the Madagascar Campaign.
1943 – World War II: German forces begin their occupation of Rome.
1951 – The United Kingdom begins an economic boycott of Iran.
1961 – Italian Grand Prix, a crash causes the death of German Formula One driver Wolfgang von Trips and 13 spectators who are hit by his Ferrari.
1963 – 20 African-American students enter public schools in Alabama.
1967 – The people of Gibraltar vote to remain a British dependency rather than becoming part of Spain.
1972 – The United States suffers its first loss of an international basketball game in a disputed match against the Soviet Union at Munich, Germany.
1974 – Guinea-Bissau gains independence from Portugal.
1977 – Hamida Djandoubi, convicted of torture and murder, is the last person to be executed by guillotine in France.
2001 – Charles Ingram cheats his way into winning one million pounds on a British version of Who Wants to be a Millionaire.
2002 – Switzerland, traditionally a neutral country, joins the United Nations.
2003 – Anna Lindh, the foreign minister of Sweden, is fatally stabbed while shopping, and dies the following day.
2007 – Former Prime Minister of Pakistan Nawaz Sharif returns to Pakistan after seven years in exile, following a military coup in October 1999.
2008 – The Large Hadron Collider at CERN, described as the biggest scientific experiment in history is powered up in Geneva, Switzerland.