"Punting the Pundits" is an Open Thread. It is a selection of editorials and opinions from around the news medium and the internet blogs. The intent is to provide a forum for your reactions and opinions, not just to the opinions presented, but to what ever you find important.
Thanks to ek hornbeck, click on the link and you can access all the past "Punting the Pundits"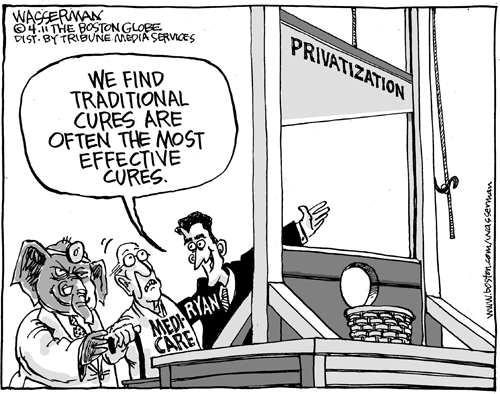 Paul Krugman: Who's Serious Now?
Paul Ryan, the chairman of the House Budget Committee, sounds upset. And you can see why: President Obama, to the great relief of progressives, has called his bluff.

Last week, Mr. Ryan unveiled his budget proposal, and the initial reaction of much of the punditocracy was best summed up (sarcastically) by the blogger John Cole: "The plan is bold! It is serious! It took courage! It re-frames the debate! The ball is in Obama's court! Very wonky! It is a game-changer! Did I mention it is serious?"

Then people who actually understand budget numbers went to work, and it became clear that the proposal wasn't serious at all. In fact, it was a sick joke. The only real things in it were savage cuts in aid to the needy and the uninsured, huge tax cuts for corporations and the rich, and Medicare privatization. All the alleged cost savings were pure fantasy.
Charles M. Blow: The Pirates of Capitol Hill
Corporations are roaring. Wall Street is rolling in cash. C.E.O. bonuses are going gangbusters. It's a really good time to be rich!

If you're poor, not so much. The pall of the recession is suffocating. The unemployment rate is still unbearably high. The Census Bureau reported in September that the poverty rate for 2009 was 14.3 percent, higher than it has been since 1994, and the number of uninsured reached a record high. And the Department of Agriculture has reported record "prevalence of food insecurity."

So in a civil society, which of these groups should be expected to sacrifice a bit for the benefit of the other and the overall health and prosperity of the nation at a time of great uncertainty? The poor, of course. At least that seems to be the Republican answer.
Glen Greenwald
:
The Two-Tiered Justice System: An Illustration
Of all the topics on which I've focused, I've likely written most about America's two-tiered justice system — the way in which political and financial elites now enjoy virtually full-scale legal immunity for even the most egregious lawbreaking, while ordinary Americans, especially the poor and racial and ethnic minorities, are subjected to exactly the opposite treatment: the world's largest prison state and most merciless justice system. That full-scale destruction of the rule of law is also the topic of my forthcoming book. But The New York Times this morning has a long article so perfectly illustrating what I mean by "two-tiered justice system" — and the way in which it obliterates the core covenant of the American Founding: equality before the law — that it's impossible for me not to highlight it.

The article's headline tells most of the story: "In Financial Crisis, No Prosecutions of Top Figures." It asks: "why, in the aftermath of a financial mess that generated hundreds of billions in losses, have no high-profile participants in the disaster been prosecuted?" And it recounts that not only have no high-level culprits been indicted (or even subjected to meaningful criminal investigations), but few have suffered any financial repercussions in the form of civil enforcements or other lawsuits. The evidence of rampant criminality that led to the 2008 financial crisis is overwhelming, but perhaps the clearest and most compelling such evidence comes from long-time Wall-Street-servant Alan Greenspan; even he was forced to acknowledge that much of the precipitating conduct was "certainly illegal and clearly criminal" and that "a lot of that stuff was just plain fraud."
Friends,

Do you wonder (like I do) what the tax accountants and executives are doing over at GE this weekend? Frantically rushing to fill out their IRS returns like the rest of us?

Hardly. They're taking the weekend off to throw themselves a big party and have a hearty laugh at all of us. It must really crack them up to see us like suckers scurrying around to make sure we report everything to Uncle Sam — and even send him a check, if necessary.

The joke's on us, folks. GE and tons of other corporations will have a tax bill for 2010 of ZERO. GE had $14.2 billion in profits in 2010. Yet they will contribute NOTHING to the federal government while every last dime is soaked from us.
Like most people, I don't spend much time going through my state's legislative website, reading the actual language of our state laws. When researching the recently proposed abortion restrictions here in Michigan, though, I felt compelled to read the actual abortion regulations as they currently stand-not just a summary, but the actual word of the law. I expected something cold and formal; legal language offering at least a surface-level impression of impartiality. So I was surprised to find, instead, that even the word of the law is actually dripping with rhetoric-and specifically, that it's nauseatingly constructed on the premise of being "pro-woman."
The past few decades have been exciting for the practice of medicine. We have made many dramatic scientific advances and developed many tests, medications and therapies. In pediatrics, we have been blessed with breakthroughs such as vaccines that eliminate deadly infant diseases and vastly improved asthma and diabetes medications.

Doctors, always eager to take advantage of discoveries, are now often ordering expensive tests and therapies without considering how essential they might be for their patients. In the process, we are bankrupting our nation's health system and depriving millions of people of any health care at all. Ironically, however, the United States has fallen behind in many categories of child health outcomes compared with other developed countries, including higher rates of infant mortality and teen pregnancy, more serious accidents, and more obesity and diabetes.
Tiny Bahrain, a vital American ally in the Gulf region, is reimaging itself as a classic Cold War police state in the aftermath of the democracy uprisings across the Middle East and North Africa.

The island's Sunni hereditary monarchy, which presents itself to the world as a "constitutional monarchy", was ahead of the reform curve that erupted in Tunisia in January – three months earlier it set about repressing political parties and arresting majority Shiite activists by the hundreds.

But in the aftermath of declaring a state of emergency, still being enforced by troops from neighbouring Saudi Arabia, it is the kingdom's hospitals through which the world can see the uglier side of a regime which, compared with those in Libya and Syria, has earned only the mildest of rebukes from the Obama administration.
The new Obama trade policy, as embodied in its free-trade agreement with Colombia, sadly resembles the old Bush trade policy: promoting growth in exports and investment at the expense of local economies and resilient food systems. This is unfortunate, not only because it fails to deliver Obama's promised "21st-century" trade agenda, but also because it ignores some of the key lessons from NAFTA and the 2008 food-price crisis. Globalization has tied our economies together so that price changes in one country transmit around the world, increasing hunger and undermining efforts to rebuild rural communities and resilient food systems.

For decades, the primary problem for agriculture had been low prices, stimulated by U.S. and European agricultural policies that compelled farmers to continue to produce more and more to make up in volume what was lost in falling prices, and to seek ever expanding markets, whether at home or abroad. Cheap imports flooded the markets of developing countries, devastating small-scale farmers in poor countries while failing to stabilize farm incomes in the U.S. and Europe.