"Punting the Pundits" is an Open Thread. It is a selection of editorials and opinions from around the news medium and the internet blogs. The intent is to provide a forum for your reactions and opinions, not just to the opinions presented, but to what ever you find important.
Thanks to ek hornbeck, click on the link and you can access all the past "Punting the Pundits".
Wednesday is Ladies' Day. Scroll down for the Gentlemen
Katrina vanden Heuvel: Citizen Murdoch-No Longer Untouchable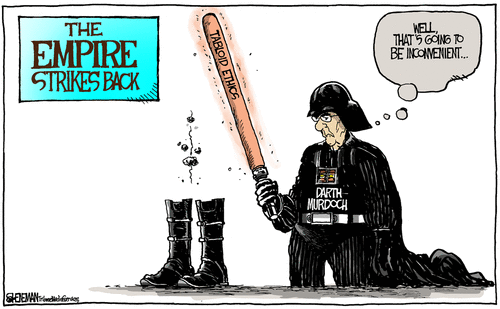 "We are sorry" read the full-page ads Rupert Murdoch's News Corp. has taken out in Britain, part of a new atonement campaign clearly orchestrated by the public relations firm brought on to help "manage" the company's phone-hacking crisis.

Well, they got that right. "Sorry" is as good an adjective as any to describe the Murdoch media empire. It's a buccaneer enterprise that is scornful of laws and decency and that peddles, as Murdoch's biographer William Shawcross summarized, "titillation, sensationalism and vulgarity" to gain broad audiences, then uses gossip, tripe, manufactured stories and a distorted lens to further a right-wing ideological agenda. "Sorry' is also a good description of regulators and politicians on both sides of the aisle and the ocean, who were seduced by Murdoch's money, feared his power and served as lapdogs rather than watchdogs as he consolidated and expanded his holdings.
Mary Bottari: ALEC Exposed: Milton Friedman's Little Shop of Horrors
Although he passed away in 2006, states are now grappling with many of the toxic notions left behind by University of Chicago economist Milton Friedman.

In her groundbreaking book, The Shock Doctrine, Naomi Klein coined the term "disaster capitalism" for the rapid-fire corporate re-engineering of societies still reeling from shock. The master of disaster? Privatization and free market guru Milton Friedman. Friedman advised governments in economic crisis to follow strict austerity measures, combining radical cuts in social services with the full-scale privatization of their more lucrative assets. Many countries in Latin America auctioned off everything standing — from energy and water utilities to Social Security — to for profit multinational firms, crushing unions and other dissenters along the way.

Now, U.S. states are in crisis. The 2008 Wall Street financial meltdown, caused by years of deregulation and lack of government oversight, cost Americans $14 trillion in lost wealth and eight million lost jobs. Today some 25 million are unemployed or underemployed. This jobs crisis has tanked federal and state tax receipts, adding billions to state budget shortfalls.
Marjorie Cohn
:
Prisoners Strike Against Torture in California Prisons
The torture of prisoners in U.S. custody isn't confined to foreign countries. For more than two weeks, inmates at California's Pelican Bay State Prison have been on a hunger strike to protest torturous conditions in the Security Housing Unit (SHU) there. Prisoners have been held for years in solitary confinement, which can amount to torture. Thousands of inmates throughout California's prison system have refused food in solidarity with the Pelican Bay prisoners, bringing the total of hunger strikers to more than 1,700.

Inmates in the SHU are confined to their cells for 22 ½ hours a day, mostly for administrative convenience. They are released for only one hour to walk in a small area with high walls. The cells in the SHU are eight feet by 10 feet with no windows. Flourescent lights are often kept on 24 hours per day.

Solitary confinement can lead to hallucinations, catatonia and even suicide, particularly in mentally ill prisoners. It is considered torture, as journalist Lance Tapley explains in his chapter on American Supermax prisons in The United States and Torture: Interrogation, Incarceration, and Abuse.
"People say that Australia has given two people to the world," Julian Assange told me in London recently, "Rupert Murdoch and me." Assange, the founder of the whistle-blowing website WikiLeaks, was humbly dismissing my introduction of him, to a crowd of 1,800 at East London's Troxy theater, in which I suggested he had published perhaps more than anyone in the world. He said Murdoch took that publishing prize.

Two days later, the Milly Dowler phone hacking story exploded, and Murdoch would close one of the largest newspapers in the world, his News of the World, within a week.

On Tuesday, Murdoch claimed before the British House of Commons Select Committee on Culture, Media and Sport that it was his "most humble day." But what does it mean for a man with no humility to suffer his most humble day? The principal takeaway from the committee hearing must be, simply, that Rupert Murdoch is not responsible for the criminal activities under investigation, from police bribery to phone hacking. When asked if he was ultimately responsible, his answer was simple: "No." Who was? "The people I trusted to run it and maybe the people they trusted."
The ability of Washington to turn everything on its head has no limits. We are in the midst of the worst economic downturn since the Great Depression. Even though the recession officially ended two years ago, there are still more than 25 million people who are unemployed, can only find part-time work or who have given up looking for work altogether. This is an outrage and a tragedy. These people's lives are being ruined due to the mismanagement of the economy.

And we know the cause of this mismanagement. The folks who get paid to manage and regulate the economy were unable to see an $8 trillion housing bubble. They weren't bothered by the doubling of house prices in many areas, nor the dodgy mortgages that were sold to finance these purchases. Somehow, people like former Federal Reserve Board Chairman Alan Greenspan and his sidekick and successor Ben Bernanke thought everything was fine as the Wall Street financers made billions selling junk mortgage and derivative instruments around the world.
It currently appears that the most likely resolution to the debt ceiling situation will be the use of the Mitch McConnell-Harry Reid back up plan. This plan will probably include some form of the Catfood Commission II. A bipartisan commission that would work in secret to come up with package that would be fast tracked through Congress. This means the bill wouldn't go through the proper committees and couldn't be amended or filibustered.

Fast tracked bipartisan commissions are very popular with some elected officials because they are purposely designed to destroy basic democratic accountability. They are meant to provide cover for politicians who are too cowardly to admit their desire is to pass legislation the electorate doesn't want.
Here's the core economic problem we're facing today: Unemployment and underemployment are rampant and entrenched throughout America, stifling any hope for real recovery and threatening the very survival of the essential middle class that holds our society together.

The solution? Our ideologically pure, laissez-fairyland leaders in Washington and various state capitals, along with corporate funded think tank geniuses and Wall Street gurus, are pushing a massive jobs program across America. Great, just what we need! Uh … no. Unfortunately, theirs is not a program to create jobs, but a coordinated effort to add to America's jobless hordes by eliminating hundreds of thousands of public-service jobs. If ignorance is bliss, they must be ecstatic!

They're wallowing in the ecstatic right-wing mythology that prosperity will magically arise if only government budgets can be gutted, mainly by eliminating public employees. Yet, by going on a firing rampage that is targeting everyone from school librarians to NASA engineers, these political and economic elites are shoving the entire U.S. economy back into the Great Recession, or worse.