Up Date: The second Dallas nurse infected with ebola will be transferred to Emory University Hospital in Atlanta, GA. The Infectious Disease Unit is where the first two U.S. Ebola patients, both health missionary workers stationed in Liberia, were treated and released in August.

The Texas Department of State Health Services confirmed that a second health care worker has tested positive for ebola. The hospital, although it claims it is "equipped to care for patients in isolation," it has become fairly apparent that there is a flaw in its protocols. The hospital has admitted it doesn't know how the two hospital workers contracted the virus. That's huge problem that continues to put the staff at great risk.
Dallas nurses have now come forward citing the flawed conditions in Ebola care
Deborah Burger of National Nurses United, who convened a conference call with reporters to relay what she said were concerns of nurses at the hospital, said they were forced to use medical tape to secure openings in their flimsy garments and worried that their necks and heads were exposed as they cared for Duncan. [..]

The nurses allege that his lab samples were allowed to travel through the hospital's pneumatic tubes, possibly risking contaminating of the specimen-delivery system. They also said that hazardous waste was allowed to pile up to the ceiling. [..]

The nurses' statement said they had to "interact with Mr. Duncan with whatever protective equipment was available," even as he produced "a lot of contagious fluids." Duncan's medical records underscore that concern. They also say nurses treating Duncan were also caring for other patients in the hospital and that, in the face of constantly shifting guidelines, they were allowed to follow whichever ones they chose.

When Ebola was suspected but unconfirmed, a doctor wrote that use of disposable shoe covers should also be considered. At that point, by all protocols, shoe covers should have been mandatory to prevent anyone from tracking contagious body fluids around the hospital. [..]

The CDC said 76 staff members at the hospital could have been exposed to Duncan after his second ER visit. Another 48 people who may have had contact with him before he was isolated are being monitored.
This is unacceptable.
The CDC is now sending a team to oversee isolation procedures, especially the personal protection equipment (PPE) used by the staff, as well as, putting it on and removing it. It is the last part, removing the PPE, that is critical and, the most likely how these two nurses were infected. The PPE should be impervious to fluids. There should be no skin exposed and, as most news reporters have observed, it takes longer to take it off than don it. That's the hard part and is done carefully, methodically and in multiple stages with decontamination at each stage.
The international medical aid organization, Médecins Sans Frontières (MSF), or Doctors Without Borders, has been in the lead with taking care of ebola patients in Africa and has written the book on safety procedures.
The New York City Department of Health has designated Bellevue Hospital in Manhattan as the center for treatment of the Ebola virus in the city. But if this picture is an example of the PPE the staff will be wearing, they are need to make so improvements and fast.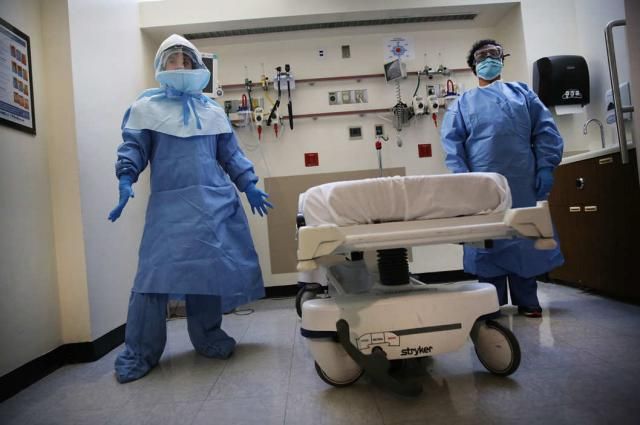 MSNBC's Rachel Maddow examined the challenges for U.S. medical facilities of meeting the exacting protocols for handling Ebola, She pointed out how something as simple as a checklist can help as the rate of Ebola's spread is forecast to increase rapidly.
In the day of i-pads and tablets, the use of a checklist in donning and removing PPE would help eliminate errors, make it easier to find flaws (human or mechanical) and lessen the possibility of a contagious disease like ebola from spreading to care givers and beyond.