Tag:
Rahm Emanuel
Academy Awards, Barack Obama, Big Business, Collective Bargaining Rights, Community, Democratic Party, Donald Rumsfeld, Fox News, George W. Bush, Glenn Beck, income and wealth inequality, Koch Brothers, Michele Bachmann, Middle East Uprisings, movies, New Zealand Earthquake, oil, professional sports, public workers unions, Rahm Emanuel, Republican Party, revolution, Rush Limbaugh, Sarah Palin, scapegoating, school teachers, Scott Walker, Tax Cuts, Tea Party, The King's Speech, The Week in Editorial Cartoons, union busting, Watson IBM Computer, Wisconsin Protests, Wisconsin State Senators
Crossposted at Daily Kos and Docudharma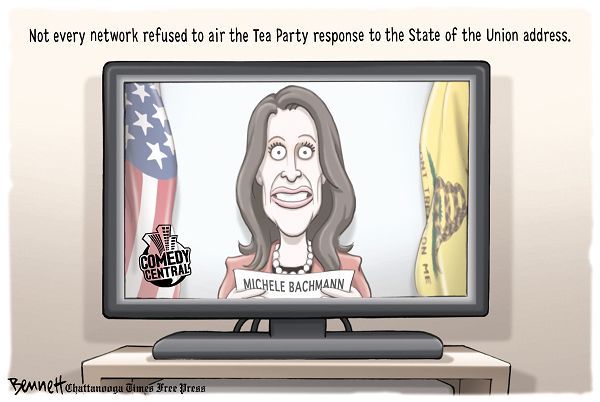 Clay Bennett, Comics.com, see the large number of reader comments in the Chattanooga Times Free Press
:: ::
Trying to watch her taped response is worse than annoying, and the woman makes up her own facts as she goes, which has come to define her.
In short, if this is the best that the Tea Pot party has to offer, then there's really nothing to see or hear that has not been offered time and again. I really don't care for parrots.
Michele Bachmann is also defined by her presumptive beliefs, obtained God only knows where.
Baby Doc Duvalier, Barack Obama, China, Christa McAuliffe, civility, Climate Change, Democratic Party, Egypt, football, Gabrielle Giffords, Green Bay Packers, guns, Haiti, Jack LaLanne, Joe Biden, Joe Lieberman, John Boehner, Keith Olbermann, Michele Bachmann, MSNBC, oratory, Paul Ryan, Pittsburgh Steelers, Rahm Emanuel, Republican Party, revolutions, Sarah Palin, Sargent Shriver, SOTU, State of the Union Speech, Super Bowl, Teabaggers, The Week in Editorial Cartoons, Tucson Tragedy, Tunisia, violence, Wingnuttery
Crossposted at Daily Kos and Docudharma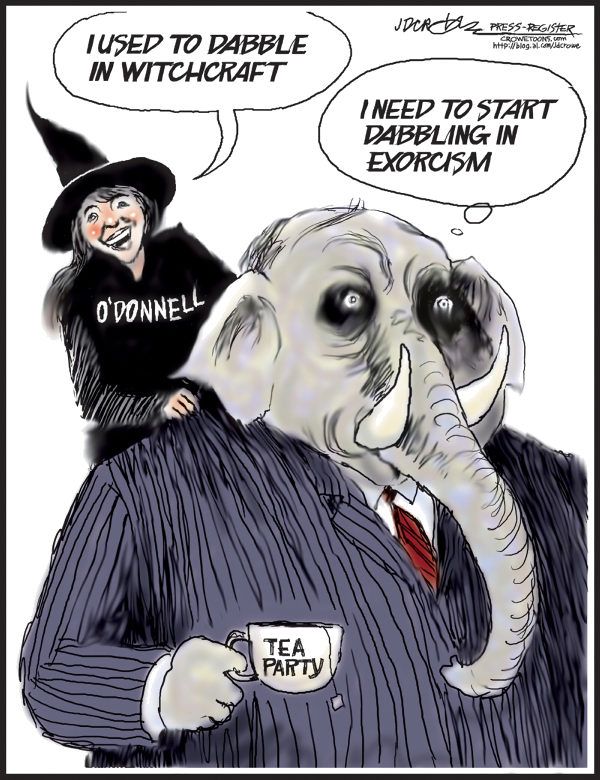 J.D. Crowe, Mobile Register
Christine O'Donnell has wiggled her nose and put a hex on the GOP establishment. The novice Tea party candidate turned lots of heads, Linda Blair-like…But Karl Rove, the Warlock of W, has been taken aback by O'Donnell's victory. Even he thinks this girl is bat$#!+ crazy and that the Republicans have been given a Tea Party roofie.

Personally, I think she's the best thing to happen to political satirists since her mentor, Sarah Palin. Republicans, on the other hand, are fingering the Yellow Pages looking for an exorcist. And maybe an antidote.
10.2.10 March, Afghanistan War, Beatles, CA-GOV, Christine O'Donnell, Climate Change, cyber bullying, Democratic Party, Don't Ask, Don't Tell, Economy, eKos, Election 2010, Elizabeth Warren, exorcism, foreign/corporate money, George Blanda, GLBT issues, Gulf Coast of Mexico, immigration, Iraq War, Jefferson Thomas, Jerry Brown, John Lennon, Larry Summers, Meg Whitman, Pledge to America, quilt fundraiser, Rahm Emanuel, Republican Party, Stephen Colbert, Tebaggers, The Week in Editorial Cartoons, Tony Curtis, Wingnuttery, witchcraft